'Lady Bird' Director Greta Gerwig's Oscar Nomination Just Broke A Barrier For Women Filmmakers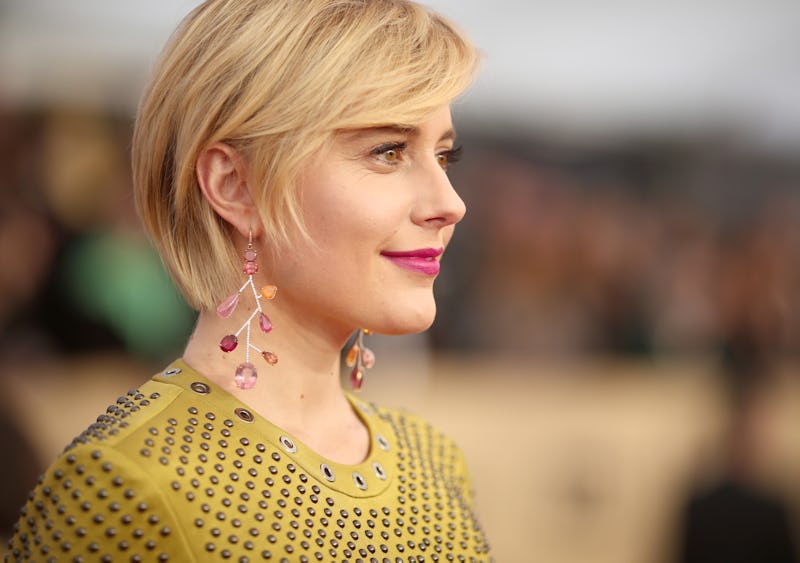 Christopher Polk/Getty Images Entertainment/Getty Images
On Tuesday morning, Greta Gerwig achieved a milestone many can only dream of. Not only was she nominated for an Academy Award for Best Directing for Lady Bird, but Greta Gerwig also became the first woman to earn an Oscar nod for her directorial debut. Though she co-directed 2008's Nights and Weekends with Joe Swanberg, she was at the helm solo for Lady Bird, which also earned nominations for Best Picture, Lead Actress for Saoirse Ronan, Supporting Actress for Laurie Metcalf, and Original Screenplay, also by Gerwig.
The fact that the nomination comes for a directorial debut isn't the only thing noteworthy about Gerwig's achievement. With it, she joins the ranks of just four other women who have ever been nominated for Best Directing at the Academy Awards. That's right — in the 90 year history of the ceremony, five women total have now been granted this nomination by the Academy. It's perhaps unsurprising, then, that this is also the first time in eight years we've seen a woman nominated in this largely male-dominated category. Kathryn Bigelow was the most recent female director, nominated for the award at the 2010 ceremony, and she ultimately took home the Oscar for her work on The Hurt Locker.
Other prior female nominees for Best Directing include Lina Wertmuller (Seven Beauties), Jane Campion (The Piano), and Sofia Coppola (Lost in Translation), according to the Hollywood Reporter, which also reports that, as of 2017, the ratio of male to female winners in this category was 1 to 88. The inequity doesn't stop there. According to the same report, only seven percent of the country's top 250 highest-grossing films in 2016 were directed by women. This certainly isn't due to a lack of women interested in film, either — in 2015, nearly 40 percent of students studying directing at the American Film Institute were women, according to Variety. In that same year, a New York University professor told MTV News that women also made up nearly 50 percent of their film and television students.
Women obviously are no less talented, engaged, or eager filmmakers than their male counterparts, which makes it all the more disappointing when they're disregarded at major awards shows such as the Oscars. We're always told not to put too much stake in awards and accolades that films accrue, and yes, there are many random and arbitrary factors that can affect a film's nomination. But when we're expected to buy that we can count nine decades' worth of Oscar-worthy female directors on one hand, it becomes a little taxing. That's what makes Gerwig's nomination so refreshing.
And really, when it comes right down to it, Lady Bird was an outstanding film that deserves every award that comes to it. It wasn't just created with a woman in the driver's seat — it showcased a moving, relatable relationship between a mother and a daughter. It highlighted the invaluable friendship that blossoms between high school girls. It clearly was executed with passion and creativity at every turn, all while making audiences laugh and shed more than a few tears. Gerwig, despite it being her first solo directing venture, didn't falter.
It's apparent every time she speaks about Lady Bird that Gerwig put everything she had into it. She cared about her actors and making them feel comfortable, which ultimately allowed for stunning performances to shine. "I know some directors like to run their sets based on fear, but I wanted to create an environment where people can come and talk to you and not try to hide or throw someone else under the bus," she told Entertainment Weekly in December. "All the time spent in between the camera rolling is still going into the film somehow. It counts — it all counts. Every time I talk about writing and art it sounds so hippie-dippy. But the truth is, it is hippie-dippy. It's art! If people love this movie, it's because of the love that went into it."
People did love it — they loved it a lot. And come March, there's sure to be plenty rooting for Gerwig and Lady Bird when the statues are handed out.