This Is The Huge Barrier Greta Gerwig Would Break If She Gets An Oscar Nom For 'Lady Bird'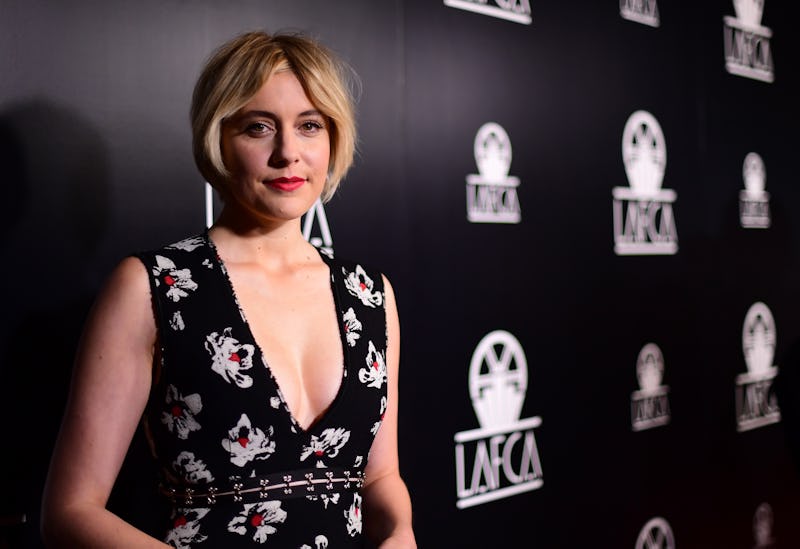 Matt Winkelmeyer/Getty Images Entertainment/Getty Images
If you've seen Greta Gerwig's phenomenal solo directorial debut, Lady Bird, you're probably one of the many people who believe she deserves to be nominated for the Academy Award for Best Director. Very few women have been nominated for the directing Oscar; only four in history. But with the advancements that the Academy of Motion Picture Arts and Sciences has made over the past few years, many are hoping that they'll be more progressive and inclusive this year and nominate Gerwig for her outstanding work. But Gerwig earning a Best Director nomination wouldn't just be another win for the few women who have been nominated in the Oscars' 90-year history — it would also mark the first time a woman has been nominated for a Best Directing Oscar for her debut film, too.
Gerwig has co-directed a feature before, 2008's Nights and Weekends with Joe Swanberg. But Lady Bird marks her solo directorial debut. And it's a downright wonderful film, a coming-of-age story that's become one of the most well-reviewed, audience-adored, and critically acclaimed films of the year, not to mention a box office hit. So when Lady Bird was nominated, and won, the Golden Globe for Best Motion Picture-Musical or Comedy but Gerwig was snubbed for a directing nom, something definitely felt off. It seemed like Hollywood's preference for male directors had struck again, and that despite her great work, Gerwig wouldn't get the recognition she deserves.
But the Oscars could change that. Nominating a director for their debut is nothing new; male first-time directors have earned Best Director Oscar nominations a whopping 21 times. The "trend" started back in 1941 when Orson Welles was nominated for his historically significant Citizen Kane, and for the next 70 years or so, first-time male directors like Sidney Lumet, Mike Nichols, Warren Beatty, Robert Redford, James L. Brooks, Kenneth Branagh, John Singleton, Kevin Costner, and Spike Jonze, just to name a few, all earned Best Director nods for their feature debuts. The most recent to do so was Behn Zeitlin for his 2012 debut Beasts of the Southern Wild.
But that's the men. The first female nominee for Best Director was Italian filmmaker Lina Wertmüller who earned the glass-shattering nod in 1977 for her film Seven Beauties. By then, Wertmüller had nine other films under her belt, including two under male pseudonyms. Australian director Jane Campion, meanwhile, had been directing films for 10 years before her 1993 hit The Piano earned her the second slot. It was another 10 years before a woman's name was read on the Best Director nominations list again, when Sofia Coppola was nominated for Lost in Translation, her second film. And the most recent woman to be nominated for Best Director, Kathryn Bigelow (the first to win the award), earned it for her eighth feature, The Hurt Locker.
All of these women deserved their spots, and many more who haven't been nominated surely deserved a nod as well. But Gerwig earning a nomination would be especially groundbreaking, considering how the Academy is clearly hesitant to nominate women for directing their first films. And a nod for Gerwig would not just honor her work with Lady Bird, but be a well-deserved culmination of the many years she's spent behind-the-scenes in Hollywood as a writer, co-director, producer, costume designer, and much more. Having experience, of course, doesn't necessarily mean a person deserves accolades, but Gerwig has clearly done it all.
When Natalie Portman called out the Golden Globes during the show for nominating only men for Best Director, many viewers and movie fans had the exact same thought: Gerwig should have been nominated. So when her name is (hopefully) read aloud on Oscar nominations morning, we'll be celebrating another woman being honored for her hard work, vision, and brilliance in directing. But we'll also be celebrating the fact that the nominating committee might be taking a big step forward in holding female directors to the same standards as their male counterparts, by saying that women can be just as brilliant their first time around as men can – and that being a first-time director doesn't negate being the Best Director.