Lady Gaga Blesses Us With A 2017 World Tour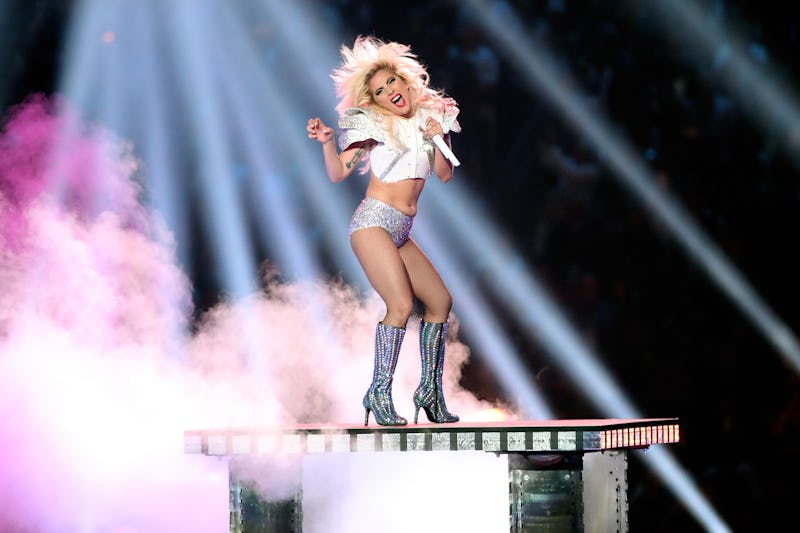 Christopher Polk/Getty Images
You might think you know who won the Super Bowl on Sunday night, but I'm here to tell you that you're mistaken. Sure, the New England Patriots pulled out one of the most impressive comebacks in years, but the true winner was someone else: all of us, and Lady Gaga. The proof is in the fact that Lady Gaga announced the Joanne World Tour after her halftime performance. The football boys only get to play the big game once a year, but our shimmering queen of the skies gets to do her show-stopping numbers as many times as she wants, no football arena required. And we get to watch, so not only is she the real champion of Sunday night's game, but so are we.
And like a true champion, she didn't want to overshadow the sporting event that she'd performed in the middle of, so she waited until the game was over before taking to Twitter to announce The 2017 Joanne World Tour. Talk about sportsmanship. As the name of the tour suggests, it will serve as a followup to Gaga's fifth studio album Joanne, which was released in October 2016.
The singer has released tour dates and locations spanning from Aug. 1 in Vancouver, British Columbia, to Dec. 14 in Salt Lake City, Utah. In between, she hits a dazzling array of cities all across the world, including visits to international cities like Barcelona, Amsterdam, London, Paris, Berlin, and Stockholm. Basically, you'll have plenty of opportunities to see a reboot of Gaga's pretty much universally acclaimed halftime show.
Even better, tickets for almost all of these shows go on sale this month; for some stops, you can snag seats as early as Feb. 10, while the longest you have to wait for the majority of the rest is Feb. 20. (The show in Rio is the one exception I noted; fans will have to wait until Apr. 6 for tickets to go on sale for Gaga's show in Brazil.)
It's not ever day that you get a sneak preview of a world tour like this, so say your mental thank yous to Mother Monster. And, while you're at it, congratulate her on her historic win of Super Bowl LI; even if she didn't come away with the trophy, her victory is clear.
Check out the complete list of tour dates below.
Aug. 1: Rogers Arena, Vancouver, BC (on sale Feb. 13)
Aug. 3: Rogers Place, Edmonton, AB (on sale Feb. 13)
Aug. 5: Tacoma Dome, Tacoma, WA (on sale Feb. 13)
Aug. 8: The Forum, Los Angeles, CA (on sale Feb. 13)
Aug. 11: T-Mobile Arena, Las Vegas, NV (on sale Feb. 13)
Aug. 13: AT&T Park, San Francisco, CA (on sale Feb. 13)
Aug. 15: Golden 1 Center, Sacramento, CA (on sale Feb. 13)
Aug. 19: CenturyLink Center, Omaha, NB (on sale Feb. 13)
Aug. 21: Xcel Energy Center, St. Paul, MN (on sale Feb. 13)
Aug. 23: Quicken Loans Arena, Cleveland, OH (on sale Feb. 13)
Aug. 25: Wrigley Field, Chicago, IL (on sale Feb. 13)
Aug. 28: Citi Field, New York, NY (on sale Feb. 13)
Sept. 1: Fenway Park, Boston, MA (on sale Feb. 13)
Sept. 4: Bell Centre, Montreal, QC (on sale Feb. 13)
Sept. 6: Air Canada Centre, Toronto, ON (on sale Feb. 13)
Sept. 10: Wells Fargo Center, Philadelphia, PA (on sale Feb. 13)
Sept. 15: Rock in Rio Festival, Rio De Janeiro, BR (on sale Apr. 6)
Sept. 22: Palau Sant Jordi, Barcelona, ES (on sale Feb. 10)
Sept. 24: Hallenstadion, Zurich, CH (on sale Feb. 10)
Sept. 26: Mediolanum Forum, Milan, IT (on sale Feb. 10)
Sept. 29: Barclaycard Arena, Hamburg, DE (on sale Feb. 10)
Oct. 1: Sportpaleis, Antwerp, BE (on sale Feb. 13)
Oct. 3: Ziggo Dome, Amsterdam, NL (on sale Feb. 13)
Oct. 6: AccorHotels Arena, Paris, FR (on sale Feb. 10)
Oct. 9: O2 Arena, London, UK (on sale Feb. 10)
Oct 15: Barclaycard Arena, Birmingham, UK (on sale Feb. 10)
Oct. 17: Manchester Arena, Manchester, UK (on sale Feb. 10)
Oct. 21: Royal Arena, Copenhagen, DK (on sale Feb. 13)
Oct. 23: Ericsson Globe, Stockholm, SE (on sale Feb. 13)
Oct: 26: Mercedes-Benz Arena, Berlin, DE (on sale Feb. 10)
Oct. 28: Lanxess Arena, Koln, DE (on sale Feb. 10)
Nov. 5: Bankers Life Fieldhouse, Indianapolis, IN (on sale Feb. 20)
Nov 7: Little Caesars Arena, Detroit, MI (on sale Feb. 20)
Nov. 10: Mohegan Sun, Uncasville, CT (on sale Feb. 20)
Nov. 13: KFC Yum! Center, Louisville, KY (on sale Feb. 20)
Nov. 15: Sprint Center, Kansas City, KS (on sale Feb. 20)
Nov. 16: Scottrade Center, St. Louis, MO (on sale Feb. 20)
Nov. 19: Verizon Center, Washington, DC (on sale Feb. 20)
Nov. 20: PPG Paints Arena, Pittsburgh, PA (on sale Feb. 20)
Nov. 28: Philips Arena, Atlanta, GA (on sale Feb. 20)
Nov. 30: American Airlines Arena, Miami, FL (on sale Feb. 20)
Dec. 1: Amalie Arena, Tampa, FL (on sale Feb. 20)
Dec. 3: Toyota Center, Houston, TX (on sale Feb. 20)
Dec. 5: Frank Erwin Center, Austin, TX (on sale Feb. 20)
Dec. 8: American Airlines Center, Dallas, TX (on sale Feb. 20)
Dec. 9: Chesapeake Energy Arena, Oklahoma City, OK (on sale Feb. 20)
Dec. 12: Pepsi Center, Denver, CO (on sale Feb. 20)
Dec. 14: Vivint Smart Home Arena, Salt Lake City, UT (on sale Feb. 20)