Lady Gaga Totally Ruled The Super Bowl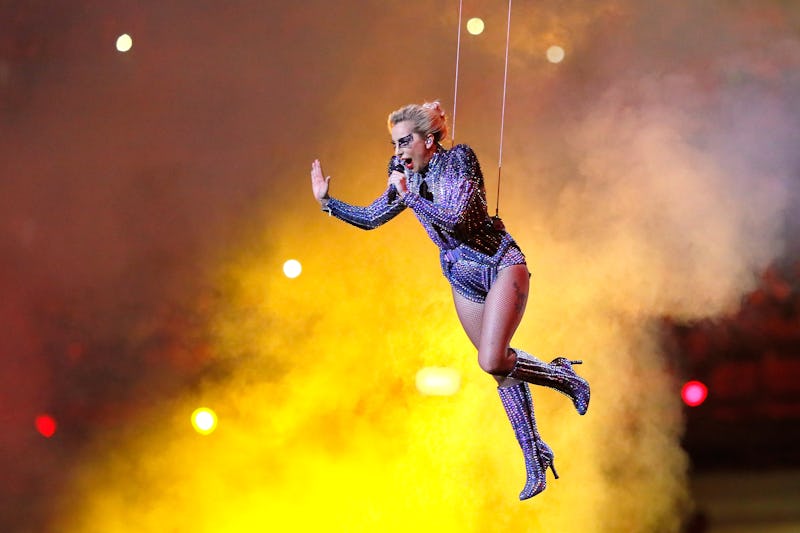 Kevin C. Cox/Getty Images Sport/Getty Images
Sure, the commercials and the game itself are entertaining, but nothing quite tops the Super Bowl Halftime Show. As the queen of going above and beyond, the video of Lady Gaga's Halftime Show performance proves she did not disappoint. First, Gaga's performance began with a rendition of "God Bless America" before segueing into a 13-minute mini concert.
Leading up to the big game, there was speculation about whether Gaga would make her Super Bowl performance political. The singer is a known advocate for causes she cares about, including spreading anti-bullying messages and supporting the LGBT community. At a pre-game press conference on Thursday, Gaga promised an inclusive show. She said, "This performance is for everyone. I want to, more than anything, create a moment that everyone that's watching will never forget."
Furthering that message, Lady Gaga posted the following Instagram on Sunday before taking the stage. She dedicated the performance to anyone out there who's ever felt left out. Gaga wrote:
"I dedicate every second to the love, diversity, compassion, and wild spirit of our fan base. To that kid who felt unwanted, or the grown up who remembers how hard it was to find acceptance. This is for you."
Mother Monster sure delivered on her promise. You can see all the magic for yourself in the video below:
Sorry, all future halftime performers. But guess what? You have a lot to live up to. No one puts on a show quite like Gaga.