A Timeline Of Lady Gaga & Her Fiancé's Very Low-Key Love Story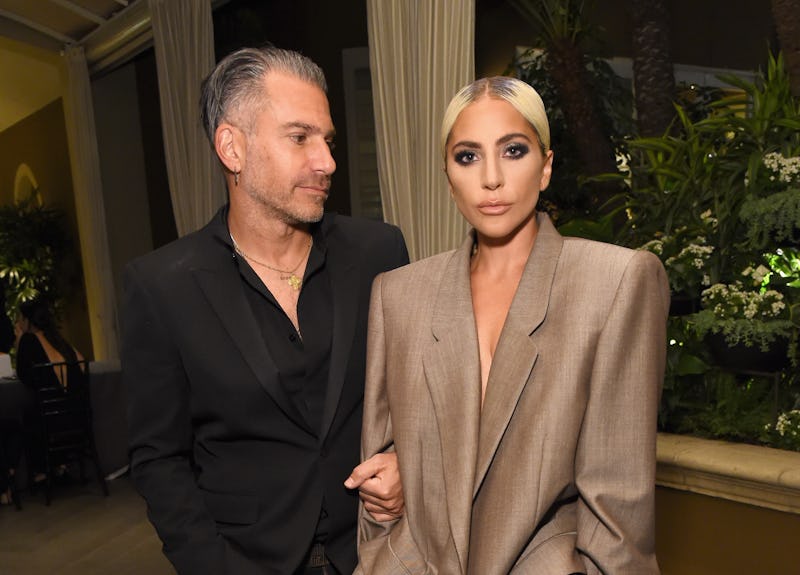 Michael Kovac/Getty Images Entertainment/Getty Images
While giving a speech during Elle's 25th Annual Women in Hollywood event on Oct. 15, Mother Monster revealed that she and her talent agent boyfriend are engaged. The couple has been dating for a little more than a year and a half, and Lady Gaga and Christian Carino's relationship timeline prove that their low-key love story is highly swoon-worthy.
Gaga spilled the news of their engagement by just like, casually dropping the word "fiancé" on Monday night. The Star Is Born actor was being honored at Elle's celebration, and sweetly shouted out Carino during her acceptance speech.
"Bobby [Campbell, her manager], I love you," she started, as per Us Weekly. "My fiancé, Christian. All the loved ones in my life who take care of me every day. And Ryan Murphy, thanks for giving me my first leading role [in American Horror Story: Hotel]. You know that Golden Globe belongs to you."
See? So casual. There were probably more than a few people listening to her speech at the event who heard that and were like, "Hold up — did she just say fiancé?" and then started looking around quizzically for some kind of reassurance. (Bustle reached out to Gaga's rep for additional comment, but did not receive an immediate response.)
Rumors of Gaga and Carino's engagement first started floating around in November 2017. At the time, a source told Us Weekly that Carino had popped the question earlier that summer — which, if true, means that they've been keeping this news on the DL for a while. Well, mostly. Aside from the rumors or whatever.
Anyway, cheers to the happy couple. In honor of their impending nuptials officially being out in the open, let's take a look back at Gaga and Carino's relationship timeline.