Lady Gaga Got Patriotic During Halftime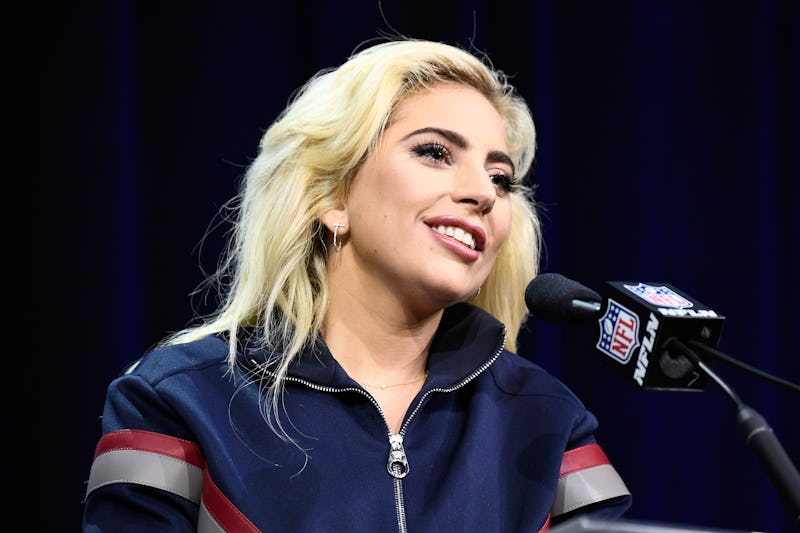 Frazer Harrison/Getty Images Entertainment/Getty Images
The Super Bowl LI halftime show opened up with a bang when Lady Gaga sang "God Bless America" and "This Land Is Your Land." The absolute stunner of a halftime show's patriotic beginning was a sign of the great things that quickly followed after it. Not only did Gaga bust out two of America's most patriotic songs to kick off her halftime show, but she did it on the top of the NRG Stadium, where the Super Bowl was being held. It was one of the most breathtaking moments during Sunday night's very festive proceedings.
Seeing Gaga open with these two songs set an emotional tone for the rest of her halftime performance. Gaga brought out the greatest hits from her catalogue, but it was her heartfelt renditions of "God Bless America" and "This Land Is Your Land" that allowed Gaga to mix the political with compassionate pathos, ensuring that that message of inclusivity she had promised was present and accounted for. It was absolutely perfect.
The opening chords of "God Bless America," as sung by Gaga, were so moving. During an occasion where, it could be argued, Americans were setting aside their differences to watch an non-political event, Gaga's choice to sing one of the few songs which has been able to unite us Americans made this opening moment even more touching. She chose to sing lines like "Land that I love," subtly hitting on the fact that America is a truly beautiful land and we continually have reminders of that, both in song and all around us.
Those lines about the beauty of our nation in "God Bless America" segued into "This Land Is Your Land." It was then that Gaga's promise to really touch on inclusivity and unity in her performance came true. Gaga only chose to sing the chorus of the song, but as she did, the sky above her lit up. The stars came together, all red, white, and blue, to form an American flag.
The rest of Gaga's halftime show was great. However, it was this super patriotic opening that really hit a strong emotional note; for that, Gaga's halftime performance will be remembered as an incredibly moving show.