Little Monsters Need To Read Lady Gaga's Super Honest Message About Her Insecurities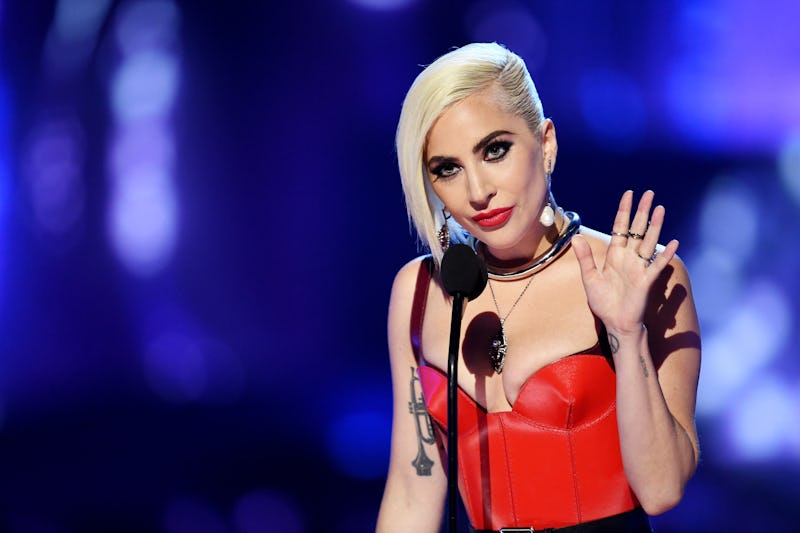 Kevin Winter/Getty Images Entertainment/Getty Images
If you know anything about Lady Gaga, it's that she's not afraid to get super real. And that penchant for honesty was on full display in her recent interview with the Los Angeles Times. During the interview, Lady Gaga opened up about her insecurities, and particularly how she dealt with them on the set of her upcoming film, A Star Is Born. Of course, she also shared an incredibly uplifting message to all of her Little Monsters in the midst of her very open discussion.
Gaga recalled her audition for A Star Is Born, which included the film's director and her co-star, Bradley Cooper using a specific method to help the singer get into character. When the "Million Reasons" singer arrived at the audition, Cooper used a makeup wipe on her in order to help create a more natural look, like the one her character Ally sports in the movie. In regards to his move, Gaga explained, "It put me right in the place I needed to be, because when my character talks about how ugly she feels — that was real." She continued, "I'm so insecure. I like to preach, but I don't always practice what I preach."
Just as she mentioned, she's always been vocal about urging others to feel comfortable in their own skin. Of course, that doesn't mean that she doesn't also have her own fair share of insecurities. She is human, after all. And it's such a testament to her courage that she's down to open about times when she does feel somewhat insecure.
Gaga continued to talk about her image later in the piece, where she revealed the wonderful thing makes her truly feel beautiful. "To be honest, I think what makes me feel beautiful is when I see happiness in my fans," she said, "When I see or hear from them that the music that I've made has changed their life in some way, that's what makes me feel beautiful."
Over the years, the "Just Dance" singer has similarly discussed some of these insecurities, as Rolling Stone noted. In her Gaga: Five Foot Two documentary, which premiered on Netflix in September 2017, she opened up about her self-doubts and how she came to be more accepting of herself. "I never felt pretty enough or smart enough or a good enough musician," she said, "That's the good part: I didn't feel good enough, and I do now. Of all the things I deserve, that's where I know I'm worth something."
In 2011, she brought up these feelings once again in her HBO documentary Lady Gaga Presents: The Monster Ball Tour at Madison Square Garden, according to MTV. Gaga revealed that she sometimes felt as though she was a "loser kid in high school" with some of the hate she received. But she wasn't about to let any naysayers get her down. When asked what she would say to the haters, she said, "That I cannot be destroyed. I cannot be destroyed, and I will not be destroyed, and you will never destroy the kingdom that is my fans."
When it comes to insecurities or even some general negativity, you can always count on Gaga to have an incredibly positive outlook. And you can especially count on her to always share that positivity so that she can spread a little joy to her Little Monsters.