You Seriously Won't Even Recognize Lady Gaga In This 'A Star Is Born' Trailer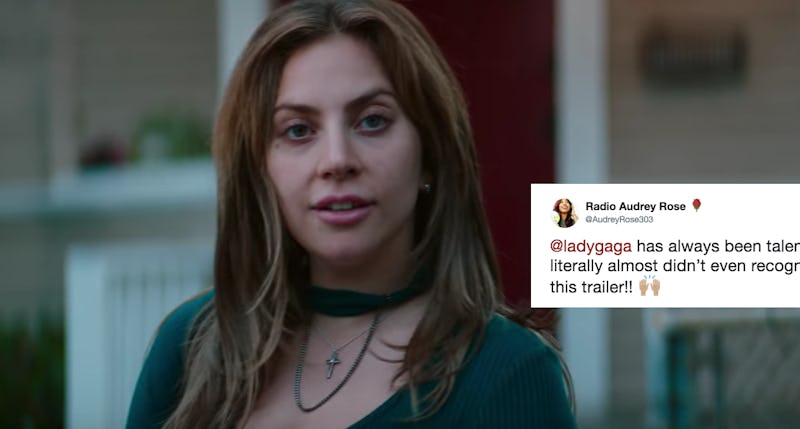 Warner Bros. Pictures; AudreyRose303/Twitter
There's a lot to be blindsided by in the new trailer, but the most surprising aspect? Lady Gaga is unrecognizable in A Star Is Born, if the newly released footage is any indication. The clip went live on Wednesday, and the pop icon looked so different in the trailer than she does on the red carpet that it had even diehard fans doing double-takes on social media. Combine her incognito appearance with the fact that Gaga seems to be singing a brand-new original song in the trailer, and you'd be forgiven for not noticing one single other thing about the teaser. (Bradley Cooper, who?)
The trailer is only two-and-a-half minutes long, but Gaga doesn't appear until around 40 seconds in. The camera follows behind her as she steps onstage, silhouetted in light. But even the first glimpse of her face doesn't scream "Lady Gaga." The singer-turned-actor plays Ally, an up-and-coming performer who's noticed by country star Jackson Maine, played by Cooper, and in this first shot of her onstage, Ally has her hair pinned up and thin eyebrows painted on. Especially under the red lights of that scene, you'd be hard-pressed to identify the actor in question, but it doesn't get much easier in later scenes.
This is the Joanne singer's first leading role, and she's all but disappeared into it. Gaga, real name Stefani Germanotta, has replaced her signature elaborate hairstyles in shocking, high-contrast colors with muted brunette locks, and replaced her bold makeup choices with a fresh face.
They're decisions that not only help the A-lister blend into the role, but also play directly into the way it's been written. When Gaga's Ally tells Cooper's Jackson that she doesn't sing her own songs, he asks why, and she responds, "I just don't feel comfortable. Almost every single person has told me they like the way I sounded, but that they didn't like the way I looked."
These are the words of a person who's not yet comfortable in her own skin, which couldn't be further from the persona of Lady Gaga. Gaga knows exactly who she is, and is unapologetic about it, so seeing her both physically and emotional portray someone who's still looking for that self-awareness is pretty awesome.
But the disguise works only until Gaga opens her mouth, and then the full-throated sound that comes bursting forth is unmistakeable. You might not recognize her face, but you'd know that voice anywhere, even when it's being put to work on a whole new track. Because that's the second blindside of the trailer — this new song. Cooper, who's also directing the feature, has gone on the record about the fact that all of the singing in A Star is Born would be live, at the urging of his platinum-selling costar. As Cooper told Vulture of Gaga's insistence on avoiding canned tracks, "She's right! [Singing live] was terrifying, and I really relied on her. I spent about a year and a half taking vocal lessons and preparing."
But he didn't let anything slip about an original track, so interviewers should push him for some more information as the promo tour continues. Since The Hollywood Reporter points out that A Star Is Born's release comes right in the middle of the 2018 award season, there's a chance that this song, whatever it is, could put Gaga in contention for some hardware. If that ends up being the case, it would put the singer in excellent company; this will be the third time this particular story has been rebooted, and in the past, it's netted its stars significant acclaim.
According to IMDb, the original production in 1937 starring Janet Gaynor and Frederic March earned an Academy Award for Best Writing, Original Story, in addition to five other Oscar nominations. The 1954 reboot snagged its stars Judy Garland and James Mason an Oscar nomination and a Golden Globe win apiece, and the 1976 followup got star Barbra Streisand an Oscar for Original Song, along with a slew of Golden Globes for both Streisand and her costar, Kris Kristofferson.
So it's a storied list of performers that Gaga and Cooper are joining for A Star Is Born. That fact, and everything that the trailer has shown so far both bode extremely well for the film's performance during award season, so keep your ears perked for this song and your eyes peeled for the disguised Gaga.