Lady Gaga Mic Drop Memes & Tweets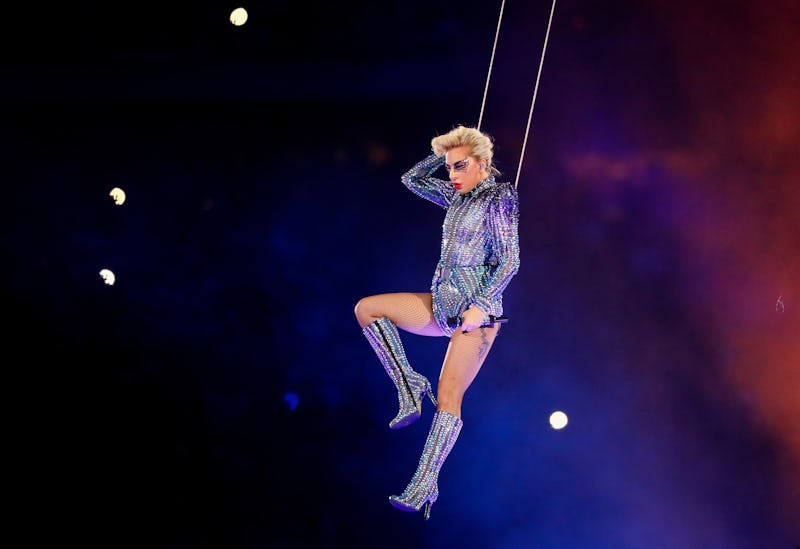 Kevin C. Cox/Getty Images Sport/Getty Images
I don't know about you, but Lady Gaga's Super Bowl halftime show reaffirmed my love of her. Like, I almost feel guilty for not being as passionate a fan as I once was after seeing this show. Y'all, she didn't even have guests! She did the damn thing alone. And one of the more specific damn things she did was literally drop a mic at the end of her performance and then throw herself off the stage, which means now there's a ton of Lady Gaga mic drop memes and tweets rolling in. Bring. Them. On.
A lot of what people were talking about when it comes to Lady Gaga's mic drop and then drop of herself off the platform she was standing on had to do with the New England Patriots performance in the game. At halftime, they had not made a single touchdown, but Gaga caught a pass, no problem.
Aside from the football-related jokes, there was also quite a bit about it being the best mic drop of all time, comments about her generally killing it, and, well, a cat jumping off of a shelf and falling loudly to the ground — that one was a bit of an outlier.
Check it all out below!
Rachel Bloom's Two Cents
Well, the "dropped the mic" part is confirmed.
Seriously, Though
Where did she go?
In Football Terms...
I mean, it's just literally true.
Delicious!
I'm mostly sticking to apps myself, tonight.
Sorry, Pats Fans
Zing!
And again
Can you imagine if she didn't catch it, though? Oof.
I Hope It's OK...
I'm sure that cat is fine — just like Gaga!
This Reference
Why not reference Migos? Especially when the Falcons are up 25.
Um...
You can't un-see it! We are all in this together now!
Now, go watch that mic drop and jump combo on repeat. You know you want to.