Lady Gaga's Sister Is On Super Bowl Costume Duty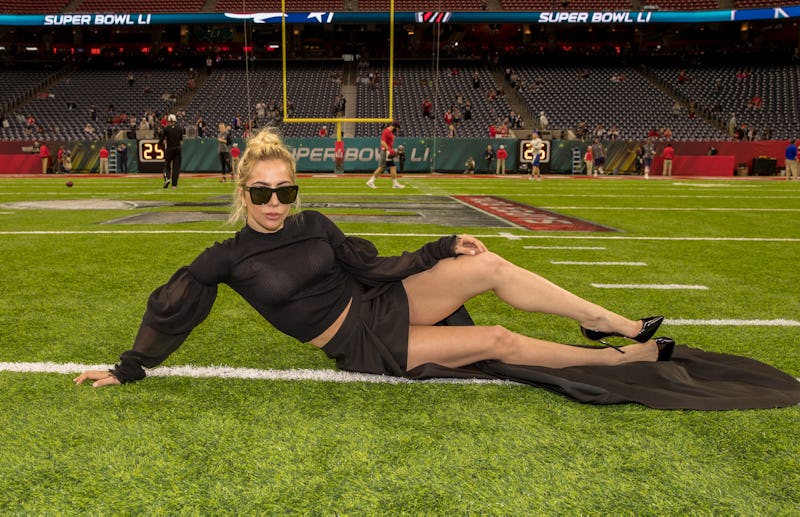 Christopher Polk/Getty Images Entertainment/Getty Images
It's officially Super Bowl Sunday, and Lady Gaga has already gotten into the spirit by posting photos on the football field before the fun begins. After posting an adorable photo with her family, Gaga made sure to note that her sister couldn't join her because she was backstage helping to sew costumes. Yes, really — Gaga's 2017 Super Bowl costumes were made by her sister. How sweet is that?
If there's one person who understands Gaga's fashion sensibilities, it's her sister, Natali Germanotta. Germanotta has been by her sister's side for many major moments in the singer's career. For example, in 2011, Germanotta and Gaga collaborated on a fashion line together. So it makes sense that for such a major moment as this, Super Bowl LI, Gaga would call on Germanotta, who is a successful fashion designer, to help make the halftime costumes a total success.
There's been curiosity surrounding Gaga's Super Bowl halftime show from the very beginning. Part of that curiosity definitely revolves around the costumes. Needless to say, Gaga knows how to put on a show and she knows how to create a jaw-dropping costume to wear while she performs. Previous halftime performers, like Katy Perry, have delivered big time on the costume front; will Gaga follow in their footsteps and go big with her costumes, too?
Knowing that Germanotta is on deck for Gaga's halftime show costumes is incredibly exciting. Considering she has been by her sister's side since the very beginning, there is nobody better equipped to recreate iconic Gaga looks should the occasion arise. Perhaps Germanotta is busy finalizing some "Bad Romance" costumes, or maybe she's sewing up the final looks for a "Born This Way" number.
No matter what happens, having Germanotta is on costume duty tells fans one fun thing: that these Super Bowl halftime costumes are going to be epic, which means Gaga's performance is going to be epic, too.