Lady Gaga Can Learn From Katy Perry's SB Looks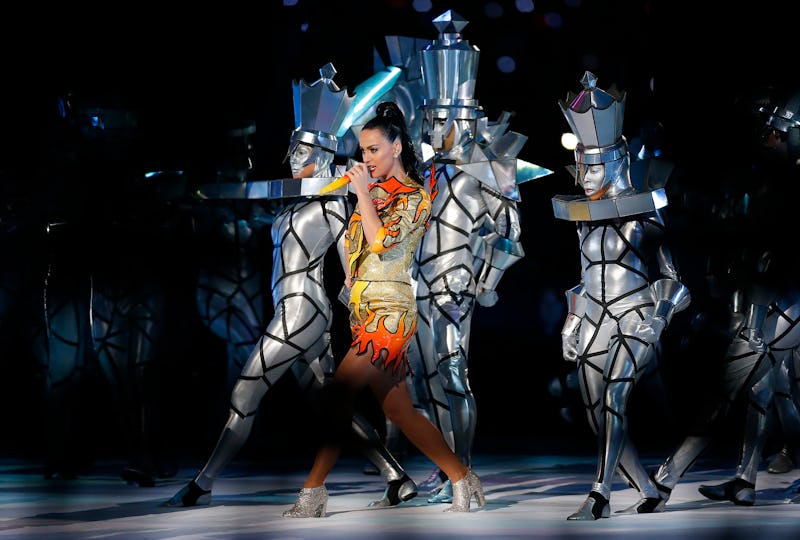 Tom Pennington/Getty Images Sport/Getty Images
Though both employ lots of crazy outfits into their smash-hit pop performances, you normally wouldn't associate the edgy "Bad Romance" singer with the bubblegum-sweet "California Gurls" songstress — but Katy Perry's 2015 Super Bowl outfits will probably inspire Lady Gaga's costume game plan.
It's an idea that sounds weird at first, but it actually makes sense when you think about it. Although her entire set was less than 15 minutes long, Perry managed to squeeze in four (four!) costume changes into her halftime show. Now, has Gaga ever been one to be outdone in terms of pure showmanship? No! So, here's hoping she takes Perry's many quick changes as a gauntlet challenge — and counters with even more fantastical and plentiful costumes of her own.
Each of Perry's fantastical costumes were designed by her BFF Andrew Scott, of Moschino fame — a true spectacle-making extraordinaire in his own right. You might recall the major splash he made with Moschino's in-your-face Barbie-inspired fashion show, as well as all of their cool perfumes that don't actually look like perfumes. He was definitely the logical choice for her four larger than life Super Bowl costumes — each one perfectly fit the mood of the singer, the songs, and perhaps most importantly, the venue itself.
The Flames Dress
Perry started kicked things off by riding in on a giant shiny tiger, and was dressed in a glittery mini dress covered in neon flames. What do you think Gaga's version of a giant tiger set piece will be? She recently announced that she'll be performing part of her set up in the air, which is sure to be pretty darn out there.
The Beach Ball Dress
Next, she wore a beachy outfit (with a beachball bodice) for the now-iconic Left Shark set — now, do you think Gaga (or any of her backup dancers) will do anything as meme-worthy as Left Shark? It's honestly tough to say at this point.
The Sparkly Football Jersey
Easily the most pared-down of her four ensembles, Perry changed into a blinged-out football jersey to sing back-up for Missy Elliot. She may not go this direction, but it would sure be interesting to see Gaga's interpretive take on sportswear.
The Star Spangled Gown
Finally, Perry wrapped up by donning a sparkling holographic star-covered silver formal gown, which was accompanied by a cameo appearance from "The More You Know" star. It's unlikely that Gaga would don holographic stars, but there's definitely a chance she'll wear something every bit as memorable as this gown.
Make no bones about it, Katy Perry went big in 2015 — but Gaga may just go bigger. According to Entertainment Weekly, Haus of Gaga (AKA the creative team behind some of her craziest ensembles, like her hatching egg and the meat dress) has been hard at work for two months, and as she explained to Mix 104.1:
I don't like to use the word 'cram' when it comes to fashion, but I don't want to give away how many costume changes I'm doing... There will be no meat dress there, so don't wait for that. Get excited to see something that you haven't seen before. We put everything that we could in this show.
Katy Perry set a high bar, but it definitely sounds like Gaga has her sights set on breaking Super Bowl halftime show records.