Lady Gaga's Mysterious Netflix Documentary Needs To Answer Some Questions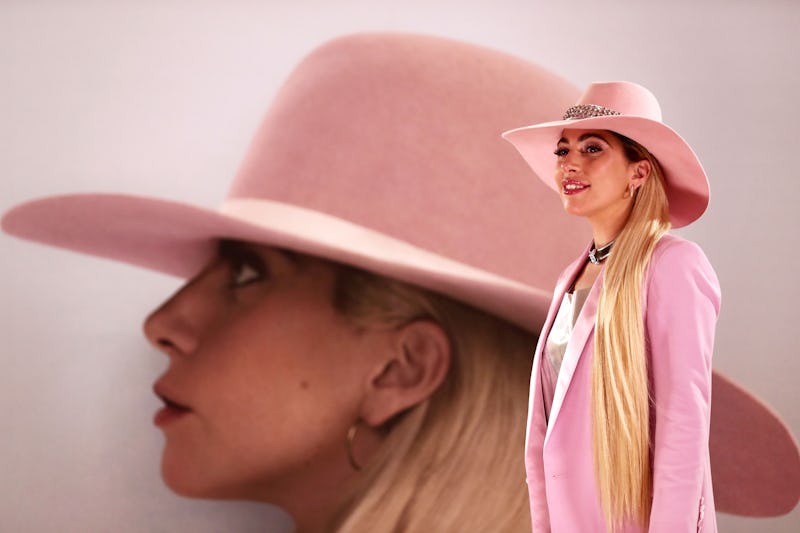 BEHROUZ MEHRI/AFP/Getty Images
On Thursday, it was announced that Lady Gaga's Netflix documentary, Five Foot Two, will officially premiere on September 22. Between her cryptic social media posts and what we've come to expect from the artist, it's an almost impossible thing figure out exactly what the Lady Gaga documentary is about.
It's already got some serious Life Is But A Dream vibes. The 2013 documentary that Beyoncé made for HBO was equal parts intimate and revealing, but left fans feeling as far away from the star as ever. Lady Gaga, however, is historically much more open. She posts on social media far more often and is just as likely to document a hospital stay for chronic pain as she is a hair bleaching session. Even the doc's name, Five Foot Two, references a personal statistic about herself — her height. Beyoncé's documentary taught us things we didn't know about — like her miscarriage — but it still felt as if she kept up a guard. Lady Gaga has called into Ellen when she's watching TV in bed with her mom.
There's no right way to be a celebrity, but the point is that Lady Gaga's documentary rollout thus far has been uncharacteristically enigmatic. With about a month until the documentary's September 22 premiere on Netflix, there are more than a few questions still need answers.
1. What Is The Lady Gaga Documentary About?
In the few clips she's made available, we see angular shots of the star paired with ominous music or vaguely upsetting voiceovers. Is seems as if the documentary will focus, at least in part, on Gaga's struggles with chronic pain. The teaser also offers a clip of her Halftime show. But will she feature any of her own backstory? Family? Secret studio time?
2. What Happened Between Lady Gaga And Madonna?
Gaga used Twitter to post the majority of her cryptic Five Foot Two clips. But, on Instagram, she teased us with a mysterious soundbite. Is she hinting to beef with fellow icon Madonna?
3. Can I Buy A Set Of Sheets Made With The Artwork On It?
As Cosmopolitan reports, the artwork for Five Foot Two was "made in collaboration with Berlin-based artist Pierre Schmidt," along with "iconic fashion photographers Inez and Vinoodh." It's eerie, it's evocative, it's beautiful, it needs merchandising.
4. Will It Be Available Anywhere Other Than Netflix?
It's interesting that Lady Gaga choose Netflix as the home for Five Foot Two. Sure, "Live in 3-D" concert footage isn't as popular in theaters as it may have been a few years ago. But Netflix, over a network channel? Here's hoping fans will at least be able to purchase it on iTunes.
5. Why Now?
Is there a significance to the September date, or this fall in particular? It's more common for celebrities to release something like this — a book, a biography, what have you — in accordance to a press cycle. Is she hinting, perhaps, that something else in her future?
Regardless of what the singer is planning, fans are going to eat it up. Just like with everything else that Mother Monster does.