Gaga's Super Bowl Halftime Outfits Were Fit To Fly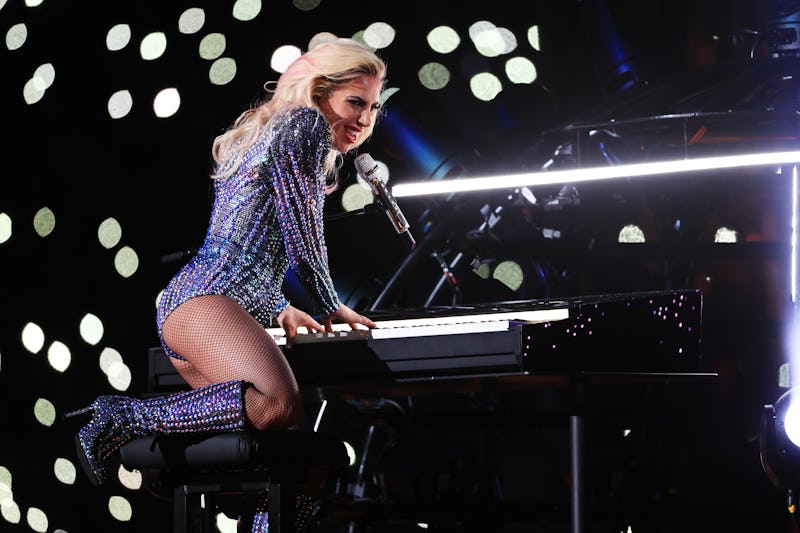 Mike Ehrmann/Getty Images Sport/Getty Images
Lady Gaga performed the National Anthem at the 2016 Super Bowl, rocking a custom and sequined red Gucci pantsuit. It was quite the chic fashion statement for a standstill performance, but it was nothing compared to Lady Gaga's 2017 Super Bowl Halftime outfits, which needed to move with her. And boy did she move.
At the press conference held before The Big Game, Gaga was incredibly coy when fielding questions about the number of costume changes we would see during her performance. As it turns out, Gaga only wore two (!!!) outfits (well, three, if you count a brief jacket addition) but both were decidedly Gaga-riffic.
She began her performance on the roof, wearing a silver, metallic, and studded bodysuit that boasted statement, power shoulders, matching knee-high boots, and fishnets, all paired with futuristic eye makeup that looked like a mask.
I admit I was skeptical about how many costumes Gaga would bravely attempt to change in and out of during the Halftime Show, since she had just 13 minutes to perform before an insanely massive TV audience. That tight time window made it really tough to swap outfits... unless of course she and her glam squad planned to get really, really creative with layering.
That said, here's how things broke down and shook out.
Gaga's acrobatic performance — diving into the stadium and then ditching with the most epic mic drop in ages — dictated her need to wear utilitarian costumes.
She could move, dance, and, well, fly because she was wearing this grommet-studded one-piece with long sleeves. It didn't get in her way with too many details, accessories, or extras, and she didn't get caught up in anything while flying. The suit was anything but boring.
Those boots, though! It was amazing matchy matchy-ness.
Fly, Gaga, fly!
For her one and only costume change, Gaga ditched the bodysuit for sparkly boy shorts and a white crop top, with football pad shoulders. It was a decidedly Gaga take on a football uniform. She kept the boots and thus the glam, and avoided looking like a wannabe linebacker.
The crop top shoulders also had some studding. Paws up!
Here's one last look at those shoulders.
Gaga was gorgeous and a billion percent entertaining!