Lance Bass Is Still Confused By That BSB Serenade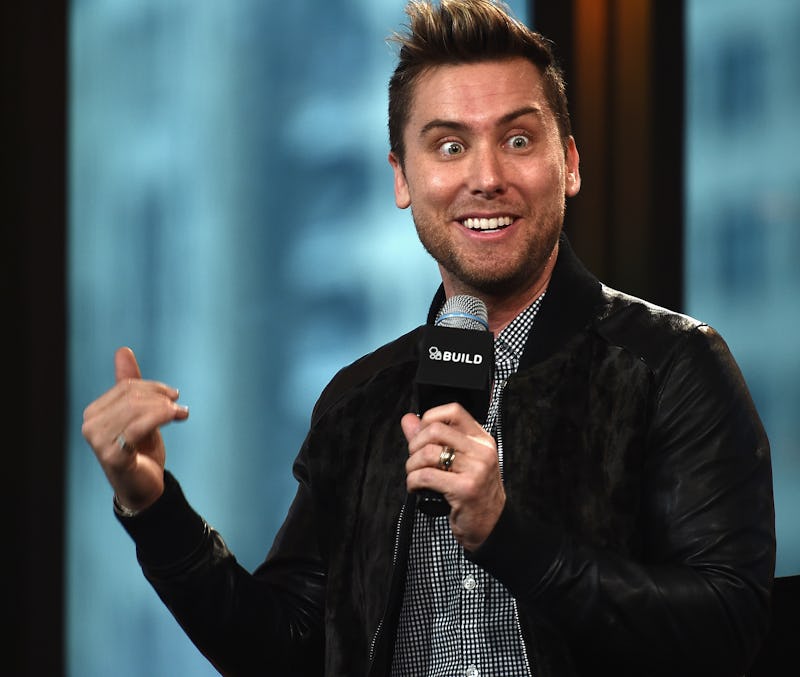 Dimitrios Kambouris/Getty Images Entertainment/Getty Images
In case you missed it, peace in boy band world was declared on Saturday night when Lance Bass joined the Backstreet Boys on stage in Las Vegas. Bass and husband Michael Turchin were in the audience when BSB brought them on stage, and, in case this still sounds incredulous, we have the receipts. On Monday night, the singer posted an Instagram of him being embraced by Nick Carter and Kevin Richardson, captioned with "Yes, I'm confused, too." Turns out, even a bonafide *NSYNCer can't handle the magic of that moment.
I mean, this was hinted at when the Backstreet Boys first released a video of that performance on their Twitter account. Giving it their all with a performance of "Shape Of My Heart," the Backstreet Boys made Bass the belle of the ball, giving him a centerpiece spot between the boys. Throughout the unofficial serenade, the Backstreet Boys are taking turns draping their arms around Bass and offering only slightly awkward high fives. And it all culminates with hugs galore.
No, seriously, I can't make this up. It is a beautiful moment of camaraderie, and maybe a bit too much dry ice (is it me, or are they waving their arms around just trying to literally clear the air)?
In any case, Bass is clearly overwhelmed by the entire experience, and you can see that more clearly in the close-up of his face in his Instagram post. He looks like someone thrust in the middle of someone else's karaoke session where they only half know the song. And that's ridiculous, because "Shape Of My Heart" is easily the stand-out track off Black & Blue, and, with both BSB and *NSYNC charting in that prime time of pop music, he should know all the lyrics.
Of course, it's worth mentioning that, even though our childhood and issues of J-14 perpetuated a myth of a NSYNC and Backstreet Boys rivalry, none such really existed. Both bands have since said they've been on friendly terms, so this union probably isn't as revolutionary as my inner 10-year-old is making it out to be. It is, nonetheless, simultaneously epic and perplexing to see in practice, and Bass definitely feels the same way.
If you want to witness this monumental moment, you can rewatch part of the performance proper below in all its beautiful, disorienting glory. And I think it's fair to say that we can keep our fingers crossed about more Backstreet Boys-*NSYNC unions in the future.