This Abuse Survivor Confronted Larry Nassar & Her Statement Is Incredibly Empowering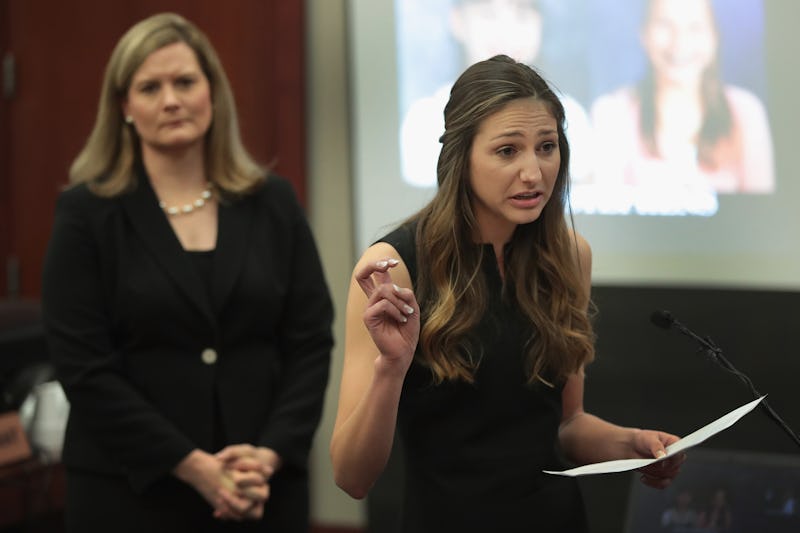 Scott Olson/Getty Images News/Getty Images
Former USA Gymnastics team doctor Larry Nassar had his day in court — and on Tuesday, survivors of his abuse had theirs. Kyle Stephens, the first survivor to confront him in the courtroom, told him exactly why his days of abuse were over. "Little girls don't stay little forever," she said. "They grow into strong women that return to destroy your world." Nassar pleaded guilty in court in November to sexually abusing underage girls, but before receiving a sentence on seven charges of first-degree criminal sexual conduct, Nassar's victims confronted him with their testimonies.
In an emotional speech directed at Nassar, Stephens went into detail about how he abused her starting when she was 6 years old. Stephens said she told her parents about Nassar's actions when she was 12, but that he denied any wrongdoing.
"After my parents confronted you, they brought you back to my house to speak with me. Sitting on my living room couch, I listened to you tell me, 'No one should ever do that, and if they do you should tell someone," she said in court Tuesday. "Well Larry, I'm here not to tell someone, but to tell everyone.'"
More than 140 women have accused Nassar of sexual abuse; he has admitted to molesting seven of them. While many saw Nassar in his capacity as a sports doctor, Stephens encountered him in her house as a friend of the family. "You used my body for six years for your own sexual gratification," she said. "That is unforgivable."
You can watch her testimony below, but be warned, she shares some graphic details:
The day before Stephens and other survivors detailed Nassar's abuse to the court, the list of his known alleged victims was still growing. Olympic gymnast Simone Biles released a statement on Monday accusing Nassar of sexually abusing her.
"I am not afraid to tell my story anymore. I, too, am one of the many survivors that was sexually abused by Larry Nassar," she wrote. "Please believe when I say it was a lot harder to first speak those words out loud than it is now to put them on paper. There are many reasons that I have been reluctant to share my story, but I know now it is not my fault."
Three members of the "Fierce Five" 2012 USA Gymnastics team — Aly Raisman, McKayla Maroney, and Gabby Douglas — have also accused Nassar of assaulting them during the time that he worked as a doctor for Team USA Gymnastics.
Nassar pleaded guilty to child pornography charges on top of the sexual misconduct charges and was sentenced to 60 years in federal prison in December. He has not yet been sentenced on the seven sexual misconduct charges. The court set aside several days to hear from nearly 100 of his alleged victims and their parents before giving Nassar a sentence for those offenses.
Joining Stephens was Donna Markham, whose daughter, Chelsey, saw Nassar for medical treatment when she was 12. Chelsey killed herself in 2009, after years dealing with depression that her mother says began because of Nassar's abuse. Chelsey was 23.
"Every day I miss her. Every day," Markham told the court on Tuesday. "And it all started with him. It all started with him, and it just became worse as the years went by until she just couldn't deal with it anymore."
Stephen's testimony that "little girls don't stay little forever" struck at the heart of why Nassar was placed behind bars: He preyed on the innocence of children for years, but those little girls are now grown women who aren't afraid to speak up about their horrific experiences with him. "As the only non-medical victim to come forward," Stephens said Tuesday, "I testified to let the world know that you're a repulsive liar, and that those 'treatments' were pathetically veiled sexual abuse."