These Last-Minute DIY Halloween Costume Ideas Are A Lazy Person Lifesaver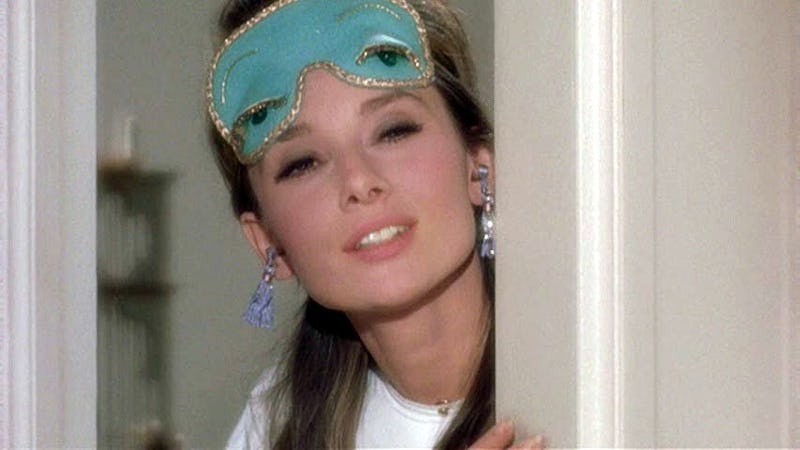 Paramount Pictures
That all-too-important Oct. 31 date is creeping closer and closer on the calendar, and in spite of all of your best planning efforts, you're still costume-less. I've been there, my friend. Haven't we all? With mere weeks (or even days) left to go before Halloween, it sounds like you're in dire need of some last-minute 2017 DIY Halloween costume ideas. You may ask, why add time to the process by going the DIY route? You and I both know that it's way more fun that way.
A DIY Halloween costume doesn't necessarily require hours and hours of arts and crafts time. It may be as simple as pulling the pieces of the costume together for yourself (instead of buying them as a set) or investing a few minutes in a little creative handiwork that will make your look stand out from the rest. Regardless of how far you decide to go on the DIY spectrum, I'd bet all of my Halloween candy that you'll be a lot happier with the results of one of these creative costumes than with the admittedly simpler process of buying a packaged look that's bound to be more predictable.
Check out these suggestions for last-minute DIY costumes. I promise only some of them require hot glue.
The Solar System
Bright Planets Fit & Flare Dress, $40, Hot Topic | White Foam Balls Assortment, $11, Amazon | Crafter's Acrylics Paint Sample Pack, $10, Amazon | Solar System Bandana, $12, Amazon
The universe is constantly full of fascinating cosmic events (Harvest Moon, anyone?), so I can't think of a more interesting or timely costume to put together this year. Start with a solar system dress (naturally). For the DIY portion of the costume, use acrylic paints to decorate foam rounds as the various planets and celestial bodies, which can then be hot glued or duct taped to your outfit. For an added flair, throw on a space-y bandana too.
Ceiling Fan
Cheerleading Pom Pom, $6 (each), Cheerleading.com | Men's White V-Neck, $13, Amazon | Black Fabric Marker, $5, Amazon | Big Classic Cheer Bow, $15, Amazon
Looking for the perfect mix of punny and crafted this Halloween? Dress up as the ceiling's biggest fan. Carry a set of pom poms and decorate a plain white shirt with an encouraging message for your non-existent home team (i.e. "GO CEILING!"). Go one step further with a set of pigtails and hair bows.
Rosie The Riveter
Basic & Classic Chambray Shirt, $28, Amazon | Red Polka Dot Bow, $7, Amazon | Rosie the Riveter Button, $7, Amazon
She's the original icon of women doin' it for themselves, and if there's a time that it's more important than ever to honor her, it's now. Hear. Us. Roar. This Rosie costume also happens to be really easy to put together, so your return on investment is going to be pretty high here. The only real necessities are a Chambray shirt and polka-dotted headband, but you can add a classic "We Can Do It!" pin for an extra punch.
Daenerys Targaryen
Blue Satin Cape, $12, Amazon | Dragon Shoulder Sitter, $25, Amazon | Wavy Braided Wig, $15, Amazon | Gold Round Choker, $11, Amazon
Already experiencing Game of Thrones withdrawal? If you can't possibly wait another year (or more — don't shoot the messenger!) to have your favorite Mother of Dragons back in your life, channel her this October with the perfect Daenerys costume. Wear a simple blue cape, perch a dragon on your shoulder, and top off the look with a braided blonde wig and gold choker for added glam.
Lorde
Black Long Sleeve Dress, $20, Amazon | Black Lace & Double Cord Choker Set, $17, Claire's | NYX Matte Lipstick (Goal Digger), $6, Target | Dark Brown Wavy Wig, $9, Amazon
Grab your favorite black dress, black choker, and dark statement lipstick, then let your hair go wild or throw on a wig to rock the full Lorde look. Extra points for singing "Royals" as you go about your Halloween business.
Evan Hansen
Men's Striped Polo Shirt, $6, Amazon | Women's Chino Pant, $17, Amazon | Knee High Tube Socks, $8, Amazon | Scotch Duct Tape (Pearl White), $4, Amazon
If last year's must-have Broadway-inspired costume was Alexander Hamilton, then this year's has to be Evan Hansen. Pair a blue men's polo shirt with khaki pants. You can practice your DIY skills by using toilet paper, a white men's sock, and white duct tape to create Evan's signature arm cast.
Unicorn
Birthday Party Cone Hats, $8, Amazon | Glitter Glue Set, $8, Amazon | Gem Shapes Value Pack, $12, Amazon | Adhesive Stick-On Gems, $7, Amazon | Face and Body Glitter (Ice), $6, Ulta Beauty
Add a little extra DIY magic to your Halloween this year by playing arts and crafts with a plain paper party hat and turning it into the unicorn horn of your wildest dreams. TLC in the form of glitter glue and rhinestones should do the trick! For an added pop of unicorn cool, stick some adhesive facial gems around your eyes and use an ultra-sparkly eyeshadow. Your outfit should be whatever makes you feel like the most unique in the herd — or a simple white shirt can work as well.
Holly Golightly
Tuxedo Shirt, $15, Amazon | Summer Tassel Drop Earrings, $7, Amazon | Handmade Breakfast at Tiffany's Sleep Mask, $16, Amazon | Silky Soft Eye Mask, $2, Dream Essentials | Glitter Glue (Gold), $5, Amazon
The most iconic of Audrey Hepburn's many iconic Breakfast at Tiffany's fashion moments may be the long black dress and oversized black shades she wears outside the window of the famed jewelry store, but her just-rolled-out-of-bed glam is honestly under-celebrated. All you need to recreate that simple look this Halloween is an oversized white tuxedo shirt, tassel earrings, and a sleep mask decorated with glittery lashes (an easy craft project if you're up for it, but you can also buy one ready-made).
Frosty The Snowman
Novelty Corncob Pipe, $5, Amazon | Face Paint Color Crayons, $6, Amazon | Men's Solid Color Scarf (Cranberry Red), $7, Amazon | Black Felt Top Hat, $6, Amazon | Artificial Decoration Flowers, $11, Amazon
Get a jump on the winter holidays by breaking out some December cheer in your Halloween costume. The lyrics to this classic song read like the instructions for putting it together. Start with a white outfit as your base, then add a corncob pipe, button nose (using face crayons), and scarf. Cut three circles out of black construction paper and stick them to the front of your shirt as buttons. Finish it off with a black top hat accented with a pink flower.
Flo
White Polo Shirt, $6, Amazon | Standard Bib Apron, $6, Amazon | Blue Satin Headband, $8, Amazon | Nyx Suede Lipstick (Kitten Heels), $7, Target | I LOVE INSURANCE Button, $6, Amazon
If you're scrambling for a last-minute costume, might I suggest my personal favorite fictional insurance salesperson? Pulling together the pieces you'll need to embody the ever-present Flo from Progressive's commercials is pretty simple, and you'll be easily recognizable to everyone you meet (assuming they've turned on a TV at some point over the last nine years). Wear a white polo shirt under a white apron. Accessorize with a blue headband, red lipstick, and an "I Love Insurance" pin. The perfectly flippy hairstyle is optional, but highly encouraged.
Check out the entire 'What's Up, Boo?' series and other videos on Facebook and the Bustle app across Apple TV, Roku, and Amazon Fire TV.