Last Minute Sign Ideas For The People's Climate March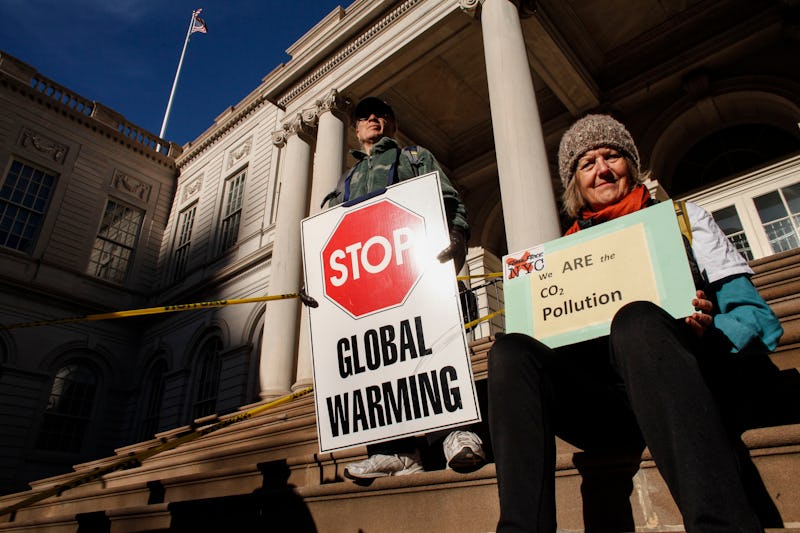 Kena Betancur/Getty Images News/Getty Images
This weekend, thousands will take to streets around the world for the People's Climate March on April 29th. Some of you are ready; your marching shoes are by the door, you have a backpack full of snacks and Band-Aids, and your signs are both witty and informative. Some of you are less ready; you've had a lot going on lately at work and on Netflix, and you haven't had time to come up with any clever signs. If that's the case, don't worry, I've got you. Here are some last-minute People's Climate March sign ideas that will show your fellow marchers how serious you are about defending our planet, or at the very least, make them crack a smile.
Before you whip out the cardboard and markers though, here's some background. The first People's Climate March was held in New York in 2014, shortly before a UN summit on climate change, and drew over 400,000 people. This year, the march is taking place on the 100th day of the Trump administration. The timing is significant for a number of reasons, not only because it raises the question: "Only 100 days?!" but also because Trump has placed so much significance on his first 100 days in office, and in those 100 days, his administration has taken disastrous actions on the environment, including threatening to withdraw from the Paris Climate Agreement, putting Scott Pruitt, a climate change-denier, in charge of the EPA, putting forth plans to slash the agency's budget, rolling back car pollution standards, and the list goes on.
Trump's actions come as communities across the world are fighting to cope with the effects of climate change: the rise in average global temperature has led to rising sea levels, droughts, flooding, an increase in extreme weather events and political instability. Because the stakes are so high, the organizers of the People's Climate March have set an broad, ambitious agenda that includes advancing solutions to the climate crisis, as well as job creation, and protecting immigrants, communities of color, and indigenous and tribal peoples.
"On the 100th day of the Trump administration we will be in the streets of Washington D.C. to show the world and our leaders that we will resist attacks on our people, our communities, and our planet," the group says on their website.
If you can't get to D.C. but you'd still like to march, use the People's Climate March website to find a sister march near you. And until then, here are some ideas for signs to show planet earth you have her lumpy, watery, beautiful back.