19 Creative People's Climate March Sign Ideas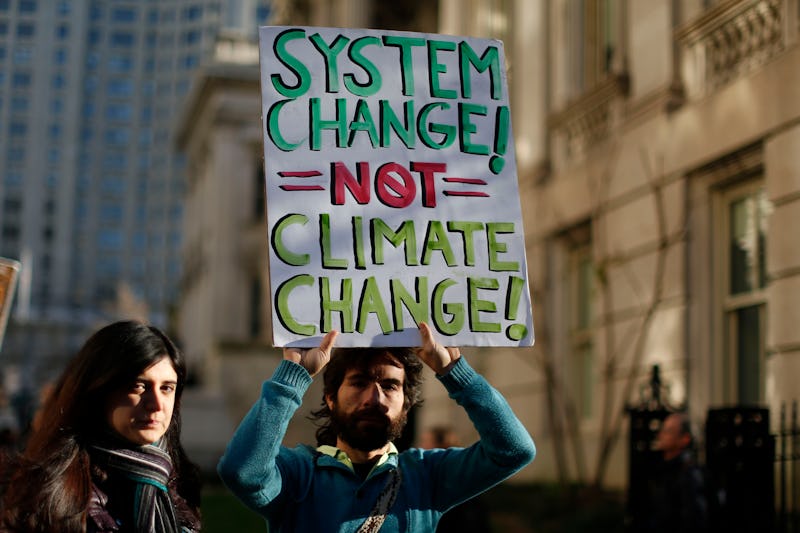 Kena Betancur/Getty Images News/Getty Images
Don't put your signs away just yet! On the heels of the recent March for Science comes the People's Climate March, which takes place April 29 in Washington D.C. and around the world. If you're going, consider these creative People's Climate March sign ideas to let the climate-change deniers know that you stand for maximum climate protection, jobs that enforce it, and justice for our Earth. March organizers have issued a call to action requesting that everyone stand up and demand climate protection now, because, sadly, later just might be too late.
"Everything we have struggled to move forward in the United States is in peril," the People's Climate March organizers detail on the event's website. "Our loved ones feel under siege, and those in power in Washington are advancing a dark and dangerous vision of America that we know is untrue. To change everything, we need everyone."
While this year's march is more important then ever in the wake of Trump's systematic dismantling of climate protections, this is actually not a new march. The Peoples Climate Movement organized the historic People's Climate March, which drew 400,000 people, on the eve of the UN Climate Summit in 2014, according to the march website.
If you'e planning on heading to Washington D.C. for the main People's Climate March or to a sister march, which you can locate on an interactive map, here are some creative ideas for your signs so you can boldly represent The Resistance.