Laura Dern's Golden Globes Date Fights For The Rights Of Farm Workers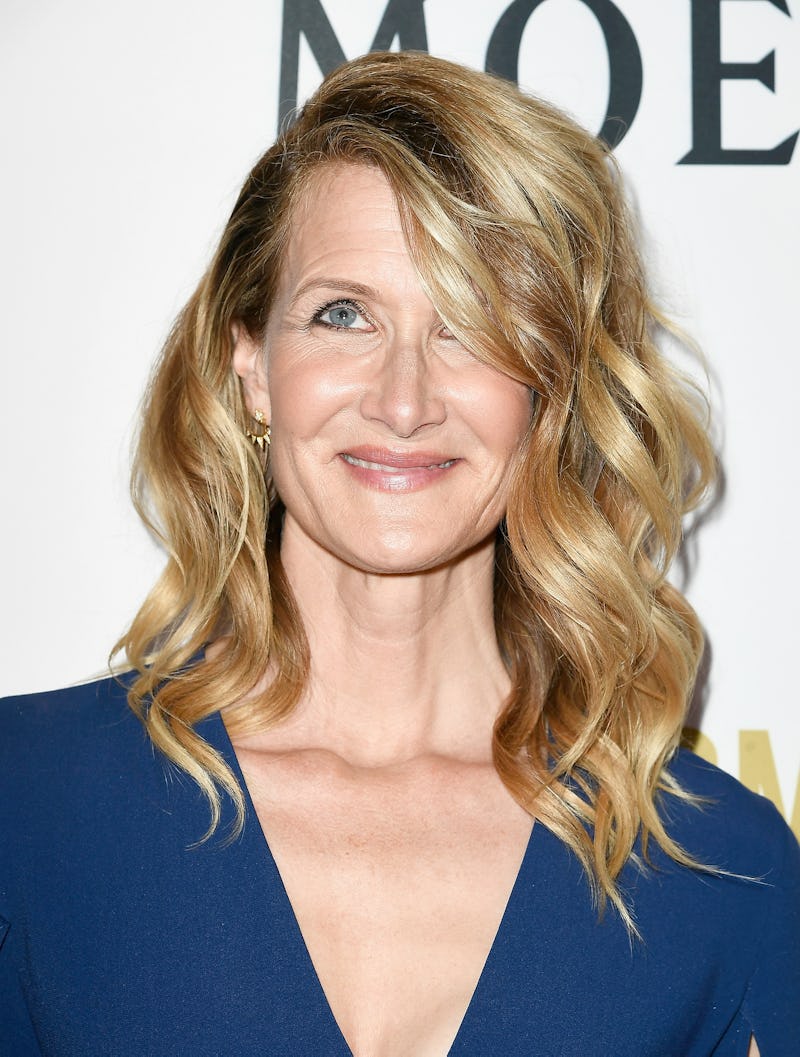 Frazer Harrison/Getty Images Entertainment/Getty Images
2018 started not with a whimper but with a bang — on New Year's Day, women in the entertainment industry and beyond revealed the Time's Up initiative, a new organization that will provide legal support for those who have experienced sexual harassment or abuse at work, as well as elevate women into positions of power in their respective industries. To underscore the point, some actresses brought women's rights activists as their dates for the show. So who is Laura Dern's date to the 2018 Golden Globes? Mónica Ramírez fights for the rights of farm workers around the world.
Ramírez advocates for Latinas, farmworkers, and immigrant women, as well as fights for gender equity across industries. She works with World Without Exploitation, and according to the organization's website, her work has been long running and substantial. In 2003, Ramírez "founded the first state-based legal project aimed at combating gender discrimination against women employed in agriculture in Florida," and three years later, she founded the "first legal project to end workplace sexual violence and other forms of gender discrimination against migrant farmworker and low-paid immigrant women" with the Southern Poverty Law Center. But that's not all — in 2012, Ramirez became the Deputy Director of Centro de los Derechos del Migrante, Inc. But not to let the grass grow under her feet, in 2015, Ramírez "became the first Director of Gender Equity and Advocacy for the National Hispanic Leadership Agenda (NHLA), a coalition of 40 preeminent Latino organizations in the United States."
This woman is a powerful reminder of what one person can do, and Ramírez certainly deserves to be on the Golden Globes red carpet. In an Instagram post, Dern agreed, writing, "Honored to be linking arms with Monica Ramirez, and the farmworker women everywhere that she represents, to say Time's Up on the imbalance of power. Everyone should be free of violence at work and everywhere."
Time's Up is a powerful movement, and it all came together pretty quickly — in about the span of a week. "It happened to be that a group of women were talking to each other, from actresses to agents to writers to producers," Dern told InStyle. "And suddenly we're rallying each other to say, 'How can we help all of us together to make a difference for friends across all industries?'" As soon as everyone realized that everyone was having the conversation, it made sense for these women to come together and do something big. In only 18 days, as of press time, the organization has raised over $15 million to help women in need, and the money keeps on coming in.
Time's Up was also behind the movement for everyone to wear black on the Golden Globes red carpet. It's award season, like it or not, and this monochromatic solidarity was the easiest way to take a stand and still continue with professional obligation. "Our first thought was how we create solidarity. This is not a new idea," Dern said. "But as actresses, the red carpet has been a place where a lot of people benefit from the moment of publicity, supporting a film, supporting a label, supporting a story. And for that story to be unity at the source of competition, it felt like a gorgeous place to say that—to say this is not a competition; this is a place of honoring each other's voice, each other's abilities, each other's opportunity." The all-black movement turns supporting a film into supporting all of women kind, and that's powerful. "To be a public figure and have voice is a luxury, so why not then use it for all those who haven't had that luxury?" Dern continued.
Including Ramírez in her award show journey shows that Dern realizes how important it is to give her platform to those who truly need it, and together, she and Ramírez can give a voice to millions.
If you or someone you know has been sexually assaulted, call the National Sexual Assault Telephone Hotline at 800-656-HOPE (4673) or visit online.rainn.org.