These Celebrities Are Bringing Activists To The 2018 Golden Globes For This Amazing Reason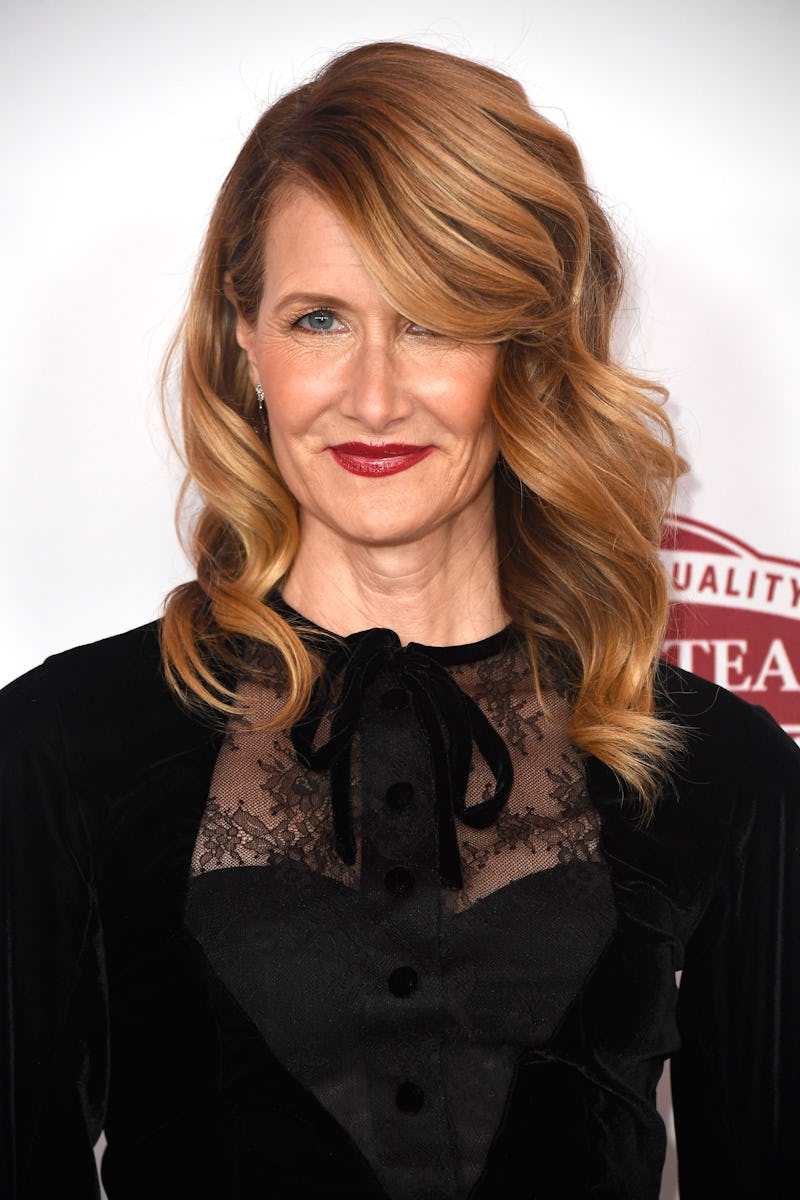 Frazer Harrison/Getty Images Entertainment/Getty Images
On New Year's Day 2018, women in the entertainment industry announced Time's Up, a new initiative focused on providing subsidized legal support for people who have experienced sexual harassment or abuse in the workplace and elevating women into positions of power across industries.As reported by the NY Times, Meryl Streep, Laura Dern, and other stars are bringing activists to the 2018 Golden Globes on Sunday, Jan. 7, showing their commitment to keeping the Time's Up movement inclusive. The eight activists in attendance will each highlight an important issues of gender and racial inequality, and hope to use this platform to offer long-term solutions. Their work aligns with the Time's Up movement, which offers a potential way forward following revelations about the culture of harassment and abuse that impacts nearly every industry.
There are eight stars who have revealed that their guests for the night's event will be activists, and they are Shailene Woodley, Michelle Williams, Amy Poehler, Emma Watson, Laura Dern, Susan Sarandon, Emma Stone, and Meryl Streep. It's a way for these celebrities, who recognize the privilege that their platform offers, to elevate the voices of women who are marginalized by class, sexuality, or race. It's critical that the Time's Up movement is inclusive, and it's clear that these stars are committed to making sure it will be. "We believe we are nearing a tipping point in transforming the culture of violence in the countries where we live and work," the actors and activists said in a joint statement, according to the New York Times. "It's a moment to transform both the written and unwritten rules that devalue the lives and experiences of women."
The activists in attendance will have the opportunity to talk about their respective causes on the red carpet, and could be brought up by nominees and presenters as well. Tarana Burke, the founder of the #MeToo movement and the director of Girls for Gender Inequity, will appear with Michelle Williams. The activist has played a key role in pushing the issue of sexual harassment in the workplace into the cultural spotlight and ensuring that the movement remains inclusive. Her organization promotes physical, psychological, social, and economic development for women, and helps break down societal barriers to opportunity.
Marai Larasi, who will attend with Emma Watson, is also the director of an important non-profit, IMKAAN. The organization addresses violence against black and minority women in the U.K., and looks to improve international policy and response to instances of abuse.
Shailene Woodley is an outspoken advocate for the rights of Native American treaty and water rights in the United States, and will arrive with singer and activist Calina Lawrence. In 2016, Woodley was arrested while protesting the Dakota Access Pipeline, an oil-drilling project that violated the land treaties of several Native American tribes and posed serious pollution risks. Lawrence is a member of the Suquamish Tribe who recently traveled the country advocating for Native Treaty Rights and promoting the "Water is Life Movement" led by the Standing Rock Sioux Tribe. On Sunday, Woodley and Lawrence posted a video to Instagram about the Globes and their cause.
Several of the star's other guests are prominent community organizers, including Rosa Clemente, who will attend alongside Susan Sarandon. In addition to being a political organizer and journalist, Clemente's work focuses on Puerto Rican independence and voter engagement. In 2008, she ran for vice-president on the Green Party Ticket with Cynthia McKinney, which was the first woman-of-color ticket in United States' history. Meryl Streep has invited Ai-Jen Poo, the executive director of the National Domestic Worker's Alliance and creator of the Caring Across Generation's campaign to bring greater access to affordable care for the nation's aging population.
Alongside Big Little Lies' (executive producer: Nicole Kidman) star Laura Dern will be Mónica Ramírez, an advocate for gender equity and Latinas and farmworker and immigrant women. She works with the organization World Without Exploitation, and her efforts to empower Latina women and protect agricultural workers from exploitation and gender-based violence is significant. Amy Poehler is also bring an advocate for worker's rights and workplace safety, and her guest Saru Jayaraman helps restaurant workers fight injustice. Jayaraman recently penned a piece about how fair wages are essential to fighting harassment in the food-service industry.
Emma Stone has a fitting guest in Billie-Jean King, a tennis champion and founder of the Woman's Tennis Association. Stone is nominated for her role as King in The Battle of the Sexes (director: Valerie Faris), which tells the story of her 1973 match with noted misogynist Bobby Riggs and her fight for greater gender equity in the realm of sports. Many of this year's nominees in film and television have appropriately centered the stories of women, offering an important reflection of the current cultural moment.
The Time's Up initiative will likely be a key part of the Golden Globes on Sunday, and by elevating the voices of key activists the movement more inclusive. The organization is both a legal defense fund for women who are victims of sexual harassment and abuse and an advocacy group to promote women in leadership positions. The red carpet for the Golden Globes begins at 6 p.m. EST, and viewers should tune in to hear from these activists and learn more about their causes.