Laura Ingraham Not-So-Subtly Suggested She's The One Being Bullied, Not David Hogg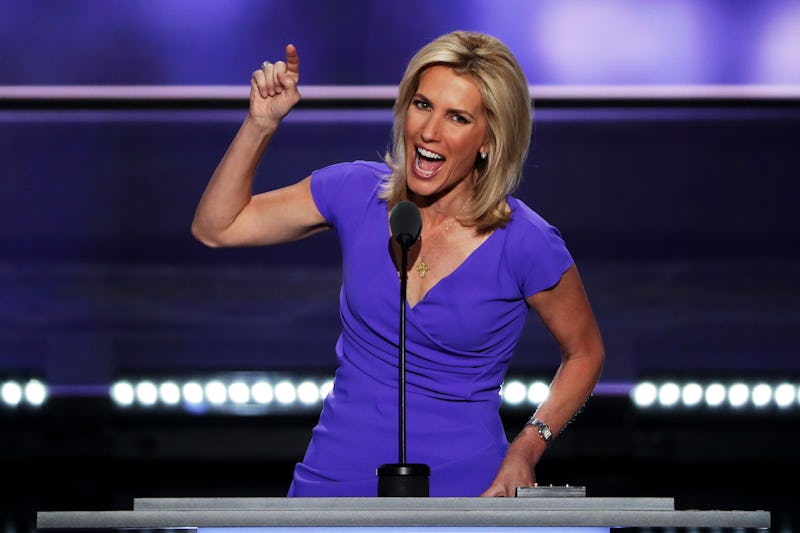 Alex Wong/Getty Images News/Getty Images
Monday night marked the television return of Fox News host Laura Ingraham after she mocked David Hogg, a Parkland shooting survivor, and then took a week-long vacation. In her monologue on The Ingraham Angle, the host suggested that conservative opinions are facing censorship in the United States. Because of this, Ingraham suggested, those who hold these opinions are facing a host of consequences, including being fired or being boycotted. Ingraham's comment regarding boycotting appeared to make veiled reference to advertisers' decisions to boycott her show after she mocked Hogg last month.
On March 28, Ingraham tweeted an article reporting that Hogg had been rejected from four colleges to which he had applied. Ingraham commented on the article, "David Hogg Rejected By Four Colleges To Which He Applied and whines about it. (Dinged by UCLA with a 4.1 GPA...totally predictable given acceptance rates.)."
In response, Hogg tweeted a list of Ingraham's top 12 advertisers, requesting that people contact them to complain about Ingraham's comments. Later that day, Ingraham apologized to Hogg, saying on Twitter, "Any student should be proud of a 4.2 GPA —incl. @DavidHogg111. On reflection, in the spirit of Holy Week, I apologize for any upset or hurt my tweet caused him or any of the brave victims of Parkland." The host also decided to take a pre-planned one week vacation.
USA Today reported that Hogg's appeal to advertisers was quite effective — and Ingraham lost around half of her show's advertisers following the Twitter exchange. When she returned to the air on Monday, Ingraham did not directly address the issue with Hogg or the boycott. However, she did express that she felt like conservative voices were being suppressed in the United States.
As the Hollywood Reporter noted, on her show Ingraham repeatedly chastised the "the bullies on the left aiming to silence conservatives." She also accused progressives of being hypocritical, saying, "For all their talk of inclusion, the left doesn't invite more voices to enter the public discussion. ... Instead, they drive out any dissenting voice."
The Hollywood Reporter did indicate that Ingraham did not specifically say she represented a conservative individual whose voice is being suppressed. However, her comments appeared to give the impression that she was at least in part referring to her recent feud with Hogg and her advertisers' withdrawal.
Indeed, at one point in her monologue, Ingraham asserted,
There's a contraction of free speech all around us. ... Many of you have become accustomed to editing yourselves. Expressing views that just five or 10 years ago were considered mainstream, can now get you fired. It can cause you to lose a promotion. You could be branded a hater. Or yes, you can get boycotted.
Toward the end of her monologue, Ingraham announced that she will be featuring a new segment on her show called "Defending the First," which will explore what she believes are threats to the First Amendment. As the host noted, she plans to use her show to expose "the perpetrators [of First Amendment threats], their tactics, their major players, and their funders." She also did not mince words when characterizing how she believes some progressives are threatening free speech, saying, "Their efforts are Stalinist, pure and simple. Their objective is a total transformation of American society, not through rational discourse and open debate, but through personal demonization and silencing."
Overall, while Ingraham's monologue did not mention her Twitter exchange with Hogg or her advertisers' exits, she certainly indicated that she strongly believes that conservative voices are being unfairly suppressed, including through boycotts. Time will tell whether Ingraham ever mentions her issues with Hogg and her advertisers on her show, particularly on her new First Amendment analysis segment.