Lauren Conrad's Baby Shower Was Lovely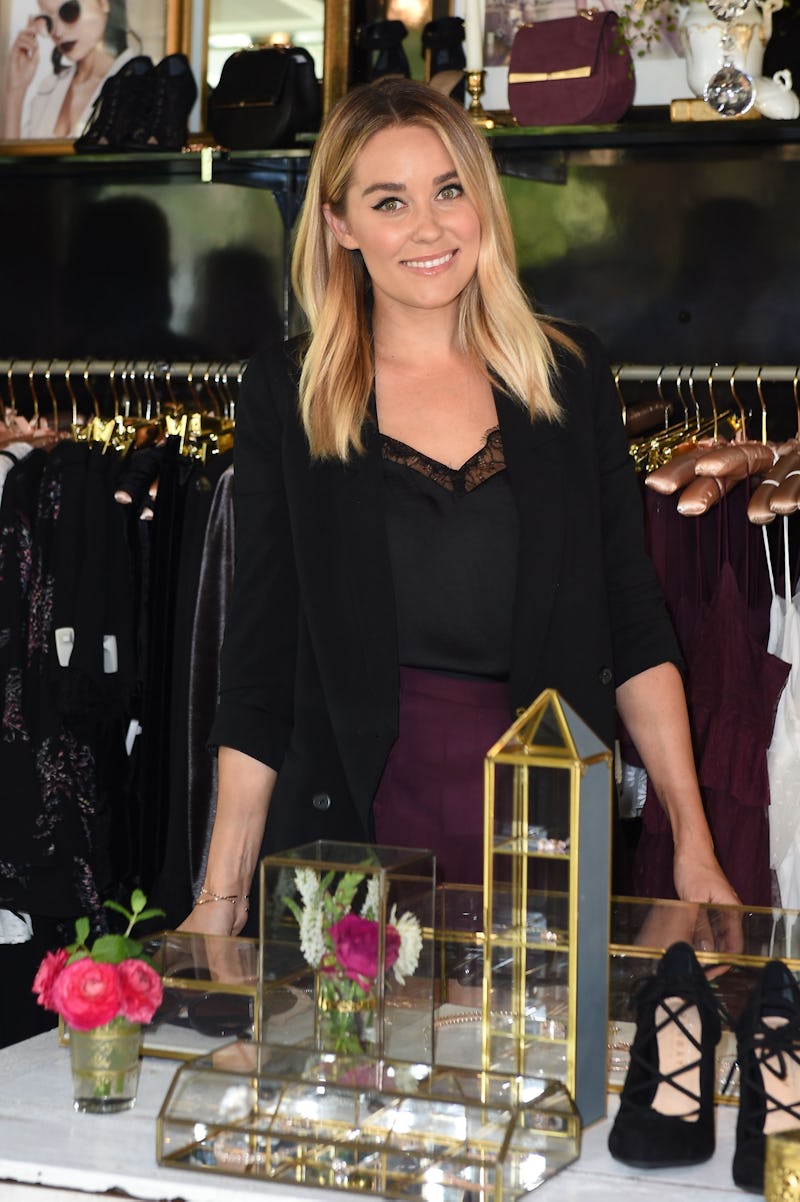 Joshua Blanchard/Getty Images Entertainment/Getty Images
It's been over a decade since The Hills took TV by storm, and life is moving on for it's former stars. The show's leading lady, Lauren Conrad, recently took a big step into adulthood and announced she was pregnant in an Instagram post in January. This will be her first child with husband William Tell, and on Sunday, Conrad's friends threw an adorable baby-shower bash to prep for her baby's arrival. The poolside party was a sunny affair, and the star's closest friends came ready with beach dresses, sandals, and a super-cute cake.
While fans might remember Conrad's on-screen days partying, this was a different kind of affair. The small gathering brought together some of her nearest friends to just enjoy the weather and celebrate the baby. Some guests included a couple of Conrad's coworkers and some more friends who are involved in the blogging world. Since there were so many professional blogging ladies in attendance, it's no wonder that it was such a pretty event. They took extra care to document the day, and there are plenty of shots to be found on Snapchat and Instagram.
On Insta, the designer posted a picture of a lovely yellow cake adorned with flowers and blackberries. The caption on the photo reads, "Thank you to all my girls for my beautiful baby shower yesterday 👶 xo".
This wasn't the only place that Conrad showed gratitude for her pals, posting a photo of the whole group posing to her Snapchat story. The caption reads, "So lucky to have these wonderful ladies in my life! They spoiled me with this a beautiful shower today".
It wasn't just the former reality-star who was having a great time and feeling grateful to the company, as many of her guests also shared some pics of the day to social media.
Conrad's friend Allison Norton showed she was BFF material as well as a master of the LC beach aesthetic, posting a pic of the two beside the pool.
It's clear that Conrad has the most supportive friends, and plenty of fellow future moms were also in attendance. It does seem to baby season for the star and her friends, and she recently posted on her blog about having many pregnant pals.
It must be nice to have lots of friends planning for motherhood alongside you, if not just for the built on play-date and hang out times.
The social media strategist for Conrad's site, Alana Saul, shared the gif above of all the moms-to-be, captioning it, "Showered the beautiful mama in the middle today. 👆 Can't wait for these little babes to have as much fun together as their mamas! @laurenconrad @sfgdiary 👶👶👶".
Congratulations will soon be in order for Lauren Conrad. In the meantime, her friends made sure to prepare for the big day with sweets and style.