Lauren Graham's Reaction To Alexis Bledel's Emmy Win Will Take You Back To Stars Hollow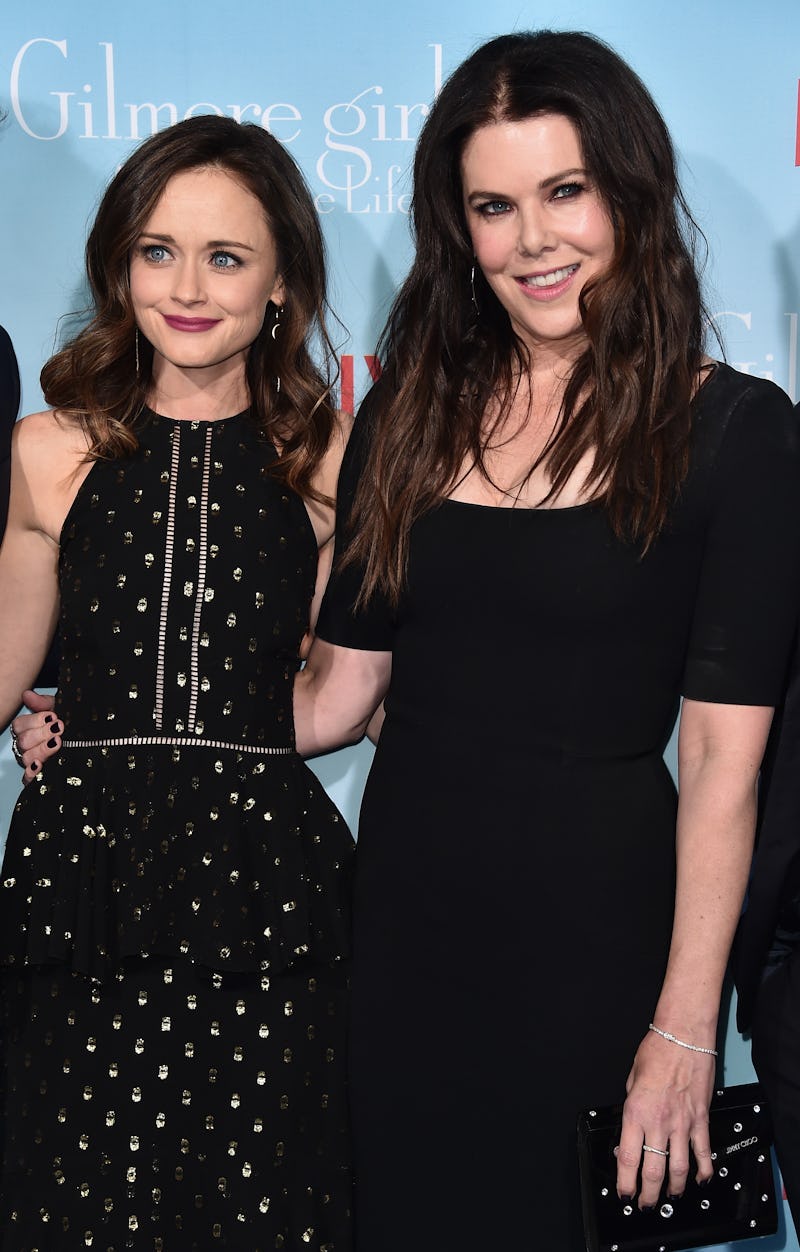 Alberto E. Rodriguez/Getty Images Entertainment/Getty Images
On Sunday, Alexis Bledel took home her first Emmy for Outstanding Guest Actress In A Drama Series at the Creative Arts Emmy Awards for her role in The Handmaid's Tale. Well, Gilmore Girls fans weren't the only ones excited for the actor. Lauren Graham congratulated Bledel on her Emmy by tweeting Monday, "THIS IS SO AWESOME. Congratulations and love! xL."
As you can tell, the 50-year-old is beyond thrilled for her TV daughter. Why wouldn't she be? Judging by Bledel's performance in the drama, which is based on Margaret Atwood's novel of the same name, it's no wonder Graham is proud of the actor who played Ofglen in the Hulu series. According to Deadline, the 35-year-old star kept her acceptance speech brief, but discussed the show's partnership with Change.org and said it aims "to encourage us all to take action, sign up, speak up and stay awake."
While speaking with press backstage, Bledel said further, "I certainly can't speak to every issue, there certainly are so many these days, but I've certainly been listening a lot and really been engaged in the exchange and I love that my character is so strong in the face of so much adversity, I'm very proud of that, and just can't wait to play her again and get back to work."
Those responses, alone, deserve a round of applause.
Back in July when the Emmy nominations were first announced, Graham once again took to Twitter, where she expressed her joy for Bledel's achievement. "Congratulations, @alexisbledel, for the nom for your beautiful work on @HandmaidsOnHulu! So excited and happy for you. Brava! Love, LG." Seriously, how adorable is she?
Like their characters, Graham and Bledel have a special relationship off-screen. As the former Parenthood star gushed to People in July 2016, "I have so much respect for her as an actor and a person and a mom," she said. Graham also revealed about their bond, "Just like the show, our dynamic has always been more like friends than mother and daughter."
It's really no surprise that Graham would be over the moon for Bledel and how well she's doing as an actor. Even when chatting with Glamour in November 2016, Graham opened up about her first impression of Bledel and said, "But I also thought [she was] perfect for the character. Perfect. I thought we hit it off, and I thought that in enough ways, we look alike. I just I kept trying to put myself in her shoes." She continued, "I came in from summer stock and kind of a different route, and I was always impressed by how much just natural ability she had from the beginning."
As for Bledel's first impression of Graham, she told Glamour, "She had all the poise and confidence and energy of a performer! That was a new thing for me. I didn't know how to be that yet, so I just remember being a little bit… dazzled [by her]." Same, Alexis, same.
Fans fell in love with Graham and Bledel's relationship as mother and daughter on Gilmore Girls and even in the revival, Gilmore Girls: A Year in the Life. To see the love and support the Talking as Fast as I Can author has for her former co-star in real life is definitely heartwarming.
Her reactions sound awfully familiar to her GG character. It's like Graham is channeling her inner Lorelai Gilmore, at least in these two tweets praising Bledel. When wasn't Lorelai excited for Rory's success? She was her biggest fan and always rooted for her daughter to do well — and to make her dreams a reality. Of course, whenever Rory did succeed, Lorelai was right there to embrace her and shout her joy from the rooftops. Hmm.. that sure sounds like Graham.
Basically, Graham will forever be proud of Bledel, even when they aren't playing their beloved GG characters.