Lauren Velez Broke The Mold On 'New York Undercover' — And Shaped Me As An Afro-Latina Feminist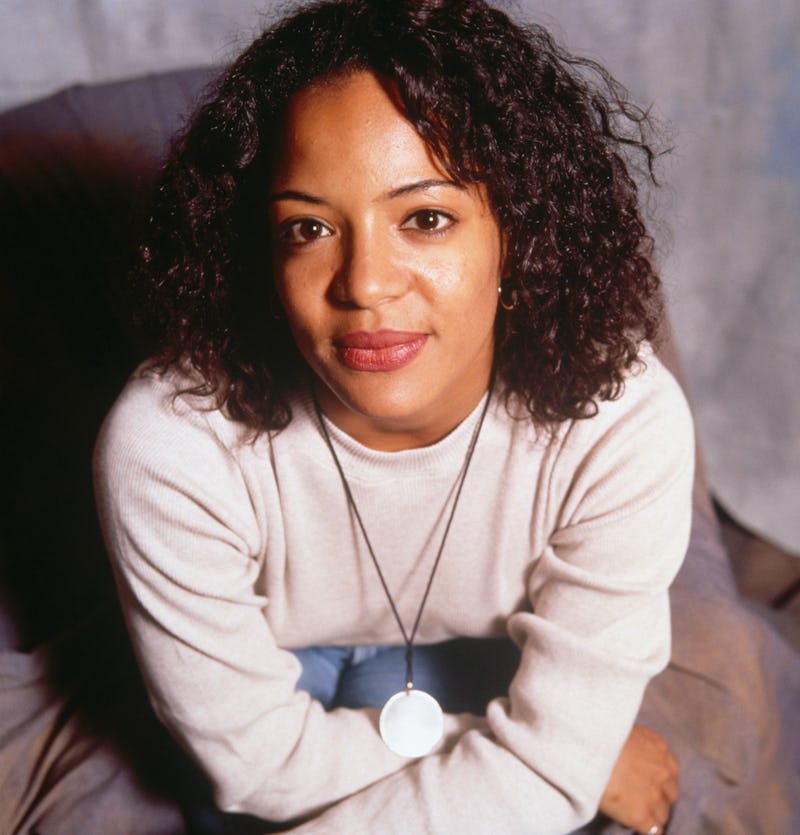 Santiago Bueno / Contributor / Getty Images
In the early fall of 1994, I was a rebellious 14-year-old, starting my freshman year of high school at a mostly all-white, Christian boarding academy in Pennsylvania. I was a first-generation, Dominican-American, self-proclaimed loud-mouthed chick from Jamaica, Queens, whose Seventh-day Adventist mother decided a religious boarding school was a better alternative than going to a high school with metal detectors. I was saved from becoming a potential statistic, unlike my friends around me. "No te apures (which means "don't worry" in Spanish), you'll thank me for this in the future," my mom said wistfully as we packed up my things in a church member's white station wagon, and took the three-hour drive out to Hamburg, Pennsylvania.
At this new school, I felt incredibly isolated and anxiety-ridden. I was ripped away from my friends, my block, and my freedom. I was force-fed bible study and morning devotionals around the clock. I was homesick for the pupusas my downstairs Salvadoran neighbors would save for me, and I missed the Guyanese guy who lived across the street and blasted Supercat's "Ghetto Red Hot." My only solace was finding fellow students from New York who had been sent to this school for similar reasons; children of hardworking Puerto Rican, Dominican, Jamaican, and Trinidadian parents from Dyckman Street, Canarsie, southside Williamsburg (Los Sures), and the Bronx.
We held secret parties in my dorm room when my white roommate was out, and quietly listened to our musical contraband of Jodeci, Tupac, Mary J. Blige, and Shabba Ranks on a beat-up cassette player meant for non-secular music. We lamented about all the shows we were missing at the time, like Martin, Living Single, and the new cop show, New York Undercover. Thirty-something millennials of color will remember this iconic Thursday night line-up on Fox in the mid-'90s, because we were all glued to it.
Fortunately, every 30 to 40 days, our school gave us home leave, which allowed us to tap into our sorely-missed, hip-hop infused, teenage lives for a couple of days. On the bus ride from Hamburg to Port Authority in New York, I was dressed in my non-boarding school attire: a Polo Sport baby tee, baggy Guess jeans, and my dark navy Reebok Freestyle sneakers. I was finally free to listen to Biggie's Ready to Die, Method Man's Tical, and watch my fave shows on Fox out in the open. Once back home, I immediately tuned into New York Undercover and caught up on episodes my mom recorded on our VCR.
New York Undercover was iconic because it showcased an authentic, gritty, pre-gentrified New York, starring native Bronxites Malik Yoba and Michael DeLorenzo, as J.C. Williams and Eddie Torres, respectively (IRL, both actors actually grew up on the same block). Yoba and DeLorenzo made history as the first two actors of color to appear as leads on a primetime police drama. They had major swag, street smarts, and genuinely repped for the culture; they were responsible and productive working men of color. In the show's fictional music venue Natalie's, they'd unwind for drinks after a hard case, and you'd find stars like Aaliyah crooning to the Isley Brothers "Choosey Lover," or Brandy and Tevin Campbell sweetly dueting to Roberta Flack's "The Closer I Get To You." But the biggest takeaway for me from watching New York Undercover, was the arrival of Detective Nina Moreno in Season 2, played by Afro-Puerto Rican actress Lauren Velez, who injected Latinx female badassery into the show.
Velez was the first Afro-Latina actress I had ever seen on a major network, with brown skin, full lips, and a similar hair texture to mine, who shaped my budding feminism in huge ways. A native New Yorker just like me, Velez was born in Brooklyn and raised in Rockaway Beach. In the early nineties we moved from Jamaica, Queens to live near the beach in Far Rockaway, and returned two years later. She looked like the tias in my family, and spoke like my Boricua friends on the block. On the show, her trademark wardrobe included lots of denim; denim vests, high waisted denim, big hoops, and a black leather biker jacket. I was her 15-year-old clone dressed in the same looks. By observing her, I learned to stand up for myself against boys who bullied me for my appearance and gross catcalling from grown ass men.
I did my share of watching teen-centric telenovelas like Muchachitas and Baila Conmigo on Univision, but just couldn't force a connection with rich, white Latinas who spoke perfect Spanish and lived in Mexico City. I was a brown girl of Afro-Dominican descent who lived in the boroughs, spoke choppy Spanglish, and was heavily obsessed with female R&B groups like Jade, SWV, and Xscape. Lauren Velez epitomized that whole package for me; resilient, stylish, and tough.
On New York Undercover, Velez's character was a professional equal to her male counterparts, not a subordinate. She was smart, savvy, and assertive, and it was noted and respected. During her first season, in a case about a sleazy serial killer who abducts and murders Latina prostitutes, she goes undercover as a sex worker in a head-to-toe black patent leather outfit and apprehends him. As Detective Moreno, her character's working relationship with Detective Torres, organically evolved to romance. It was so dope to see a young New York-based Latinx relationship, particularly an Afro-Latinx one, become a weekly portrait on mainstream TV. Their Latinidad was raw and open — they would flirt in Spanish, and Detective Moreno would order arroz con habichuelas when dining with colleague/boyfriend Detective Torres. As their relationship deepened, they rescued each other from their complex family issues. Detective Moreno was a married teen mom who gave her daughter up for adoption, and Detective Torres' father was a heroin addict, who was later diagnosed with HIV.
In 1995, Velez was riding a career high. She was fresh off her debut film I Like It Like That, directed by Darnell Martin — the first African-American female director to write and direct for a major film studio. Velez played Lisette Linares, a Bronx mother of three dealing with a semi-dirtbag husband, providing emotional support to her transgender sister, and fending off a jealous neighbor intent on ruining her marriage. She gets a job working for a record label, and helps her uptight boss, through her Midas touch, sign Latinx artists. I watched the film again recently and saw so many familiar struggles from my own personal history. Code-switching from the block to the office, translating black and brown cultural references to clueless white co-workers, and being both black and Latinx in a majority white workplace. Even facing judgment from friends in the neighborhood for wanting more, and eventually outgrowing them because of your new professional life.
Velez is unapologetically Afro-Latinx, in all the spaces she fills onscreen, and it has helped me carve out my space in the world. Whether it's watching her on Dexter as the manipulative Lt. Maria LaGuerta or recently on How To Get Away With Murder as Middleton University President Soraya Hargrove, her presence speaks volumes and has always touched me deeply. It shone then in her nineties debut, telling me through the screen that — yes — I could aim high and get what I want. And as a thirty-something Afro-Latinx femme, I'm so here for it.
For more Latinx Heritage Month content on Bustle, click here.