The Laverne Cox x Orly Nail Polish Collection Is A Shimmer-Lover's Dream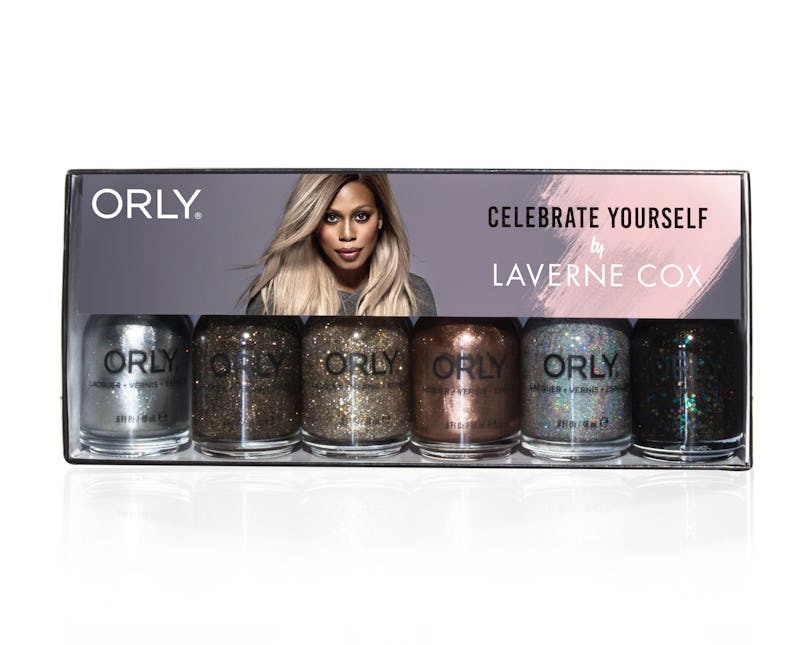 Courtesy Orly
When Laverne Cox stepped onto the Emmys red carpet, she was sporting a whole lot more than just a fierce attitude and stunning ensemble. She had some show-stopping nails to compliment her look — and now you can have them, too. Laverne Cox and polish company Orly teamed up for a nail collab that's all about being bold and unapologetic, which she debuted at the big awards event.
But don't just think of this as another celeb collab. There's very special meaning behind these polishes, from the shade names to the reason why the line was started.
If you're looking for a fall nail collection that does it all, look no further. Cox's Celebrate Yourself nail polish collection comes with six fall to winter shades that have more glitter and gleam than you can imagine. The shades — Shine, Party In The Hills, Halo, Million Dollar Views, Mirrorball, and Androgynie — range from silver to black to a gorgeous shimmery bronze. Basically, the line has all the colors that Cox is known for sporting.
The colors might not be the brightest in the bunch, but these shimmers will definitely make a statement. The collection is available for a limited time right now on the Orly website for $49. That breaks down to about $8.15 per shade. You'll also get a free all-in-one base and topcoat while supplies last, according to the website.
"This collection is about red carpet glamour and giving everyone the opportunity to feel that glamour in their day-to-day lives," Cox said in a press release.
But this beauty collab is about a whole lot more then just a pretty product. According to her interview with Refinery29, nail polish is a big part of Cox's life and self-care routine, and she wants to share that with her fans.
"The collection is called 'Celebrate Yourself' because when I get my nails done, it is about doing something for myself — pampering myself," Cox told Refinery29. "It's about giving everyone the opportunity to feel glamorous in their day-to-day lives. Every single one of these colors makes me smile inside when I look at them. That's what I want when I look at my nails."
Odds are you'll have a big smile on your face when you see the shades, too. They're all classic tones with an updated, trendy twist. That description will no doubt remind you of the fashions Cox is known for sporting on the red carpet.
Whether you're looking to make a subtle statement or just updating your polish collection in a bold way, there's truly something for everyone.
If all of that wasn't already enough, there's a charitable component to the collection, too. According to Cox's Instagram post announcing the collaboration, 10 percent of proceeds from sales of the polish go to Hurricane Harvey and Hurricane Irma relief.
Unfortunately, you won't be able to just pick your favorites to buy individually. The Celebrate Yourself collection is only sold as a set of six, which is a bummer if you are on a budget. After they sell out, they'll be gone for good.
This isn't the only collaboration that Cox has been cooking up lately. The Emmy-nominated actress just starred in Beyoncé's Ivy Park line, along with model Grace Bol, dancer Karen McDonald, and model Ralph Souffrant.
Through her platform, Cox is constantly promoting the importance of self-love and self-expression, and this collab is just another way to get the message out. Plus, who doesn't want to steal a bit of Cox's glamour for their own?
With a powerful message and a gorgeous product, this woman can do it all.