Titus Makes 'Lemonade' Out Of His Heartbreak On 'Kimmy Schmidt'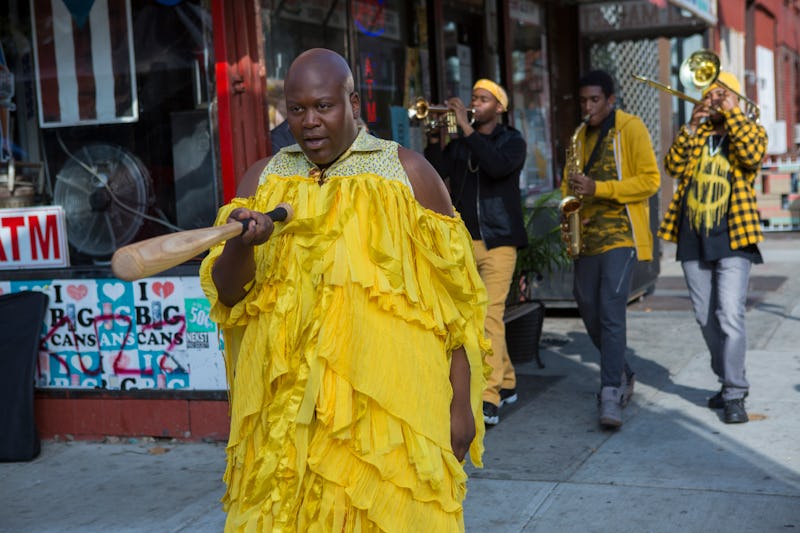 Eric Liebowitz/Netflix
Tituss Burgess gets to channel his inner Beyonce in Season 3 of Unbreakable Kimmy Schmidt and it's nothing short of perfection. The third season is on Netflix now and the second episode is basically an ode to Beyonce's 2016 hit video album, Lemonade. The first teaser for the new season revealed Titus Andromedon wearing Queen Bey's iconic yellow dress from her "Hold Up" video, but that's just the beginning of it. Titus also sings his own versions of her hit songs "Sorry" and "All Night" in the same episode. Comparing Lemonade to the Unbreakable Kimmy Schmidt parody reveals that both are expressions of intense emotion. Spoilers ahead for Episodes 1 and 2 of Unbreakable Kimmy Schmidt Season 3!
Burgess tells Bustle, "I loved using that as a device with which to describe how profoundly hurt [Titus] was. It was a great storytelling tool and I think it served the series really well." And he'd really prefer it you called it an "homage" instead of a "parody."
So what sparks Titus' musical journey?
After getting home two months early from his cruise, Titus decides to surprise his boyfriend Mikey, but finds him going into his home with another man. Feeling jealous and betrayed, Titus decides to "Lemonade" him. Let's be honest, who doesn't want to wear a fabulous dress while bashing in their cheating ex-boyfriend's car window?
As it turns out, Mikey isn't physically cheating on Titus. He does now hide, however, the fact that he was hanging out with someone else. He tells Titus that he would do anything to stay with him. Titus then takes him to his first boyfriend's house to show him what his life would have been like if his first love Roger hadn't broken up with him. In the end, Titus realizes he has to let him go, which — in his words — means he's smarter than Queen Bey. (That's a bold statement.) Still, Beyonce may be rivaling Diana Ross as Titus' favorite diva these days.
"When [Tina Fey and Robert Carlock] were sitting and surmising as to what Titus should do or how best to explore this breakup, I don't know what the hell they were thinking," Burgess says. "But it could have been Adele's 'Hello,' you know what I mean? Last year was a big year for music from our divas and such. But I think they picked the right one."
But if you thought transforming into Beyoncé was somehow easy, you'd be very wrong. "I know filming it was a great deal of work," he says, adding, "I spent a lot of time in water, and I don't swim. So that was not fun."
Even though the parody is absolutely hysterical to viewers, it's also pretty emotional when you think about how Titus is trying to deal with his feelings. Burgess explains that Titus had to "find the height of broken-hearted expression" to help him get through it.
"I think because he went through such a theatrical display of the profound impact that this heartache had on him, it showed just how much of an emotional well there was and how much he loved Mikey," the actor says. "Which also serves as an insight into how much he has grown and has learned to put someone else's feelings before his own."
In case you forgot from last season, Titus doesn't have the best track record with men. When he and Mikey first started dating, Titus pushed him away because he was scared to care too much about him. He even had a box of things that were left behind by guys who never came back. In a way, "Lemonading" Mikey was pretty much therapy for Titus.
All I can say is that I'm ready for Titus' next great love or even a possible reconciliation with Mikey at the end of the season.
Additional reporting by Sage Young.
Check out the "Netflix" stream in the Bustle App for more Netflix news, plus recommendations on what to watch next.