Lena Dunham Receives Backlash For Defending A 'Girls' Writer From Sexual Assault Allegations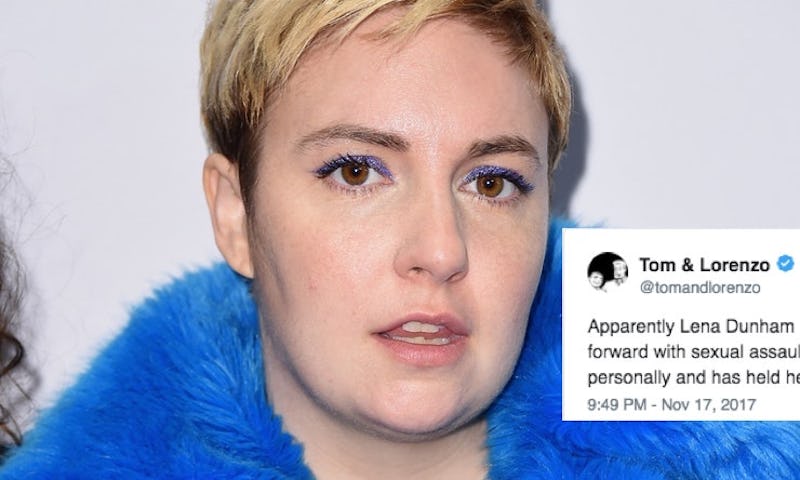 Michael Loccisano/Getty Images Entertainment/Getty Images; tomandlorenzo/Twitter
It never really takes much for Lena Dunham to find herself in hot water on social media, but the Girls creator ended up being dragged to no end by Twitter users over the weekend, following her recent comments defending Girls writer Murray Miller against recent sexual assault allegations.
According to The Hollywood Reporter, Miller has been accused of sexual assault by actor Aurora Perrineau. Miller denied the accusations through his attorney who told THR, "Mr. Miller categorically and vehemently denies Ms. Perrineau's outrageous claims." The Los Angeles County Sheriff's Department confirmed to THR that police are investigating the incident. (Bustle reached out to Miller's attorney, as well as reps for Perrineau, but did not receive an immediate response. Bustle also reached out to the sheriff's department for further comment.) The Wrap reportedly obtained a copy of a polygraph statement from Perrineau, where she recounts her side of the alleged incident in 2012. These claims include Perrineau allegedly waking up naked in Miller's bed, where he allegedly had intercourse with her without consent. (Miller's attorney told The Wrap that his legal team "gathered overwhelming evidence directly contradicting these false and offensive claims.")
On Friday, Dunham and her Girls co-showrunner, Jenni Konner, released a statement to THR that basically defends Miller and appears to discredit Perrineau's allegation. Their statement reads:
"During the windfall of deeply necessary accusations over the last few months in Hollywood, we have been thrilled to see so many women's voices heard and dark experiences in this industry justified. It's a hugely important time of change and, like every feminist in Hollywood and beyond, we celebrate. But during every time of change there are also incidences of the culture, in its enthusiasm and zeal, taking down the wrong targets. We believe, having worked closely with him for more than half a decade, that this is the case with Murray Miller. While our first instinct is to listen to every woman's story, our insider knowledge of Murray's situation makes us confident that sadly this accusation is one of the 3 percent of assault cases that are misreported every year. It is a true shame to add to that number, as outside of Hollywood women still struggle to be believed. We stand by Murray and this is all we'll be saying about this issue."
As you could probably already imagine, this joint statement didn't really sit well with fans. (Bustle reached out to Dunham's reps about the backlash, but did not receive an immediate response.)
Some fans were very quick to criticize Dunham's statement, citing a three-month-old tweet in which she claimed that women don't lie about being raped or sexually assaulted.
She's also now being called a hypocrite for not believing Perrineau's claims, with many arguing this solely because the allegations are being made against her close friend.
Other users are pointing out, once again, the apparent flaws in Dunham's definition of feminism.
This definitely isn't the first time Dunham's feminism has been questioned. The 31-year-old has been a polarizing figure for a few years now, with the main criticism being that her brand of feminism is "white feminism." While Dunham's tweet from August that's now being used against her proves that she's been one to speak out about sexual assault against women before, her and Konner's statement didn't really do much to help in this case.
Though Dunham is right about there being a very small amount of men and women who falsely accuse others of sexual assault each year, that doesn't necessarily mean that she gets to pick and choose when an accusation is true and when it isn't, especially when it involves a black woman accusing her white, male friend.
If you or someone you know has been sexually assaulted, call the National Sexual Assault Telephone Hotline at 800-656-HOPE (4673) or visit online.rainn.org.