Twitter Isn't Happy About Lena Dunham's Latest Project For This Crucial Reason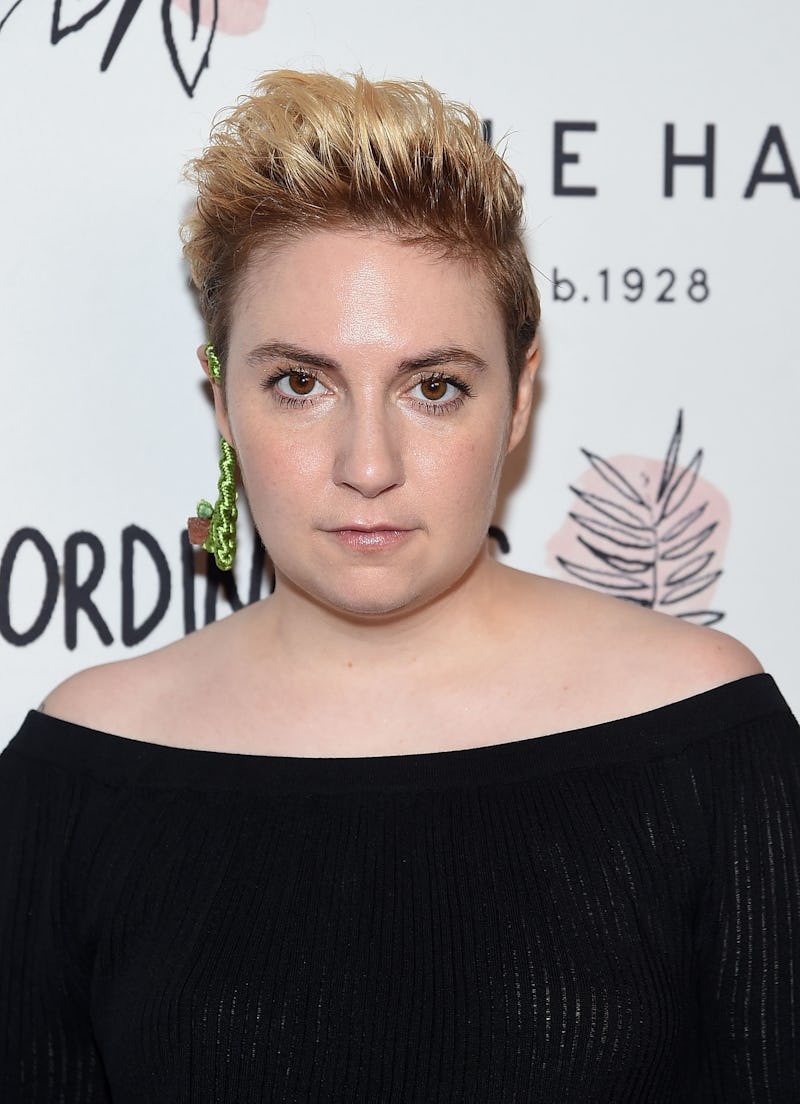 Jamie McCarthy/Getty Images Entertainment/Getty Images
Lena Dunham has a new project in the works, but not everyone is happy about it. The Girls creator and star is stepping outside of the projects she's known for, and it's not sitting well with some people. Lena Dunham is adapting a Syrian refugee story, Variety reported Monday, and the Twitter reactions aren't exactly positive about the news.
Dunham will be writing the screenplay for a movie based on Melissa Fleming's nonfiction book A Hope More Powerful Than the Sea: One Refugee's Incredible Story of Love, Loss, and Survival, according to Variety. Fleming's book tells the story of Doaa Al Zamel, who fled from Egypt with her two children, in hopes of a better life in Sweden. The real-life family of three ended up shipwrecked on the way, Variety explains. J.J. Abrams and Steven Spielberg will be co-producing the film.
At first glance, the reactions to the news do seem to be largely negative. A number of people are suggesting that Dunham isn't qualified to tell Al Zamel's story, and that a person of Syrian descent or someone who had been directly impacted by the refugee crisis may have been a better choice. Some Twitter users are also suggesting that the writer and actor should stick to working on projects that are based on her own experiences, as she did with Girls.
One person pointed out that "Western media" doesn't tend to showcase the voices of people from the Middle East, and that this news isn't changing that fact.
And at least one person couldn't resist making jokes about Dunham using the opportunity to cast her Girls costars in a new project. Other Twitters user made jokes about the movie casting Scarlett Johansson, who's faced casting controversies of her own in the past.
Overall, Twitter users are pointing out that the project is just an odd fit for Dunham on the whole.There's also the fact that Girls featured an all-white cast, and that Dunham hasn't exactly been a beacon of intersectionality in the past.
Some people, meanwhile, noted that the responsibility for the decision lies in part with Spielberg and Abrams, too, not just Dunham.
Still, it's worth pointing out that the project is still in its very early stages at this point. So it's possible that Dunham will at least consult people who've been affected by the crisis, including refugees and journalists, to help inform her about the situation.
Plus, Dunham shared on Twitter that she'll be donating her earnings from the movie to help refugees. And she does seem open to hearing about other people's experiences, as well as their thoughts on her involvement with the film. Additionally, the author of the book on which the film is based expressed support for the Girls creator.
After Girls wrapped, Dunham went on to co-create HBO's Camping, which stars Jennifer Garner and David Tennant. She's also acting in Quentin Tarantino's upcoming movie, Once Upon a Time in Hollywood, alongside Leonardo DiCaprio and Brad Pitt. But the Syrian refugee story does mark a sharp deviation from Dunham's usual fare. Right now, it looks like the reactions to Dunham's involvement with the project aren't positive, though that could change as more information about the movie is revealed.