Lena Dunham & Jack Antonoff Reportedly Just Broke Up After Five Years Together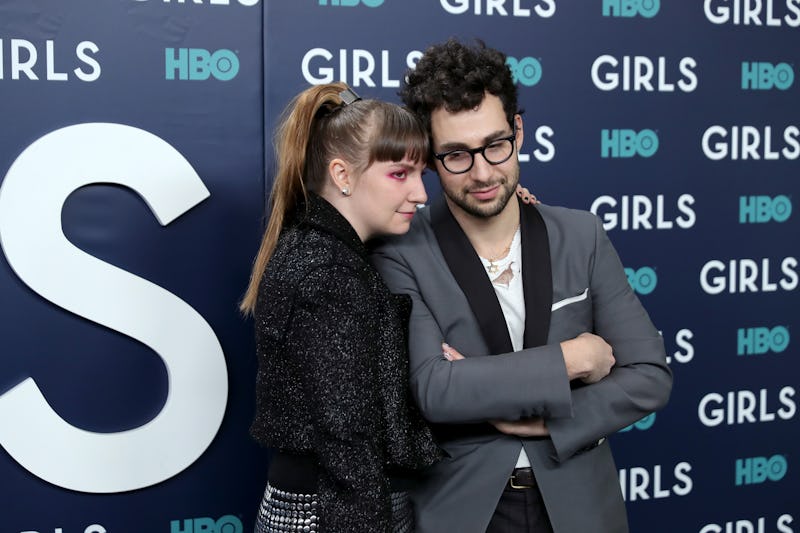 Neilson Barnard/Getty Images Entertainment/Getty Images
On Monday, Jan. 8, news broke that another celebrity relationship may be over. E! News reported that Lena Dunham and Jack Antonoff have reportedly split after five years of dating. Bustle has reached out to reps for Dunham and Antonoff, but has not yet received a response. The couple first began dating in 2012 after meeting during a blind date and reportedly broke up in December 2017, according to E! News. Dunham and Antonoff have yet to comment publicly on the rumored split. E! News reported that an unnamed source said that the Girls creator and the Bleachers frontman had been "growing apart."
Back in October 2017, Dunham wrote a loving tribute to Antonoff in Variety as part of the singer-songwriter's entry in their "New Power of New York" list. She wrote the following:
He showed me the importance of making political statements using your public platform. He showed me the joy of collaboration. He showed me the magic of his home state of New Jersey and turned the butt of my snotty New Yorker jokes into a glimmering fantasyland. I know he does the same for all the artists he produces for, the fans who come to his shows and the recipients of his love. I try and share nicely.
In October, the couple celebrated their five and a half year anniversary together, and they have been dealing with engagement rumors for quite some time. Dunham even confessed in a November tweet that she thought Antonoff was going to ask her to marry him after overhearing a conversation between him and his sister. She tweeted, "I thought Jack was furtively planning a proposal to me with his sister. And he just admitted I actually caught him 'talking sh*t about me!'"
Back in August 2017, Dunham and Antonoff shared a series of cute and memorable moments at the MTV Video Music Awards via social media. Antonoff attended the awards show at The Forum in Los Angeles and he FaceTimed Dunham, while she was presumably watching the show from home.
Dunham posted a screenshot of their FaceTiming (and Antonoff eating a sandwich) to her Instagram account with the caption, "Boo at VMAs with a sandwich like the prince he is."
Antonoff didn't stop at eating a sandwich at the VMAs, though. Later in the show, VMA cameras spotted Antonoff eating a banana, which was widely embraced by Twitter and Dunham herself.
The Girls actor and creator proudly tweeted the following after the banana moment aired on MTV.
Seeing how many sweet moments Antonoff and Dunham have shared in recent months only makes their reported breakup even more heartbreaking. The couple shared a home in New York, and they seemed to be genuinely enamored with one another. At least their reported split seems to be a decision they reached mutually.
According to E!'s source,
"Jack and Lena were growing apart and it just made sense for them to end their relationship where it was. They want the best for each other no matter what. They are both moving on."
These two busy professionals may not have been meant to be forever, but it certainly seems like they both learned a lot about life by being together. In 2014, Artonoff told New York Magazine that his first date with Dunham was a special one. He claims that he told the Girls creator everything about himself that first night "because when you really like someone, you want them to know everything about you."
Breakups are always sad, but it sounds like Dunham and Antonoff are ready to move forward. Besides, even though they are reportedly no longer romantically involved, they'll always have the five years they spent together, and all of the unique experiences that special time brought to their lives.