Lena Dunham's Lessons On Being Self-Confident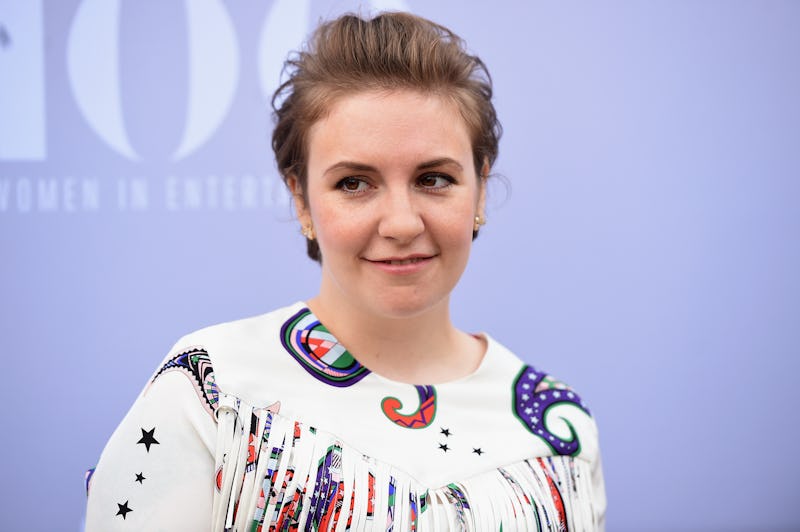 Jason Merritt/Getty Images Entertainment/Getty Images
Actor and writer Lena Dunham has managed to make an indelible mark on Hollywood in such a short amount of time. Notorious for being an open book, the 30-year-old unsurprisingly opened up in the February issue of Nylon magazine about how she's learned not to overthink issues that are out of her control as she matures in the public eye. And a lot can be learned from the way Dunham talked about being confident, particularly in the spotlight. "I'm realizing more and more as I get older that I'm actually way less self-aware than I thought," she said. Maybe she's on to something.
I found her small screen debut to be kismet of some sort since HBO's Girls premiered a month before I graduated from college. My freshly 22-year-old self thought, "Was this what was in store for me in the real world?" The painfully awkward quirkiness of Hannah Horvath resonated more closely with me than I wanted to admit at the time. I often preferred to think that I was the sickeningly uninhibited Jessa just to seem cooler. But what is undeniable about Dunham is her relentlessness to just be herself, which is something I think we should all strive to be.
Naturally, I took the liberty of gleaning through Dunham's interview and gathered some gems she dropped along the way. Here's what we can learn about striving to embrace ourselves by way of Dunham quotes from Nylon.
Other People's Problems Aren't Yours
"The older I get, the more I'm like, 'I don't f*cking know what anybody is seeing when they look at me,' and the coolest thing is it's not my problem."
If someone has as problem with you and can't stop criticizing everything you do, that's their issue. Keep it moving.
Take Everything In Stride
"I used to think the worst thing in the world could be for someone to have a thought about you that you didn't have yourself. Now I'm like, 'Have at it, guys!'"
Unless you're a member of the X-men, there's no way you can read minds. People are going to feel how they feel and say what they want regardless. Develop a thick skin and persevere.
It's OK To Shut People Out
"Sometimes being a creator, and especially being a female creator, is an exercise in shutting people's voices out. Because there are so many who think they understand better than you how to do your job."
If the haters keep getting under your skin, always remember the block button is your best friend. You're the only one who's the best and being you. Own it.
Be Grateful
"I know I'm never going to have another work experience like this. Eight years of working on a project; it's this living, breathing organism, but it's also the luckiest thing."
As one of my mentor's once told me "Stay humble yet bold." Always remember where you came from because it sets the stage for where you are headed.
Geez, now these quotes have me all in the feels once I remember that this is the last season with Hannah, Marnie, Jessa, and Shoshanna. Surely, each episode will offer no shortage of wild New York nights and endless cautionary tales. Can't wait!