The 'Girls' Cast Is All Grown-Up In Season 6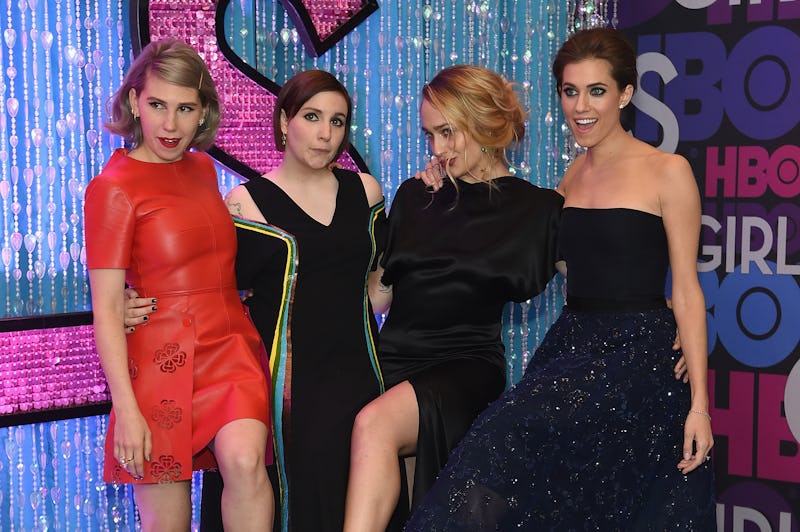 Jamie McCarthy/Getty Images Entertainment/Getty Images
No matter how you feel about Girls — whether you love it or hate it or fall somewhere in between — it's hard to deny the show has become an integral part of the TV landscape, and saying goodbye is going to produce plenty of feelings. I didn't even know how I truly felt about the HBO dramedy until I saw the Girls Season 6 promo art. The key art was released Wednesday, and it gives me all these little flutters in my belly, remembering how far I've watched Lena Dunham's character Hannah Horvath come over the years. And all the women, really. It doesn't even feel right to call them "girls" anymore, because for as often as they fall into the same bad habits and patterns, they've done a lot of growing up. Nowhere is that more obvious than in the newly released poster for the final season of Girls.
I hesitate to say it, but is that... could it be... contentment that I see on their faces? Typically the promo art for new seasons of Girls features the main four — Dunham, Zosia Mamet, Jemima Kirke, and Allison Williams — in poses suggesting themes ranging from dissatisfaction to expectancy to optimism, but never before have I seen them look so straight-up calm and ready. Take a look:
See that? Wherever they are, whatever they still have left to learn, these four women look like they know who they are and are ready to move forward. I love the way Dunham is half turned around, looking into the camera with that almost amused look. She's on her way somewhere, as are the other three, and we've been lucky to have them for as long as we did. But now they have somewhere else to be.
Thanks for the memories, ladies, especially for the times when you were so messy that you actually made me feel like I was on top of things in my own life. Best of luck to us both, fictional characters and real live humans alike, as we move into this undetermined future. Eek.