'Game Of Thrones' Fans Are Cheering For Lena Headey's Response To Louis C.K.'s Apology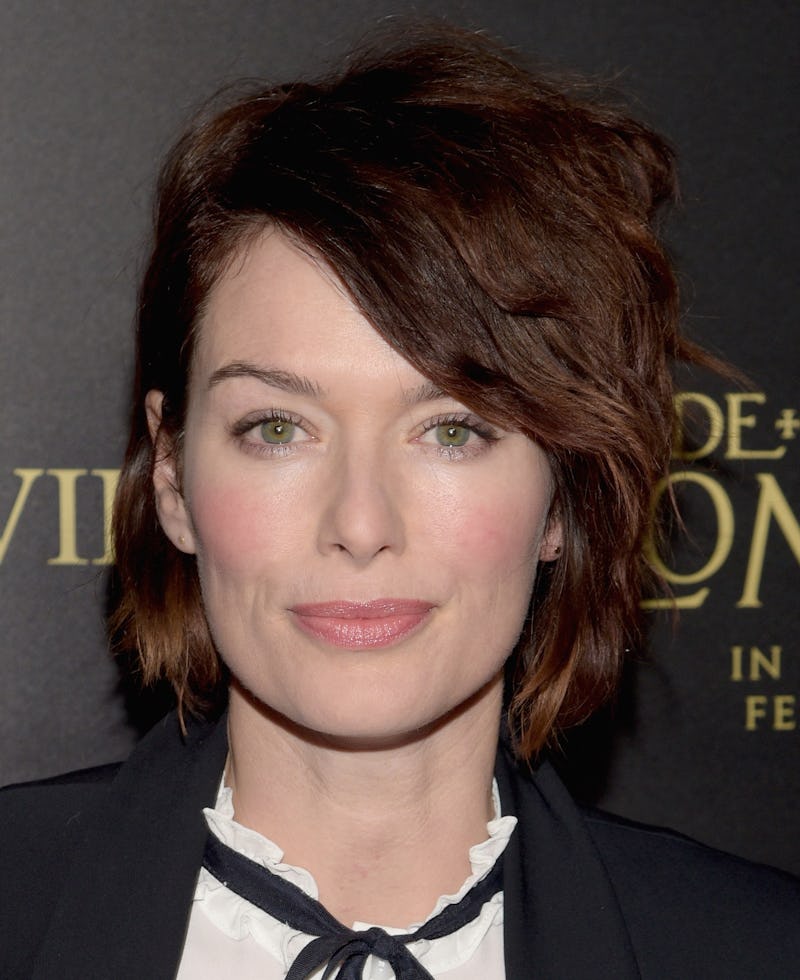 Jason Kempin/Getty Images Entertainment/Getty Images
Game of Thrones' Lena Headey couldn't help but take a page from Queen Cersei's playbook this week. Lena Headey's response to Louis C.K.'s apology on Twitter had some fans calling Headey to claim her rightful place on the Iron Throne in real life. Louis C.K. issued the statement and apology on Nov. 10 after allegations of sexual misconduct emerged against him in a report a New York Times report on Nov. 9. He confirmed that the stories reported by the NYT were true and that he acted "irresponsibly" because he took advantage of the fact that the women "admired" him. He wrote in the statement,
These stories are true. At the time, I said to myself that what I did was okay because I never showed a woman my d*ck without asking first, which is also true.
Headey wasn't having any of what he was selling in the statement. She tweeted, "Louis CK. The words you wrote are a sh*tshow of narcissistic c*ck soup." She really went in on his apology with an incredible put-down that can rival even Cersei Lannister's most vicious insults.
When someone responded to the actress' tweet asking what C.K. should have done better, she didn't hesitate to tell the Twitter just how insufficient she thought the comedian's apology was. She tweeted, "He didn't apologize. FULL STOP. He wrote some stuff that he thought would make people still think he's funny. He ain't." Headey seems like she isn't afraid to speak her mind and call out something that more than one person might be thinking.
Many were in support of the actress, who on Oct. 17 bravely discussed her own experience with sexual harassment when she talked about an alleged encounter with Harvey Weinstein on Twitter.
Her statement about C.K.'s apology drew GoT fans to praise their on-screen Queen of the Seven Kingdoms. They took to Twitter to let Headey know that they whole-heartedly agreed with her.
Headey Was "Right Again"
One fan on Twitter included a photo of Headey with that iconic Cersei wig on and said, "Look! The queen is right again" in response to the actress' tweet.
Queen Lena Headey
Another fan on Twitter simply called Headey, "My queen" with heart emojis and that pretty much says everything about how they feel about the response.
Going Full Cersei
This fan could not have agreed more with Headey and said that they would also have to take a page from Cersei too if people kept defending C.K.'s statement, "After the real Cersei is done with you first."
Even Cersei The Cat Isn't Here For This
This user must have named their cat after Headey's character as they agreed with the actress and said, "I think Cersei cat's expression says how we feel about that 'apology.'" Cersei the cat certainly doesn't look pleased.
This Fan Is Totally In Headey's Court
Another fan was thankful that Headey called out that "apology," and said, "Omg. Thank you! Someone gets it!"
Headey Is "Doing Amazing" With Her Response
One fan was so happy to see Headey call out C.K.'s apology that they sent over this image with a ton of heart icons and referenced the meme, "You're doing amazing, sweetie."
This Fan Is Co-Signing Headey's Statement
Another fan agreed with Headey and even included a classic Cersei gif to show just how much they weren't here for the apology either. They said, "But they admired him [C.K.] soooooo much. He's disgusting."
In Agreement With Lena
This fan said simply, "Definitely agree with Lena!" when the actress said that C.K. "didn't apologize."
This Gif Sums Everything Up
One user tweeted a gif of a woman clapping in response to Headey's fire statement. And it says everything about how much they support the actress' tweet.
Another Fan Is Into Headey Calling Out C.K.
This fan totally agrees with Headey's statement. They said, "He deserves what is coming for him. TELL THEM QUEEN." And they're not wrong, Headey's definitely a queen!
While Queen Cersei may not use her penchant for quips and witty statements for good, her portrayer, Headey, sure seems to seeing as though she called out C.K. And Twitter was definitely here for it.