People Are Pointing Out One Huge Problem With Louis C.K.'s Response To Misconduct Allegations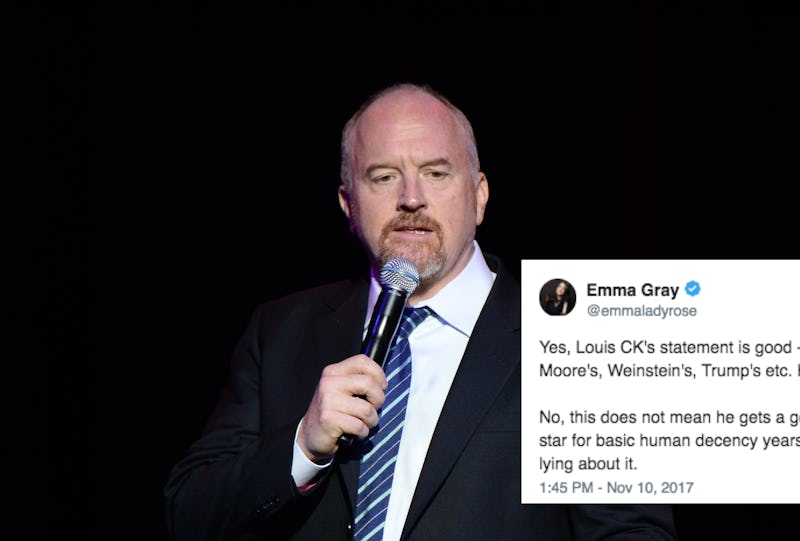 Kevin Mazur/Getty Images Entertainment/Getty Images; Emma Gray/Twitter
It's always a relief to see someone take responsibility for their actions, but there's more to apologizing than just acknowledging your mistakes. That's part of the problem with Louis C.K.'s response to the sexual misconduct allegations against him, which the comedian released on Friday, Nov. 10. While the 50-year-old does admit that "these stories are true," referring to the allegations brought to the New York Times by five women, there are things missing from the lengthy statement.
UPDATE: On Friday, FX announced that it is ending its association with C.K. in a statement. It reads in part, "FX Networks and FX Productions are ending our association with Louis C.K. We are cancelling the overall deal between FX Productions and his production company, Pig Newton. He will no longer serve as executive producer or receive compensation on any of the four shows we were producing with him – Better Things, Baskets, One Mississippi and The Cops."
Soon after, C.K.'s rep, Lewis Kay, announced on Twitter, "As of today, I no longer represent Louis C.K."
EARLIER: If you're looking for the words "sorry" or "apologize," you won't find them. Nor will you find any explanation for or acknowledgement of the fact that C.K. has been denying or dismissing allegations of this kind for over a decade. Right up to the day the explosive piece dropped, he refused to offer any comment.
As recently as June 2016, the comedian is on the record dismissing the rumors against him. As he told Vulture in a profile, "I don't care about that. That's nothing to me. That's not real." In fact, he went so far as to paint the allegations were an attempt to derail Horace and Pete, which C.K. was working on at the time, and which was briefly and inaccurately rumored to be canceled. He said,
A good friend of mine who's a movie producer emailed me and said, "Hey, I'm really sorry about Horace and Pete." Having to disabuse people of this thing could really hurt me with something like the Emmys if people perceive the show as a dead project. I took that pretty f*cking personally.
When pressed to address the claims directly, his tone was slightly less aggressive. "Well, you can't touch stuff like that," the writer and producer continued. "I do the work I do, and what happens next I can't look after." In September 2017, he doubled down on his previous statements after comedian Tig Notaro spoke out against him, saying, "They're rumors, that's all that is."
Those comments were made less than two months ago, and they stood as C.K.'s official position on the matter until his abrupt about-face on Friday. It's that fact, and the complete absence of any apology in his official statement that has the internet reacting. Many on Twitter remain critical of C.K., and they aren't staying silent.
If all you need to do to avoid controversy is own up, then we're setting far too low of a bar going forward.
One day of atonement shouldn't erase 15 years of dismissals.
And others pointed out the very clear lack of a genuine apology.
While it's certainly a positive that the comedian is taking responsibility, some are suspicious of the timing. As one person pointed out on Twitter, C.K. understands the value of a redemption arc, and his statement seems designed to garner sympathy more so than to apologize for past acts. The incidents described in the Nov. 9 article are alleged to have occurred in the early to mid-2000s, so C.K. has had 15 years to own his actions, and is only choosing to do so now. Dana Min Goodman and Julia Wolov alleged to the Times that C.K. masturbated in front of them in 2002, and they claim they've been telling their story ever since.
But according to the Chicago-based comedians, the backlash was immediate. Goodman and Wolov allege that the message reached them that C.K.'s manager Dave Becky didn't appreciate the two women speaking publicly about their claims. (Becky told the Times that while he doesn't "recall the exact specifics of the conversation," he is confident that he "never threatened anyone.") But whether or not any victims were actively silenced, C.K. and Becky are both massive forces in the entertainment world, who are clearly used to controlling the conversation.
In short, the comedian's alleged victims have been ready to talk about their claims for over a decade. But the man who allegedly victimized them has only recently stopped denying that any misconduct took place. The temptation might be to excuse C.K. simply because he finally accepted blame, but all that his statement proves is what an immense amount of catching up the comedian still needs to do.
If you or someone you know has been sexually assaulted, call the National Sexual Assault Telephone Hotline at 800-656-HOPE (4673) or visit online.rainn.org.