Here's What Lena Waithe Wants 'The Chi' To Do For Black Representation On TV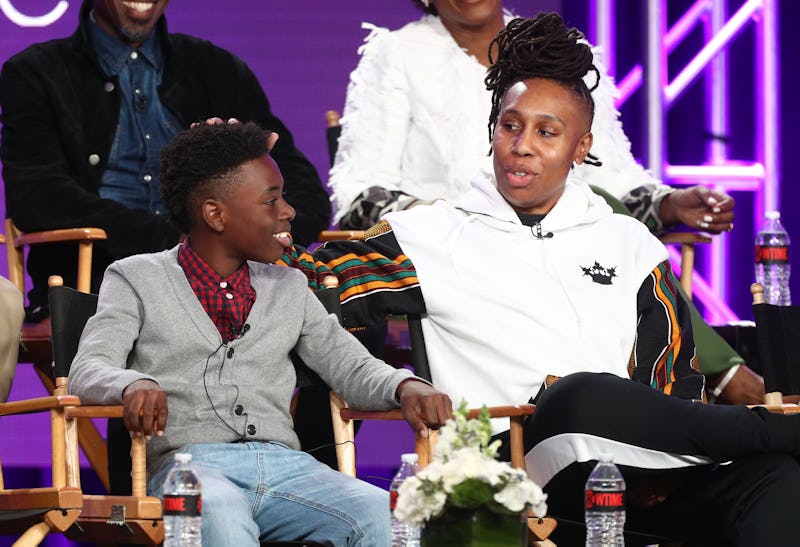 Frederick M. Brown/Getty Images Entertainment/Getty Images
After beginning her meteoric rise earlier this fall when she became the first African-American woman to win an Emmy for comedy writing for co-writing Master of None's "Thanksgiving" episode with series co-creator and star Aziz Ansari, Lena Waithe is back with The Chi, a new Showtime series, and she already has a lot to say about representation on TV.
The highly anticipated drama from Waithe and rapper Common aims to bring humanity to the infamously violent South Side of Chicago neighborhood by telling real stories that go beyond the sensationalized headlines about the violence and crime that takes place in the city. The timely coming-of-age story centers on a group of residents who become linked by coincidence but bonded by the need for connection and redemption, and stars a talented cast of young up-and-coming African-American actors including Moonlight's Alex Hibbert and Detroit's Jacob Latimore, along with critically-lauded Jason Mitchell (Straight Outta Compton, Mudbound). Be warned: this show is going to make waves in the best way possible.
At the 2018 Winter Television Critics Association press tour, Mitchell was praised by Waithe as "the black Tom Hanks," which made Mitchell laugh. But then she got serious about why success stories like Mitchell's are so few and far between. "A big issue that we have, why we don't see more successes like that is because this industry needs to still open itself up to more where we can have narratives that will allow for it," she says. "I'm just going to get real with you all. Look at like the covers of the envelope for best lead actors or best lead actress, those covers look very pale."
Wondering why "those are not more inclusive," Waithe believes the problem stems from the opportunities afforded to POC actors.
"A big reason is because there aren't films where the leads or the roles aren't dynamic enough where we could have a person [of color] on these covers," Waithe says. "So I think a big issue is it's not the lack of talent, it's the lack of writers having the opportunity to tell complex and interesting stories like Lady Bird, like Call Me By Your Name, like those come out every year. We get Moonlight once every 10 years. We get Mudbound once every 12 years. So we get The Chi every once in a blue moon."
That's why Waithe is beyond ready for The Chi to air and hopefully open the door for more dynamic stories for POC actors to take on.
"My hope is that with hopefully the success of The Chi, we will have more opportunities," she says. "And people like at Showtime and the studio, them taking a real chance, were saying, you're actually showing brown people as human beings. As simple as of an idea as that is, it is a revolutionary act. So I'm just happy that we can be a part of that revolution, because it is being televised. We're showing America how to see us. So I hope that we can show how to see us as just normal human beings, not three-fifths of human beings, but full-fledged human beings."
And that also means having diverse storytellers behind the scenes like Waithe, a woman who grew up in Chicago herself telling her truth of what it was like to live in that world. "When you're telling black stories, you want a black person at the forefront," she says. Airing stories like those featured on The Chi is definitely a step in the right direction for the entertainment industry. Make sure to watch The Chi on Showtime to keep that progress moving.