Lena Waithe Just Broke An Emmys Glass Ceiling & Brought Down The House With Her Moving Speech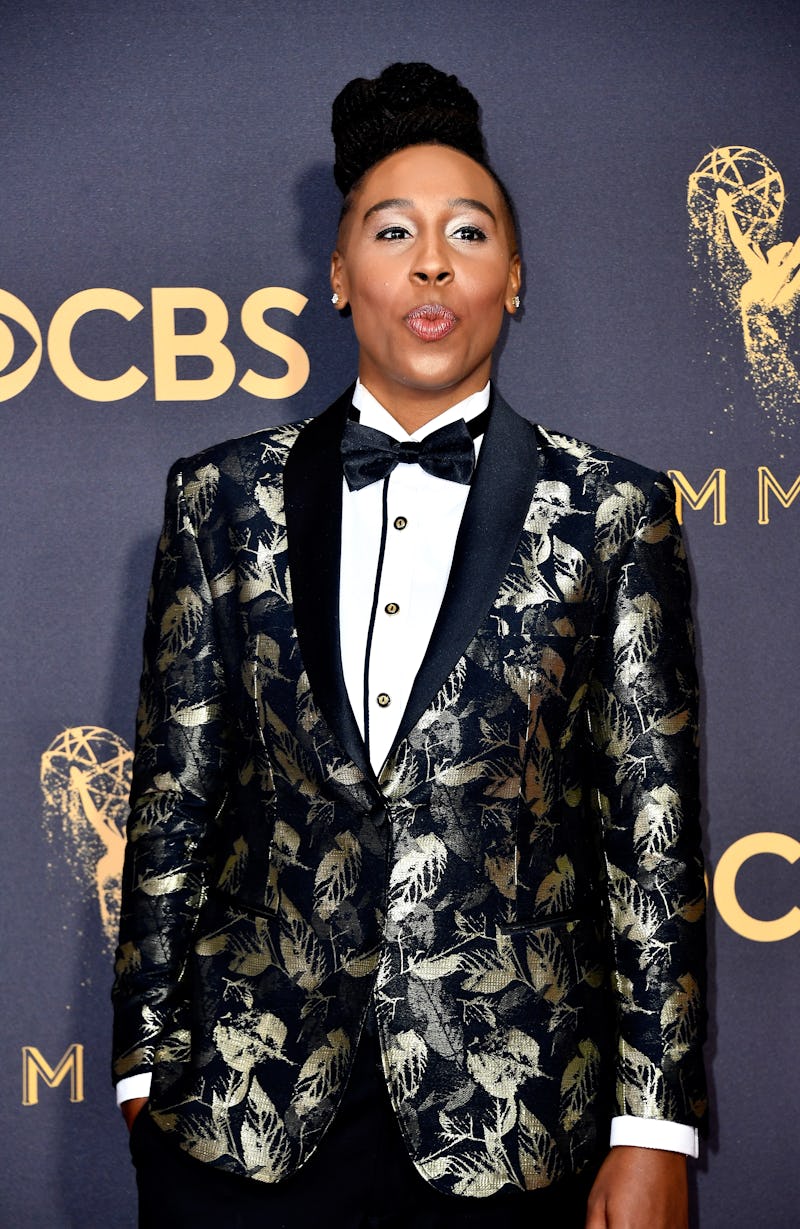 Frazer Harrison/Getty Images Entertainment/Getty Images
It's official: Lena Waithe is the first black woman to earn an Emmy for Outstanding Writing in a comedy series. The writer was awarded the golden statue for her work writing Master of None's "Thanksgiving" alongside her co-writer Aziz Ansari. Waithe became the first black woman nominated for the award when the 2017 Emmy nominations were announced (Mindy Kaling became the first woman of color ever nominated in the category in 2010), and she is now the first to win. But Waithe breaking an Emmys glass ceiling was just the beginning, the actress and writer then moved the audience with one of the most intelligent and eloquent speeches of the night.
Ansari and Waithe earned a standing ovation for their win, though it took particular significance considering Waithe's historical accomplishment. The writer's win was not just groundbreaking for African American writers, but also for black women and members of the LGBTQ community. The episode "Thanksgiving" was a standout in Master Of None's Season 2. It focused on Waithe's character, Denise, and specifically showed how her identity and sexuality evolved over the years with relation to her family Thanksgiving dinners. It tackled coming out to friends and family members, introducing significant others, and themes of diversity and self-acceptance.
Waithe dedicated her win to the LGBTQIA community. "I see each and every one of you. The things that make us different, those are our super powers," she told the crowd. "Every day when you walk out the door and put on your imaginary cape and go out there and conquer the world because the world would not be as beautiful as it is if we weren't in it." Waithe's uplifting and heartwarming acceptance speech was really the perfect accompaniment to "Thanksgiving." What better way to celebrate an episode of television celebrating Waithe's differences from her family than by celebrating the differences of her fans around the world?
"Thanksgiving" was actually inspired by Waithe's own coming out journey. The actor, who appeared on Season 1 of Master of None, initially did not want to write for the series, but was convinced once Ansari heard her story. "Aziz was just like, 'What you can do with this story... I can't duplicate,'" Waithe recounted to The Los Angeles Times. The personal nature of the story struck a chord with fans, making it one of the most talked about episodes of the series.
"And for everybody out there that showed so much love, thank you for embracing us, a little Indian boy from South Carolina and black girl in the south side of Chicago," Waithe added, gesturing to Ansari. "We appreciate it more than you could ever know." And, boy, did Waithe get love on Twitter for her win, both from fans and Hollywood colleagues.
Before it was time for Waithe to get on the red carpet, she took to Instagram to thank her fans and share her excitement at being a first time nominee. The writer shared a photo of herself as a child, holding an American Girl Doll, with the caption, "This little girl always dreamed of going to the Emmys one day. And today her dream comes true. This is how I feel no matter what happens tonight. #LoveYall."
It looks like little Lena Waithe got her dreams and then some. With her Emmy win tonight, Waithe broke the glass ceiling for black female writers in television and set the stage for future wins fans are sure will come. After all, when stories like these are rewarded, it become more likely that studios and other content creators will be more apt to create more of them in the future. And that would be another victory.