Donald Glover's Emmy Is Actually A Long Overdue First For The Emmys & Twitter Can't Deal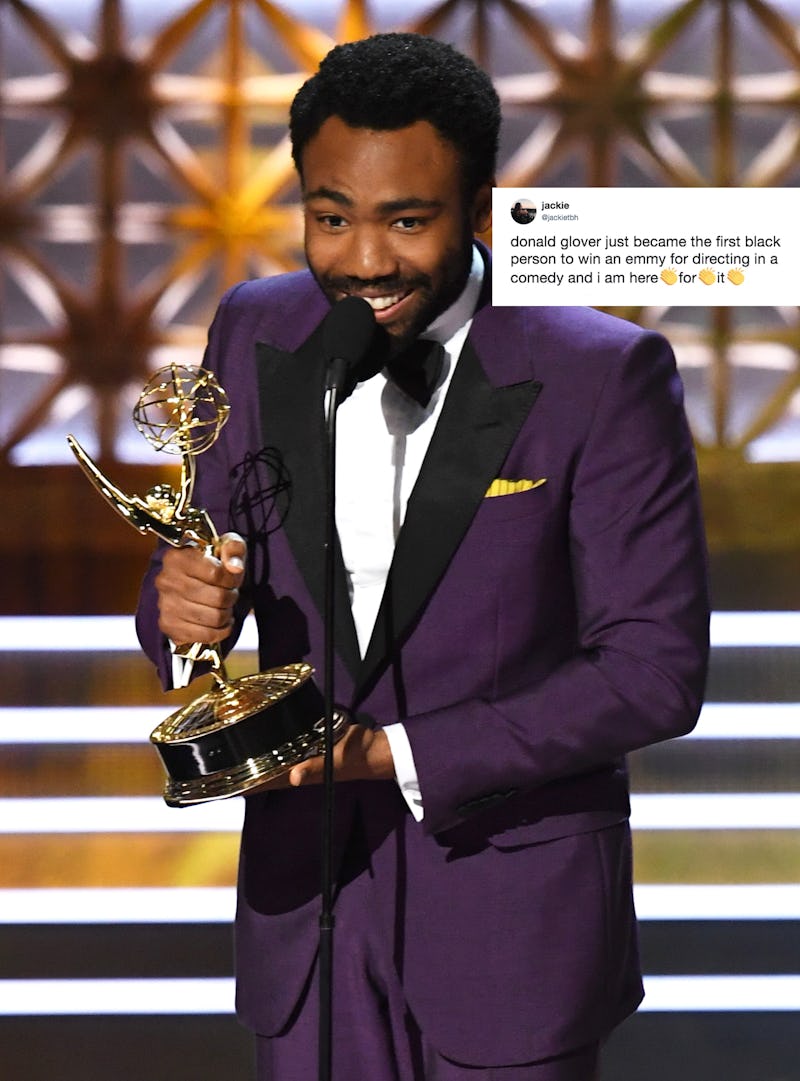 Kevin Winter/Getty Images Entertainment/Getty Images
If you didn't already exist in a state of permanent awe at how much Donald Glover has accomplished at the relatively young age of 33, get ready to be even more impressed. Glover's first Emmys win is historic because he's the first black person to win an Emmy for Outstanding Directing For A Comedy Series. The win, which was granted to him due to the amazing work he's done on Atlanta, has Black Twitter in a state of absolute euphoria because another glass ceiling has been shattered — and it couldn't have gone to a more deserving man for a more deserving show.
But first, Glover took a chance to be humble. After thanking his family and those who worked on the show, he continued, "Really quickly, I just want to say this [award] really belongs to Hiro Murai. He taught me everything about directing. He had the eye for this show first and we sat down and he's just amazing." I repeat: the actor, director, writer, rapper, and producer was standing on that stage, holding his first Emmy and as the first black Emmy winner in that category ever, and all he wanted to do was thank his loved ones and play it back to the influences and teachers that got him to where he was. If you need a moment to swoon, that's understandable.
But the black excellence on display here did not go over Twitter's heads and, quite honestly, this was the kind of good news that TV viewers needed. It's been a rollercoaster, these past few months. Not just in terms of social and political news, but in terms of entertainment news as well. As much as people like to laud the 2017 Emmys as the most diverse ever, that's not really saying much considering how white television has traditionally been. As ET Online pointed out, this is the third year in a row that the nominations list has gotten this praise — but the ceremony has been going on for 68 years. Being incredibly diverse for three of those 68 years isn't really an accomplishment so much as it should be a wake-up call.
But for this year's Emmys to not only be diverse, but to also live up to that diversity by giving a black person an Emmy in a category that black people have been shut out of to this point? That was the kind of good news that we needed. That was not only an example of black excellence, but a moment of Hollywood's rare acknowledgement of black excellence. And people on Twitter. Lost. Their. Minds.
But it gets even better. Aside from Glover, every other person in the category was a white person — and he beat them. And there's more. Atlanta, on top of having a black director, also has a predominantly black cast and an entirely black writers' room. On top of that, the show is literally one of the blackest shows on television, covering issues from hip-hop culture to the fear of police brutality to Juneteenth. It was black on black on black on black excellence, for Glover to make history by winning this award for this show.
Frankly, it was about time for the black community to get this kind of good news and to get this kind of encouragement that we can be ourselves and direct, write, and act in the projects about issues that matter to us without being shut out of a mainstream award show like the Emmys. And, yeah, it's bittersweet that it took for 2017 for this to happen. It's wrong, it's exhausting, it's puzzling, and it's exasperating. But, for right now, Glover's victory is a victory for every black director who has ever wondered if their project was "mainstream enough" to get off the ground — and for every black person who's tired of watching this show to see which white person is going to take home an award next.