Breaking: Leonardo DiCaprio Met Salt Bae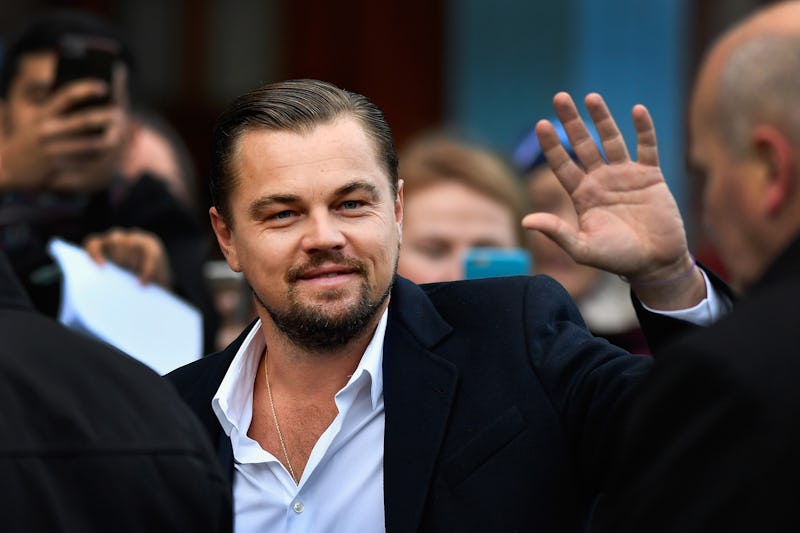 Jeff J Mitchell/Getty Images Entertainment/Getty Images
If you weren't already jealous of Leo, you will be now. Leonardo DiCaprio met Salt Bae. Yes, you read that right. On Thursday, "Salt Bae," aka Turkish chef Nusret Gökçe, shared a photo on Instagram of himself salting DiCaprio's huge piece of meat. What makes the image all the more amazing is how the Oscar-winning actor has a toothpick hanging out of his mouth and the way he is staring at what's on his plate. I'm sure the 42-year-old is in awe of Gökçe's salting technique.
For those who have never heard of Salt Bae, then allow me to explain. He is basically the best meme to come out of 2017 so far. The way he handles food and shows off his cooking skills is something the internet has become obsessed with. However, the way he salts food is what people really can't get enough of. It's like he's striking a pose and then the salt rolls out of his hand. Gökçe truly sprinkles salt like no one else.
It's unclear if DiCaprio knew about the Salt Bae meme before heading to his restaurant, the Nusr-Et Steakhouse, located in Dubai. It'd be amazing if he did, because then that would mean The Revenant star pays attention to the internet just like all of us little people.
Though, seeing as DiCaprio only uses social media to spread word about causes he cares about, it's highly unlikely that he even knew about Salt Bae — or even does now. He could have just randomly ended up in the restaurant and then realized he'd been missing out on the only way anything should ever be salted for way too long.
Whatever the case, DiCaprio and Salt Bae in the same room really is something everyone should celebrate. It's truly exciting and will definitely take your mind off of whatever chaos is currently going on in the world. This is right up there with Beyoncé announcing she is having twins.
Really, DiCaprio, Queen Bey, and Salt Bae are the winners of 2017 — so far.
Oh, and if you really want to applaud DiCaprio more than I'm sure you already are, think about when he'll play Salt Bae in a movie and totally win the Oscar for it. Come on, you know it's possible.