Lex Luthor Is FINALLY Coming To 'Supergirl' So Get Ready For A Major Confrontation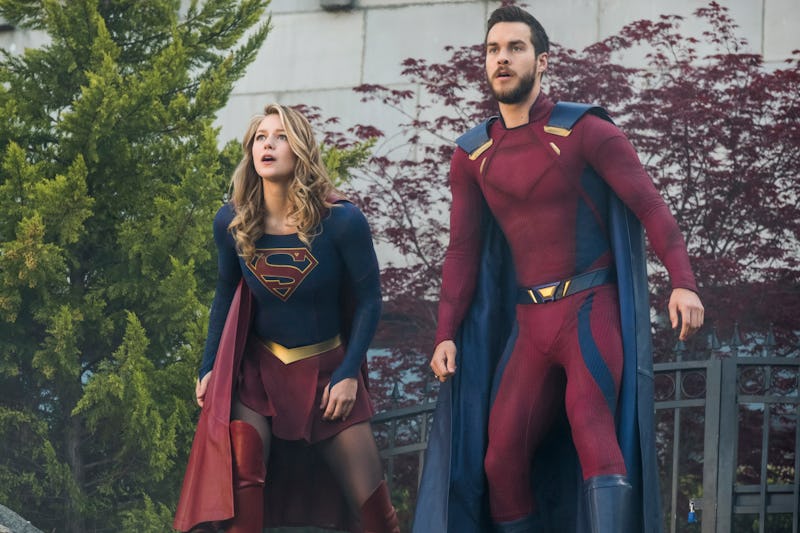 Katie Wu/The CW
There's a new (bald-headed) baddie coming to National City. That's right, notorious supervillain Lex Luthor will be in Season 4 of Supergirl, The CW announced on Thursday, Oct. 18, according to TVLine. With another new character, "anti-alien hate group founder" Agent Liberty (Sam Witwer), already set to wreak havoc on the city this season, Kara Danvers AKA Kara Zor-El AKA the Girl of Steel herself (played by Melissa Benoist) is sure to have her hands full. You know, in addition to stopping runaway trains and whatnot.
"We're beyond excited to introduce iconic villain Lex Luthor to Supergirl and to weave him into our story this season," executive producers Robert L. Rovner and Jessica Queller said in a joint statement, per TVLine. "We've talked about having Lex on the show since its inception, and we're excited to have him finally arrive. We can't wait for him to shake things up in National City and watch him go toe to toe with not only Supergirl, but his sister, Lena Luthor."
DC Comic fans know Lex Luthor as the archnemesis of Supergirl's cousin, Superman (played by Tyler Hoechlin in the series), of course. In The CW's Supergirl, Luthor has been said to be incarcerated, with his sister Lena Luthor (Katie McGrath), running his LuthorCorp, which she renamed L-Corp.
While casting for the role is yet to be announced, other actors who have played the villain in the past include: Gene Hackman, Kevin Spacey, Jesse Eisenberg, and Michael Rosenbaum, who portrayed Lex Luthor for seven seasons in The CW's other Superman-themed series Smallville. Although fans have suggested Rosenbaum would be a natural fit to reprise the role, as noted by TVLine, Rosenbaum recently said he "couldn't" play Lex Luthor on a full-time basis, in an interview with Stephen Amell on his Inside Of You podcast.
Reflecting on his time as Lex Luthor on Smallville, Rosenbaum told Empire in 2016: "I did seven [seasons], and I'm just ready to move on and I'm just ready to take a new step" ... I think I've done this long enough, I did this char­ac­ter for seven years and I just don't feel like shav­ing my head for two more years." He added:
"I have fans all over the world be­cause of that show and I love them. I go to Aus­tralia, I go to Eng­land…peo­ple just em­brace it. You can't be luck­ier as an ac­tor or as a hu­man be­ing to feel that sort of ac­com­plish­ment, and if that's all I did — if I was just Lex Luthor — it would be enough. It re­ally would be enough to go back home to New Berg, In­di­ana, where there are, like, 3,000 peo­ple in the town and where I was­n't sup­posed to do any­thing. To say you were this iconic, leg­endary char­ac­ter for seven years. I would've mowed my lawn with a smile on my face."
News that Lex Luthor will soon appear on Supergirl followed the introduction of TV's first transgender superhero, Nia Nal AKA Dreamer (played by Nicole Maines) on the series. As reported by The Wrap, when the character was announced at San Diego Comic-Con this year, she was described as, "a soulful young transgender woman with a fierce drive to protect others" whose "journey this season means fulfilling her destiny as the superhero Dreamer — much like Kara came into her own as Supergirl."
Also headed to National City this season is Grimm's Elizabeth "Bitsie" Tulloch, who will play Lois Lane in the upcoming three-part Arrowverse "Elseworlds"-themed crossover, which will begin airing on Sunday, Dec. 9. (A CW rep noted, however, that Lex will not be involved in the crossover, per TVLine.) Benoist teased Lois Lane's arrival in an Oct. 17 Instagram post. "Two kryptonians and a journalist walk into a crossover," she captioned the photo of herself with both Hoechlin and Tulloch.
With a slue of villains to keep Kara on her toes, Benoist has her own thoughts on who's the baddest of them all. "What I appreciate so much about this season is how topical it's going to be and how I think, yes, it seems like there may be more villains every episode, but the real villain of the season is fear," Benoist told Access at The CW's Fall TV season event on Oct. 14. "It's sort of an intangible thing that how does Supergirl... She can't punch it, she can't fight it physically. So how does a hero that can wear a cape and can fly, fight something that spreads like wildfire?"
Supergirl fans are naturally super excited to see how she ends up (hopefully) winning the fight against Lex Luthor, et al. this season.