Meet The Woman Who Uses Bread To Create Art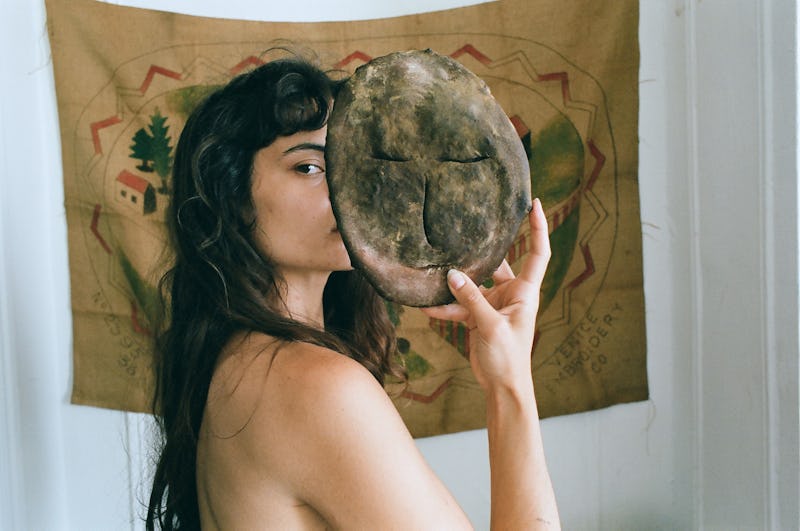 Lexie Smith
A well-baked loaf of bread is a thing of beauty. From the perfectly structured crust to the fluffy, tender interior, tearing into a baguette, a boule, or a brioche is a viscerally human experience — an experience as closely associated with literal sustenance as it is with emotional nourishment. That's the thesis behind artist Lexie Smith's body of work, through her Bread on Earth project and other installations, paintings, and photographs, where the Queens, New York-based artist dives deep into the aesthetic and cultural resonance of bread.
"Bread is about so much more than bread," Smith tells Bustle. "Bread is present in and steeped with the politics of identity, history, economics, and the environment, in nearly every culture on earth. This makes it easy to see as a yoke between places and peoples, and in many ways it is, but it also delivers us evidence of just as much human conflict, divisiveness, manipulation, and selfishness. The reason bread is a captivating and rich medium is because it can show both of the sides equally."
Smith's relationship with bread began as a child, where she recalls her parents trying — and failing — to stop her from spoiling her dinner with an entire bread basket. "I realize now that I always loved bread. But it wasn't anything to remark upon back then because the fact is most children — most people — like bread, up until they get old enough to absorb the rampant guilt associated with [eating] carbohydrates," she says. "I baked my first loaf in high school, around the age when lots of young women are awakening to the standards […] that the world holds their bodies to. […] It was a love supreme real quick." Professionally, Smith has also worked as a pastry chef in New York City.
As an artist, though, Smith has transformed bread into a medium through which to explore the ins and outs of being human. Scanning through Smith's website or her various Instagram accounts, you'll be transported into a world where bread is always front and center. Each post reveals a poetic treatise on nixtamalization, the process of treating maize to make it more digestible, or a series of bread-centric portraits around the theme of "loafing," or a recipe for a "naan-like" flatbread. The ongoing project, at its core, shows how bread can stand for so much by simply being itself.
"Every time I make bread, I'm amazed by how the simplest foundation builds this complex alchemical process," Smith says. (This feeling will be familiar to anyone who's ever spent a day waiting for a poolish to mature, or thwacking a sourdough against a countertop to build its rich gluten network. In a way, the literal complexity of bread and bread making is also what makes it so valuable as an artistic medium. Bread "has the ability to draw people towards a central point, even if everyone's relationship to it is different," Smith says.
Smith calls Bread on Earth a "personal sphere to dump my bread-related research, writing, and visuals" while she creates other bread-related works. "In time the goal is to create a Bread Web, which I've conceived of as a comprehensive online database of bread types from around the world, linking each to its relatives." Smith is also working on a book of recipes. But she notes that the most important aspect of her work is its ability to create community, to bring people together in the pursuit of bread.
"Communality is built into the structure and history of bread," Smith says, noting that the word "companion" is derived from the Latin word for "with bread."
"In the end, we can all speak to it on a personal level; people congregate around ovens and hearths, even when they carry the card of gluten-free," Smith says. "Bread is alive and it reared our contemporary civilization, and I think these things imbue it with an undeniable human quality." As fine art or as fuel, our daily bread offers a whole lot more than meets the eye.