Does This Mean Liam Payne & Zayn Are Friends Again?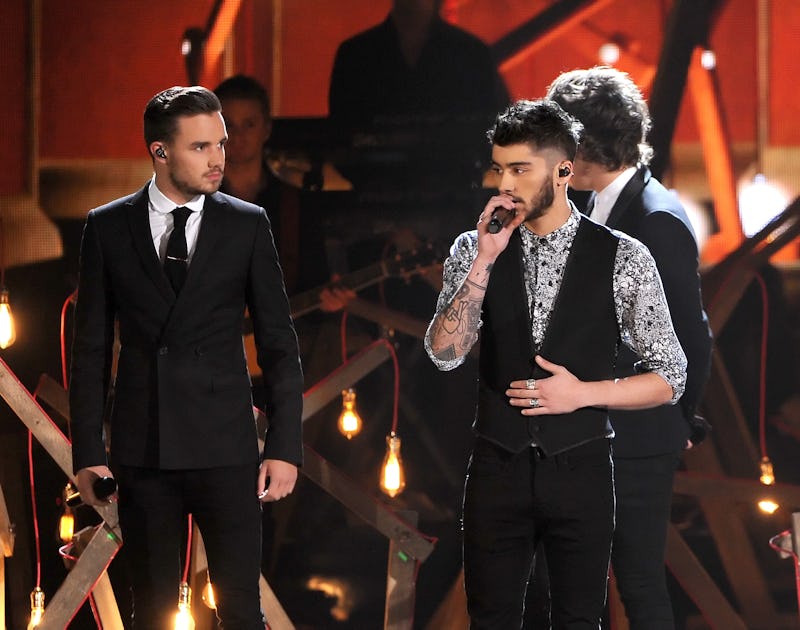 Kevin Winter/Getty Images Entertainment/Getty Images
If you've been lying awake at night stressing about this, let me put your mind at ease. Liam Payne poked fun at Zayn Malik in a speech on Tuesday, which is all the proof I need that the One Direction lads are friends again. Payne was tasked with presenting James Corden with Glamour's 2017 Man of the Year award in the U.K., and he took the opportunity to sneak in a dig at his former 1D bandmate. But not in a mean way at all, which is what makes me feel like the two must be on good terms again. In his introduction, the 23-year old revealed to the audience that he wasn't the only former boy-bander in attendance. Corden used to be a member of the boy band INsatiable, which had the slogan, "Because you can't get enough."
I'm gritting my teeth over here to avoid bursting out in laughter, but there's more. If you've never heard of a band having a slogan before, that's because most of them don't. But according to Payne, maybe more should; as he quipped, "One Direction never had a slogan, but if we had, Zayn might have stayed."
Daaaaaang dude, that is ice cold! Especially when all four of One Direction's remaining members are on hiatus. If us fans had made 1D a slogan, would all of you have stayed? And is it too late to throw one out? Maybe, "We know the way to your heart"? Or "We're going up"? Just spit-balling here, I'm sure your ideas are fine too. Check out the moment below, about a minute-and-a-half in.
That's not the kind of joke you make about someone you're actually on the outs with, in my opinion. If these two weren't in a good place, I don't think Payne would be name-dropping Malik. Maaaaybe if Payne was still feeling bitter about the "Pillow Talk" performer's departure, he would have made some veiled reference. But it wouldn't have looked like this. This looks like one friend ribbing another friend, the way they used to when they were onstage together, and it warms my little heart.
Oh, and congratulations to you too, Corden. Sorry I used your big moment to talk about Payne and Malik, but I just ~can't get enough~. You know how it is.