Liberty Students Called Trump One Of The "Worst Candidates In History"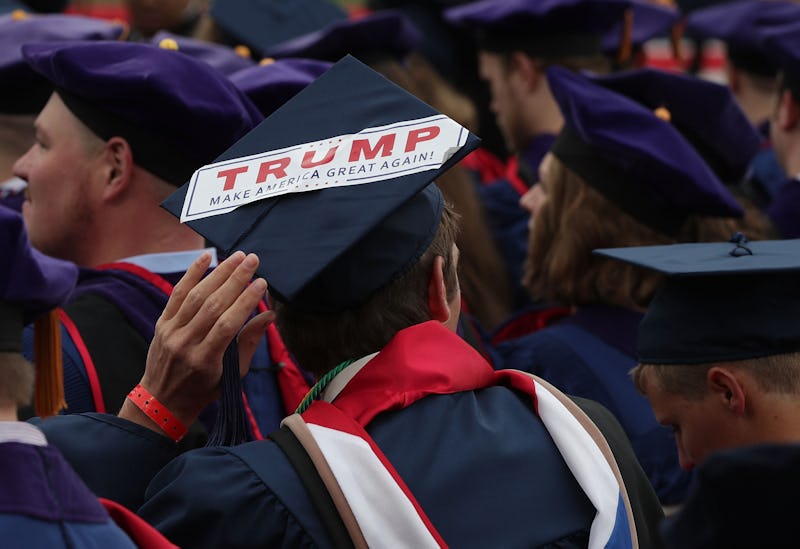 Alex Wong/Getty Images News/Getty Images
For his first commencement speech as president, Donald Trump returned Saturday to an Evangelical Christian university where his bid for president elicited mixed reactions from students during the 2016 election. President Trump urged graduates of Liberty University to follow their convictions and stand strong against criticism from those not courageous enough to do the right thing themselves.
But while the president's speech was greeted with applause Saturday, not all Liberty University students were keen to have Trump as their commencement speaker. Last year, after Liberty University president Jerry Falwell Jr. threw his support behind the businessman, some 2,000 Liberty students signed an open letter opposing candidate Trump and expressing their frustration about the institution's connection to him.
In January 2016, Falwell became an outspoken evangelical supporter of Trump. And while his endorsement of the real estate mogul was personal, Falwell's position as university president resulted in Liberty University becoming loosely entangled in Trump's campaign, which did not sit well with everyone at the university.
In October, a letter rebuking Falwell's support and defense of Trump reportedly garnered the signatures of around 2,500 students and staff. "We are Liberty students who are disappointed with President Falwell's endorsement and are tired of being associated with one of the worst presidential candidates in American history," the letter reads. "Donald Trump does not represent our values and we want nothing to do with him."
The letter goes on to offer harsh criticism of Trump's character and accuse Falwell of treating sexual assault as "a shoulder-shrugging issue rather than an atrocity" by defending Trump after he was caught boasting about grabbing women by their genitals in an Access Hollywood tape. "We must make clear to the world that while everyone is a sinner and everyone can be forgiven, a man who constantly and proudly speaks evil does not deserve our support for the nation's highest office," the letter reads.
In an op-ed published by The Washington Post, Dustin Wahl, Paige Cutler, and Alexander Forbes, the Liberty University students behind the "Liberty United Against Trump" letter, characterized Trump as "amoral and self-centered." "We want the world to know that Liberty University is a great place to go to school and that many in the student body find Trump's character and values objectionable," they wrote in the Post.
Students weren't the only ones frustrated with Falwell's outspoken support for Trump. Last spring, Liberty University board member Mark DeMoss criticized Falwell's endorsement in an interview with the Post, saying Trump didn't represent "the values that Liberty had spent 40 years trying to instill in its students." Shortly thereafter, he was reportedly pressured into resigning from the board.
But while a segment of Liberty University may have opposed both Trump and Falwell's endorsement of him, others claimed the majority of the school supported the Republican nominee. Student body president Jack Heaphy issued a statement via Twitter shortly after the "Liberty United Against Trump" letter went public, in which he claimed "the majority of students at Liberty University agree with President Falwell and respect his decision to support Donald Trump." Indeed, a report from the Post shows Trump easily won the majority of the 3,205 votes cast on campus in November.
So while those at Liberty University who supported Trump's presidential campaign welcomed him as their commencement speaker, it appears the president may still remain a somewhat controversial figure on campus.