These Liberty Print Cases Will Protect Your Phone In The Prettiest Way Possible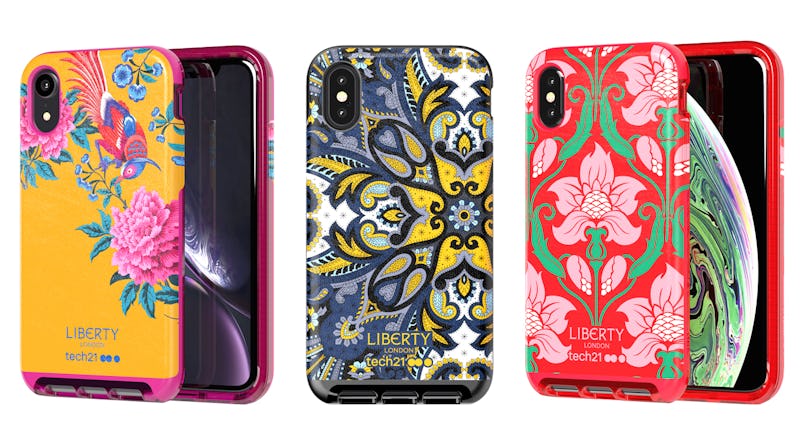 Liberty London/Tech21
I haven't invested in a phone case in approximately two years. Today, that all changes because the Liberty x Tech21 phone cases are finally here. Why am I getting so excited about a simple protective case for my most prized possession? Well, you need to take a look at the designs to see why.
It's no secret that Liberty isn't the cheapest place to buy things. But the famed London department store, which opened its doors in 1875, is always trying to find new ways to reach out to democratise its offerings. It has teamed up with Tech21, one of the UK (and world's) most advanced phone protection companies.
The 10 exclusive designs utilise stand-out vibrant prints taken from Liberty's 45,000-strong archive and fit the iPhone X, Xs, Xs Max, and XR. There are florals inspired by Asia and tropical climes along with French paisley designs and feathery Renaissance-style patterns. One of the oldest prints dates back to the 1820s with another referencing hand-painting furnishings.
Three styles are available: Evo Luxe, Pure Print, and Pure Design. Evo Luxe designs feature a fully colourful pattern while Pure Print and Pure Design either come on a black background or a transparent one. Each phone case has been designed with high-performing impact materials that promise to protect every part of your phone. (Except the screen. But Tech21 do offer an equally effective glass screen protector if you're in the market for one.)
Tech21 has been in the technology market since 2005. Its claim to fame is all down to its FlexShock material which, according to the company, is the most advanced impact protection material available. (It carries out a number of independent tests to prove this.)
The best part about it is that it's super thin and lightweight so you won't have to deal with any irritating bulkiness. And if you drop your phone from a height of up to 14 feet, it'll be protected. I don't know about you but I'm sold. And if you can't decide which one to go for, I recommend the Elysian or Christelle. You'll never lose your phone if it's encased in the first one while the latter is for those with more subtle preferences.
In a statement, CEO of Liberty London explained why the store partnered with such an innovative company. "At Liberty, we like to discover new and unconventional ways to delight the artistic shopper," he said in a statement. "Tech 21 and their pioneering cases gave us an opportunity to create a beautiful fashion accessory. We are really impressed with Tech 21's high performance technology and how they have so tastefully matched it to our most iconic prints designs."
The price isn't bad either, ranging from £39.95 to £49.95 on Tech21's site. Each design will also be available from the Liberty London site as well as at other select retailers. If you don't have an iPhone, Tech21 also sell a range of cases for every other smartphone on offer along with MacBook accessories, tablet cases, and, of course, those all-important screen protectors.