Netflix's New Movie 'Like Father' Subverts A Trope About Working Women In The Coolest Way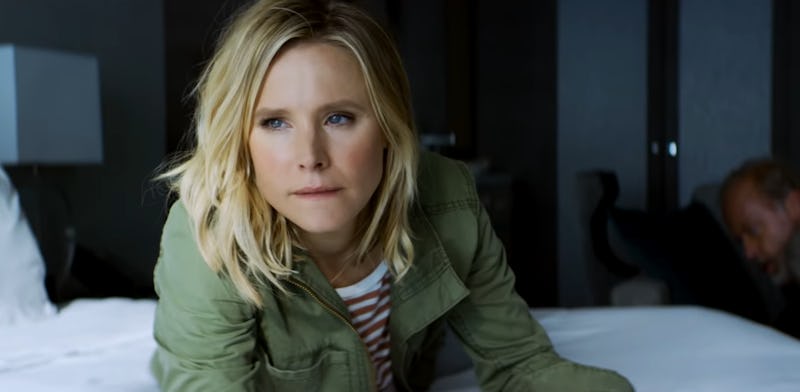 Netflix
A woman left at the altar for her workaholic ways and forced to go on her honeymoon cruise with her father sounds like a premise for a typical rom-com. (While getting into hijinks with her dad on the ship, she finds her true love when she least expects it... or something.) But when making her new Netflix movie Like Father, director Lauren Miller Rogen didn't want or need her lead character to find romance. In fact, she didn't even want her to give up her love for her career, something that past movies featuring work-obsessed women have conditioned audiences to expect.
Instead, when deciding to have Like Father depict main character Rachel (Kristen Bell) as someone who works all the time (taking calls on her wedding day, being glued to her inbox while on a Caribbean cruise), Miller Rogen didn't want to make it seem like Rachel should ditch her job in order to have a personal life. "As someone who works really hard to have a balance between her career and her personal life, I think that is very possible," the director says, speaking days before the movie's Aug. 3 release.
The first-time feature filmmaker, who also wrote Like Father, says that developing the character and making her feel "grounded and real" with Bell was "fascinating," and something that both women had a personal interest in because of their own lives. Explains Miller Rogen, "Once Kristen came on board, she and I spent a lot of time talking about let's make sure we don't create a character who has to choose between the two, because we're both women who have very full personal lives and very full careers and feel like we're able to balance that."
The main relationship in the film is between Rachel and her father, Harry (Kelsey Grammer), and it's a complicated one, because they have been estranged since she was five years old. As such, the movie's conflict is not in the fact that Rachel was broken up with at the altar and no longer has a partner; it's in her and Harry figuring each other out and finding the type of relationship they want to have, if any.
And while Rachel does find more balance in her life by the end of the film, her job — which she actually loves and is good at — is something that is continually celebrated. "She finds what she needs on her own, which is still working, but still having a relationship with her dad," Miller Rogen says. "She sort of gets to the other side of 'I can only have one thing in my life', and she gets to, 'No, I can have more than that.'"
Rachel does form a romantic relationship with a man on the cruise ship, but it's far from serious. The potential love interest, Jeff, is played by Miller Rogen's husband, Seth Rogen, but he's really more of a way for Rachel to have fun and relax. "I don't think all women need to find a man to tie up their story," Miller Rogen says. "And that was really important for me to tell that she doesn't need to find love, she doesn't need to find romance to feel like a whole person."
The idea behind the film drew Miller Rogen in, because she knew it would allow her to develop this sort of complicated and true-to-life woman character. "I really was excited to write a movie about a woman who was going to go on a really emotional journey," she recalls. "I was in a place in my life where I was sort of going through a bit of tough time with my mom, who has Alzheimer's, and I really sparked to creating a female character who was put in the deep end of her feelings and sort of has to push and work hard to get through to the other side of it."
Just like it was important to Miller Rogen to make Rachel realistic, the father-daughter relationship at the center of Like Father also had to ring true when it came to how these two people fit into each other's lives. (She says she has about 17 drafts of the first 20 pages of the script.) "It's just such a universal story, fathers and daughters," the director says. "There really haven't been a ton of father-daughter movies, so I was just really interested in exploring that area. As well as being a female filmmaker, I want to see more and more stories that reflect real women characters."
With Rachel, she was able to create one; no romance or job-ditching involved. And since Miller Rogen says she "cannot wait" to shoot another feature, this is likely just the start of even more real women to come.