Lil Wayne's 'Tha Carter 5' Gets Very Personal With "Let It All Work Out"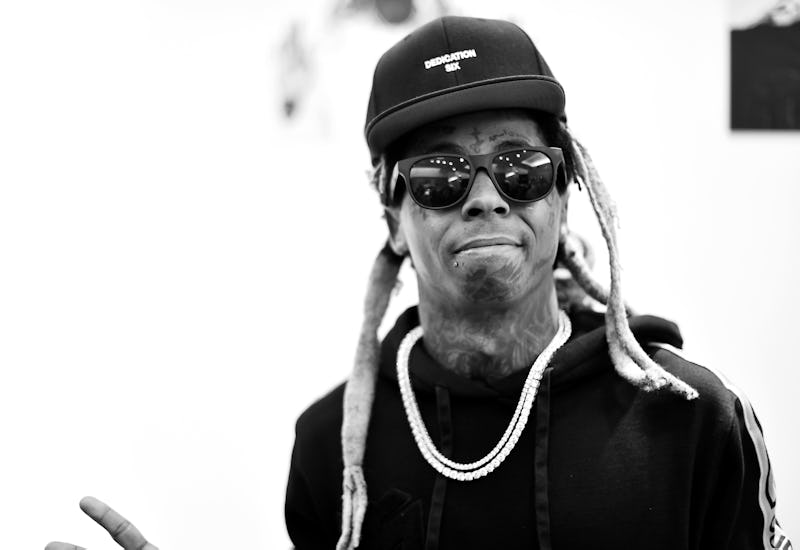 Matt Winkelmeyer/Getty Images Entertainment/Getty Images
After several years of contractual disputes with his record label Cash Money Records, Lil Wayne's highly-anticipated Carter V album was released on Friday, September 28, marking a monumental moment in hip-hop history. The album, which Billboard notes is the rapper's first not to be distributed under the label that birthed his decades-long career, offers fans 23 new tracks and features collaborations with other major artists including: Nicki Minaj, Kendrick Lamar, Snoop Dogg, Travis Scott, the late XXXTentacion, and Ashanti. The Young Money label owner even gets a little help from President Barack Obama on the track, "Dedicate," which, according to E! News, shares a snippet of a NAACP speech from the former POTUS explaining that "our kids can't all aspire to be LeBron, or Lil Wayne."
Carter V, Wayne's first release since 2011, is his 12th studio album and also appears to be one of his most personal. E! News pointed out the rapper's honesty on the album. His lyrics address everything from suicide, the perils of fame, and his reported use of lean throughout. All in all, it seems that Wayne is ready for a new chapter with Carter V.
On the outro, titled "Let It All Work Out," Wayne addresses his suicide attempt explicitly for the first time (though he has alluded to it in the past), with lyrics like:
"I found my momma's pistol where she always hide it / I cry, put it to my head and thought about it"
In the cover story for Billboard's September issue, it was revealed that although the song was on the original album's track list, Wayne decided to revise lyrics following the tragic deaths of Kate Spade and Anthony Bourdain this past summer, hence its current outro status.
Speaking on the subject with Billboard, Wayne's friend and president of Young Money Entertainment, Mack Maine explained:
"He just told me one day that he was ready to address it now. Just being an adult, reaching a level of maturity and comfort where it's like, 'I want to talk about this because I know a lot of people out here might be going through that.'"
The new project, which notably dropped on the heels of the New Orleans-born entertainer's 36th birthday, was initially supposed to come out years ago. However, it's debut was stagnated due to a feud between the artist and his former mentor and father-figure, Cash Money owner, Bryan "Birdman" Williams. According to Billboard, the two parties settled a multi-million dollar lawsuit this past June that finally put an end to the war which kept Wayne's music from the world for the past seven years. The release is, no doubt, a victory for both Wayne and his fans, who have been patiently awaiting the follow up to the emcee's Tha Carter IV, which, according to Complex, sold a monumental 964,000 copies in its first week and debuted at No. 1 on the Billboard 200 charts.
Despite the new album's lengthy delay, Lil Wayne seems determined to use the moment as a catalyst for his future, telling Billboard:
"I'm very much a perfectionist. I don't know what it's setting me up for — some big comeback, or maybe some big fall back or whatever, but it's setting me up for something, and I'm ready."
Hiatus aside, Lil Wayne remains one of the most talented and in-demand rappers of this generation. That said, it seems most of the world would agree that Tha Carter V has been well worth the wait.
If you or someone you know is experiencing suicidal thoughts, call the National Suicide Prevention Hotline at 1-800-273-8255 or text HOME to the Crisis Text Line at 741741. You can also reach out to the Trans Lifeline at 877-565-8860 or the Trevor Lifeline at 1-866-488-7386, or to your local suicide crisis center.