Lili Reinhart Has A Powerful Message For Those That Ask Her About Cole Sprouse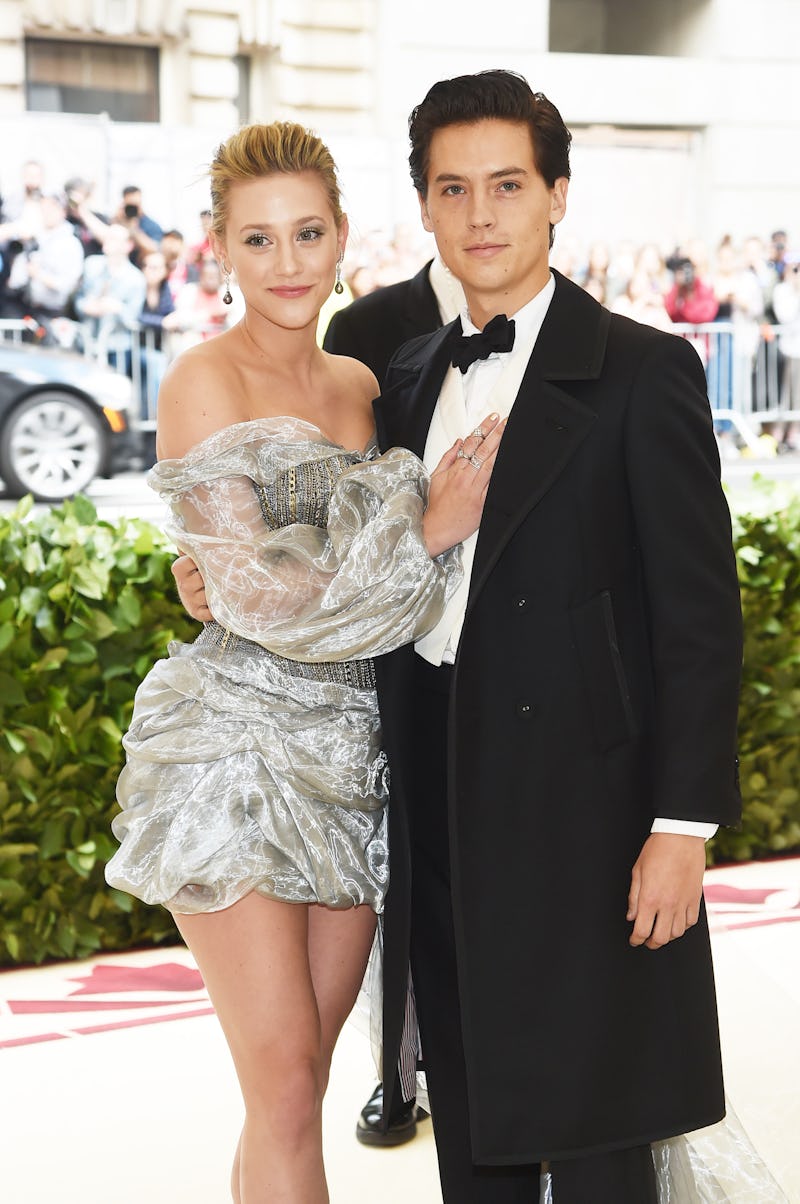 Jamie McCarthy/Getty Images Entertainment/Getty Images
She's more than happy to open up about her own, personal struggles with mental health and how difficult its been for her to embrace her new-found fame, but Lili Reinhart's relationship with Cole Sprouse is 100 percent off-limits, according to a recent interview with Harper's Bazaar. Sorry, IRL Riverdale Bughead 'shippers. She did, however, refer to her "love story," though, so some fans can make of that what they will. And, while she's at it, Reinhart's love life isn't the only thing she'd like to keep private. She'd also love it if fans would stop sending direct messages to her mother on social media, telling Harper's "It really weirds me out when people DM my mom." (And who can blame her?)
In an interview published on July 2, Reinhart chose her words carefully, but definitely didn't hold back — well, when it came to most things, that is. "I'm not okay talking about my relationship," she matter-of-factly told Harper's Bazaar. "I'm not going to tell you my love story," the actor said. "That's just not appropriate right now." Reinhart has clearly made a decision to keep some things private, despite her newfound fame and the desire of her fans to know everything about her life. After all, she didn't become an actor to talk about who she's dating or not dating, she did it because she loves it. "I don't act to be famous," she told the magazine. "I just am a performer."
Of course, regardless of her desire to keep her relationship out of the spotlight, speculation about Reinhart and Sprouse's relationship began soon after the airing of Season 1 of Riverdale, with the rumors really kicked into high gear in July 2017 when People reported that the pair was reportedly spotted "canoodling, holding hands and kissing" while at Entertainment Weekly's Comic-Con Bash in San Diego.
When they were later asked in interviews if they were, in fact, more than just friends, both stars equated fans' excitement about their perceived personal lives to their on-screen chemistry and development of their characters' stories. "I think as professional actors we can pat ourselves on the back for that and go, 'This was a success,'" Sprouse told EW of Betty (Reinhart) and Bughead's (Sprouse) romantic storyline. "It was such a success that people want to see it in real life."
Sprouse continued, "But, truthfully, it's very pleasing that people talk about Lili and I in that way because it means that we're resonating so strongly from our character perspective that people really want that to be true." Yes, accurate. Fans were dying for it to be true, but it wouldn't be until almost 10 months later that they sort-of, kind-of, unofficially confirmed that were, indeed, a couple off screen.
On May 7, Reinhart and Sprouse attended the 2018 Met Gala together. Jaws dropped, wigs were snatched. They both looked amazing and totally loved-up. Still, though, they didn't explicitly confirm any romance, and when Reinhart was asked about her love life for the May/June issue of Seventeen, she gave a perfectly reasonable response. "Every time someone asks me about it, I make a decision then and there about whether I'm comfortable. It's not like I'm in some kind of contract, but I'm not in the place where I want to talk about it, and that's totally fine," she said. "It's called a private life for a reason — it's mine, and it's special and sacred. My relationships are between me and whomever I'm with, not between me and the world."
Clearly Reinhart simply isn't at ease sharing her relationship with the world. Fans shouldn't count on Reinhart or Sprouse opening up completely about their reported relationship anytime soon, but if and when they do, it'll definitely be on their own terms — and that's totally OK.