Lilly Ledbetter Invited Ivanka Trump To Talk About Equal Pay — Here's The Response She Got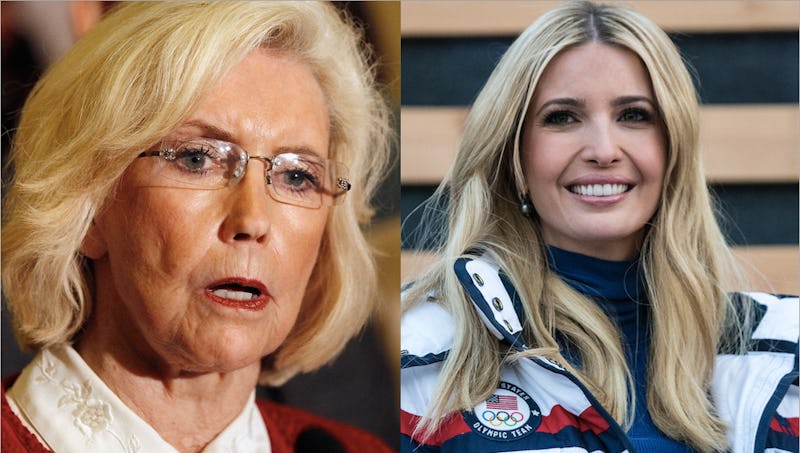 Chip Somodevilla; Carl Court/Getty Images News/Getty Images
As women across the country recognize Equal Pay Day, the annual event aimed at drawing attention to the gender pay gap, CNN reports that fair pay activist Lilly Ledbetter invited Ivanka Trump to discuss equal pay in 2017. According to Ledbetter, Trump actually replied — but not in the way Ledbetter had hoped. Bustle has reached out to the White House for comment on this story, but has yet to hear back.
American women currently earn around 79 percent of what men make in the workforce, according to Vox. While campaigning for her father in 2016, Trump frequently voiced her desire to achieve pay equity between men and women, claiming at the Republican National Convention that Donald Trump "will fight for equal pay for equal work, and I will fight for this too, right alongside of him."
Ledbetter rose to prominence in 1998 when she sued her employer, Goodyear, for pay discrimination after learning that she'd been paid only half of what her male counterparts at the company earned. A court initially awarded her a $3.8 million settlement, but that decision was ultimately overturned by the Supreme Court, which ruled that Ledbetter had waited too long to sue. She received nothing.
Ledbetter tells CNN that she emailed Trump last spring to discuss "equal pay for equal work," the phrase Trump had used at the Republican convention. She also says that Trump replied, offering to talk about the matter with Ledbetter in Washington D.C. over coffee. But Ledbetter tells CNN that this meeting never happened.
"I can't afford to fly up [to Washington D.C.] just for a cup of coffee," she said. "Because I didn't get any money, and I struggle to get by today."
Trump voiced her support for closing the wage gap again on Equal Pay Day 2017, writing in an Instagram post that "closing the gender pay gap is critical to the economic empowerment of American women, and it is the responsibility of all Americans to come together in pursuit of equal pay."
"I am proud to work towards this goal alongside my father and in support of the administration's commitment to women and families," the First Daughter wrote.
But five months later, the president reversed an Obama-era rule intended to eliminate the pay gap — and Trump supported it. The regulation in question would have required large employers to tell the government how much they paid their male and female employees, but the Trump administration put it on hold in September and ordered that it be reviewed.
To the surprise of some, Trump supported her father's decision, saying in a statement that "while I believe the intention was good and agree that pay transparency is important, the proposed policy would not yield the intended results." She later told the Financial Times that because she's "part of the team," she won't publicly speak out against any of the president's initiatives, and added that those who criticized her stance on the equal pay regulation have "unrealistic expectations of what they expect from me."
Although she lost her lawsuit against Goodyear, Ledbetter did help pave the way for a major anti-discrimination law that now bears her name. The first bill that President Obama signed upon taking office was the Lily Ledbetter Fair Pay Act, which says that women who discover that they're paid less than their male colleagues are entitled to damages regardless of how long ago the violations occurred. Had that law been in place when Ledbetter had filed her lawsuit, she would have won.
Ledbetter is now retired, though CNN reports that she's frequently invited to speak at conferences about equal pay.