Lindsay Lohan Acknowledged She "Makes Mistakes," But Really Wants To Move On From Them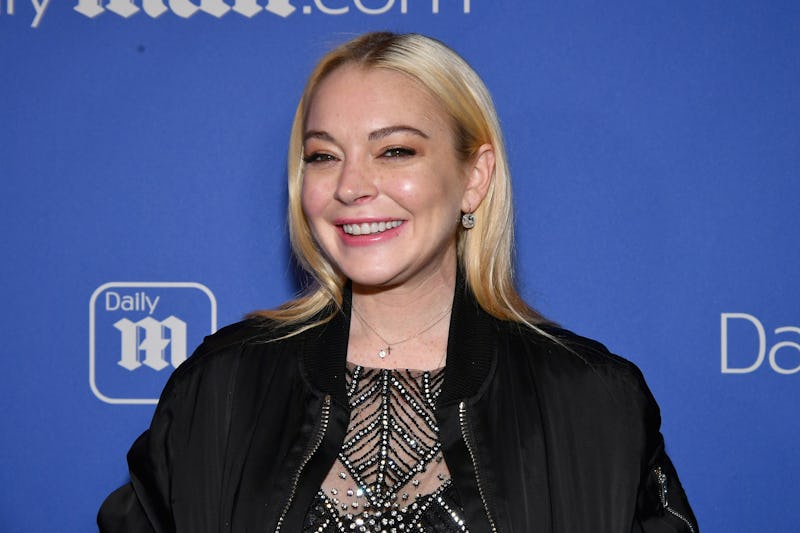 Slaven Vlasic/Getty Images Entertainment/Getty Images
At this point, Lindsay Lohan makes more headlines for being Lindsay Lohan than for any of her professional projects. In a new interview with Paper Magazine, Lindsay Lohan acknowledged her controversial past, but admitted she does think people focus too much on the negative aspects of her life.
In other words, Lohan is not one of those people who thinks that "all press is good press." And in the interview, the former child star said, "I would love to know why I get constantly clobbered in the press." She even declared,
"I could do 99 things right and one thing wrong, but it's that one thing that will be focused on. Behind the scenes I do what I can to be the best version of me, which never gets mentioned. I am also human. I make mistakes. That's all that seems to get reported."
At another point in the Paper piece, Lohan explained,
"There's always going to be things that have happened and things people have said in the past that you can't control. But the past is in the past."
Sadly, a lot of people do remember the past, and even if they don't actually remember, there are throwback memes featuring the star circulating on social media all the time. Imagine complete strangers posting memes making fun of legal troubles or perceived party habits on a daily basis.
However, it's not just those "throwback" posts that get a lot of press. In September, Lohan caught flack when she live-streamed a video of herself interacting with a family that she believed to be Syrian refugees. In that video, she spoke in an accent and offered to take a child to her hotel room, before appearing to be punched in the face, as TMZ reported. Pretty much everything Lohan says and does becomes news, so of course, this incident got a lot of attention and sparked some very strong responses.
In regard to that incident, Lohan summarized to Paper Magazine, "I read the situation wrong. I've learned from it. And that's all I have to say." Yes, that incident was somewhat recent, but it is technically in the past, so it sounds like she's trying to move beyond it. And even though the confusion was warranted, at least she said she's learning.
One potentially positive project Lohan has in the works is her upcoming reality TV show. Lindsay Lohan's Beach Club will debut on MTV on Jan. 8. The show is described as "Vanderpump Rules style," which would mean Lohan is the Lisa Vanderpump character overseeing the club and its employees.
Deadline reports that the show will follow Lohan as she grows her business. The article states that the employees will do "whatever it takes to secure Lohan's name as the definition of vacation luxury."
It sounds like Lohan is hoping people view this TV show with an open mind and that they're able to see her in a new light — as a businesswoman synonymous with "vacation luxury," instead of the source of all those tabloid headlines that she wants to avoid. Everybody loves a comeback story, right?