Lindsay Lohan Released A New Statement Apologizing For Her "Hurtful" #MeToo Comments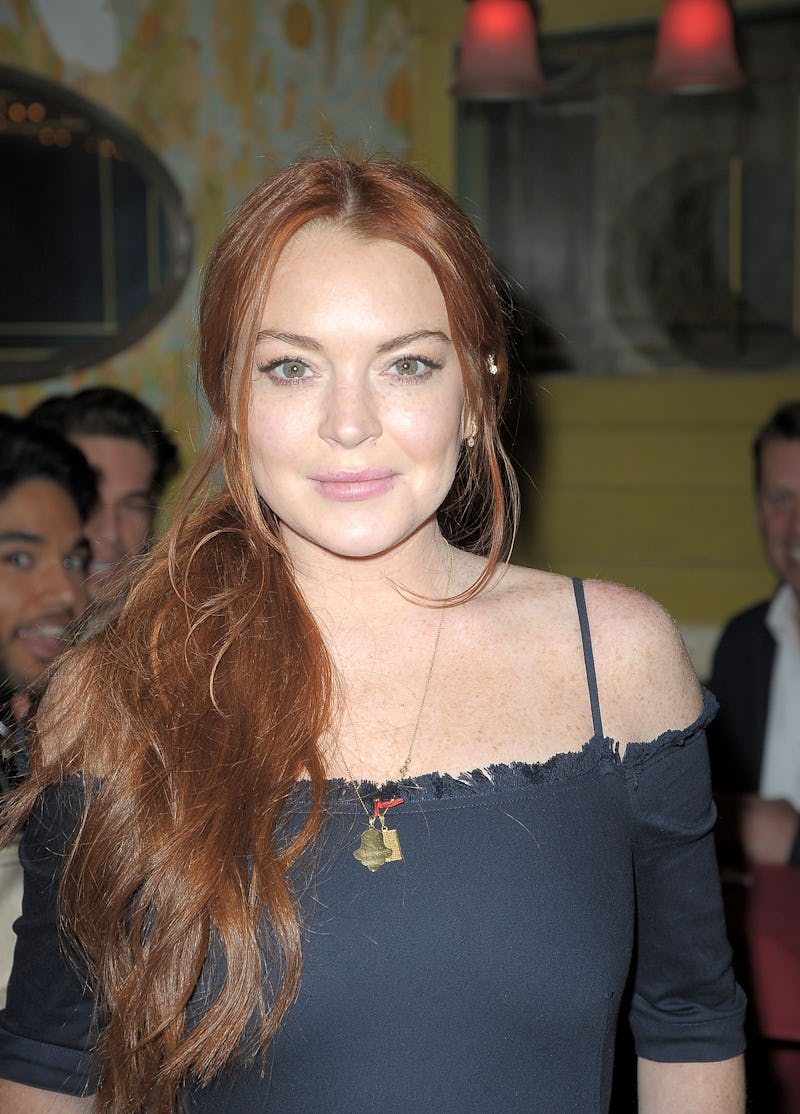 Chance Yeh/Getty Images Entertainment/Getty Images
Earlier this month, Lindsay Lohan came under fire for the comments she made about the #MeToo movement, but now, she's trying to make peace with those she offended. In a statement released to People, Lohan apologized for her #MeToo comments, saying that she "feels strongly" about the movement and tried to explain what she meant when she originally opened up about it.
Lohan's initial comments about the movement came in an interview with The Times that was published on Aug. 4. When speaking to the U.K. publication, she said she didn't have any of her own #MeToo experiences in Hollywood and shared her opinion of women who have come forward to share their stories so far. She said:
If it happens at that moment, you discuss it at that moment. You make it a real thing by making it a police report. I'm going to really hate myself for saying this, but I think by women speaking against all these things, it makes them look weak when they are very strong women. You have these girls who come out, who don't even know who they are, who do it for the attention. That is taking away from the fact that it happened.
And now, in her latest statement, Lohan is clarifying what she meant by these comments.
Lohan's statement to People read:
I would like to unreservedly apologize for any hurt and distress caused by a quote in a recent interview with The Times. The quote solely related to my hope that a handful of false testimonies out of a tsunami of heroic voices do not serve to dilute the importance of the #MeToo movement, and all of us who champion it. However, I have since learned how statements like mine are seen as hurtful, which was never my intent. I'm sorry for any pain I may have caused.
She went on to add that she "feels strongly" about the movement, and that she admires the women who have opened up about their experiences with sexual harassment and assault since the #MeToo movement, originally started by Tarana Burke, began making headlines again in 2017.
Published on Sunday, Lohan's statement continued:
I feel very strongly about the #MeToo movement and have the utmost respect and admiration for the women brave enough to come forward and speak out about their experiences. Their testimony has served to protect those who can't speak, and give strength to those who have struggled to have their voices heard.
Since the initial story came out, many people have taken to Twitter to share their anger about Lohan's comments, leading to a lot of backlash. Presumably, this is what prompted her to apologize, but hopefully it's also a sign that she's recognized how much impact her words can have as a celebrity, especially when it comes to a topic like this one.
Women and men who have come forward to share their experiences as part of the #MeToo movement deserve to have their stories heard and taken seriously. As these stories continue to emerge, hopefully more positive change will continue to happen.
If you or someone you know has been sexually assaulted, you can call the National Sexual Assault Telephone Hotline at 800-656-HOPE (4673) or visit online.rainn.org.