The "Me Too" Movement Actually Started 10 Years Ago, And You Need To Know The Woman Behind It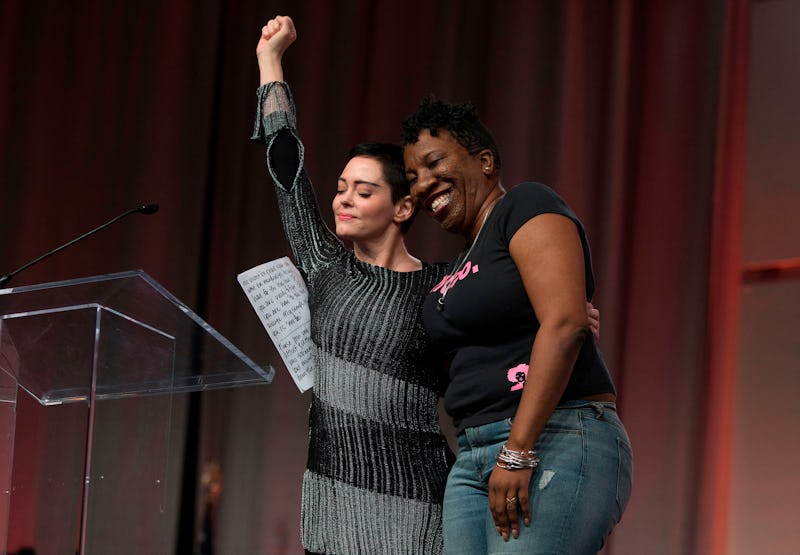 RENA LAVERTY/AFP/Getty Images
Being sexually assaulted is a life-altering experience that can lead to feelings of intense loneliness and self-doubt. One in six women have survived an attempted or completed rape, and 90 percent of rape survivors are women. 33 percent of women aged 18-34 have been sexually harassed at work. The stigma and shame commonly associated with sexual assault and harassment causes many women to stay silent about their abuse, and silence empowers perpetrators of sexual assault to abuse others. Although no one should ever feel pressured to share information regarding sexual assault, a growing number of women are taking back the narrative and sharing their experiences on and offline. But this newly popular internet catchphrase has led many to wonder who actually founded the movement. It turns out that Tarana Burke, a self-proclaimed "servant leader," popularized the phrase "me too" as a way to support and amplify the voices of survivors of sexual abuse, assault, and exploitation nearly ten years ago, according to Ebony. This phrase went viral after actor Alyssa Milano revealed that she too was a survivor of sexual assault, emboldening other women to share their experiences on social media, but Burke has been encouraging women of color to say "me too" for a long time.
The Me Too Movement, which began independently from the Twitter hashtag, was founded after Burke's encounter with a young girl at a youth camp. The girl asked to speak to Burke privately after an all-girl bonding session. This is how she describes the encounter on the Just Be site:
For the next several minutes this child ... struggled to tell me about her 'stepdaddy' or rather her mother's boyfriend who was doing all sorts of monstrous things to her developing body. ... I was horrified by her words, the emotions welling inside of me ran the gamut, and I listened until I literally could not take it anymore ... which turned out to be less than five minutes. Then, right in the middle of her sharing her pain with me, I cut her off and immediately directed her to another female counselor who could 'help her better.'
In the shock of the moment, Burke couldn't bring herself to whisper "me too." Although Burke wasn't able to help the young girl, she never forgot her words and still thinks about her all the time. That was the genesis of the Me Too Movement.
Burke credits the movement's longevity to the fact that the simple phrase can start a conversation among survivors. In a statement to Ebony, Burke said, "It wasn't built to be a viral campaign or a hashtag that is here today and forgotten tomorrow. It was a catchphrase to be used from survivor to survivor to let folks know that they were not alone and that a movement for radical healing was happening and possible."
Burke has been taking her radical mission of healing directly to the people who need it the most. At the 2014 March Against Rape Culture in Philadelphia, Penn., Burke gave an inspirational speech about the Me Too Movement and how connectedness is a key component to healing. "As a community, we create a lot of space for fighting and punishing back, but not enough for connecting and healing."
#MeToo, as we saw it on Twitter, was started by Amy Siskind, president of The New Agenda, a women's advocacy nonprofit. She wanted to encourage women to use their voice to speak up against sexual assault on that social media platform. Burke revealed on her Twitter that seeing women use this idea made her heart swell. She called on others to join the movement of empowerment through empathy.
In the midst of more cases of sexual assault coming to light, women — especially Black women — are using their voices to show other survivors they're not alone. There is no shame in being a survivor of sexual assault. There is only shame in committing sexual assault. Burke and countless brave women like her are chipping away at a long-held stigma. I look forward to the day when we no longer need the phrase "me too," not because women are ashamed, but because sexual assault is a thing of the past.
Editor's Note: This article has been updated from it's original version to more accurately reflect the origins of the #MeToo hashtag on Twitter, and Burke's Me Too Movement, which is a separate movement.