Lindsay Lohan Teased One Of Her Upcoming Makeup Products & It Actually Sounds Awesome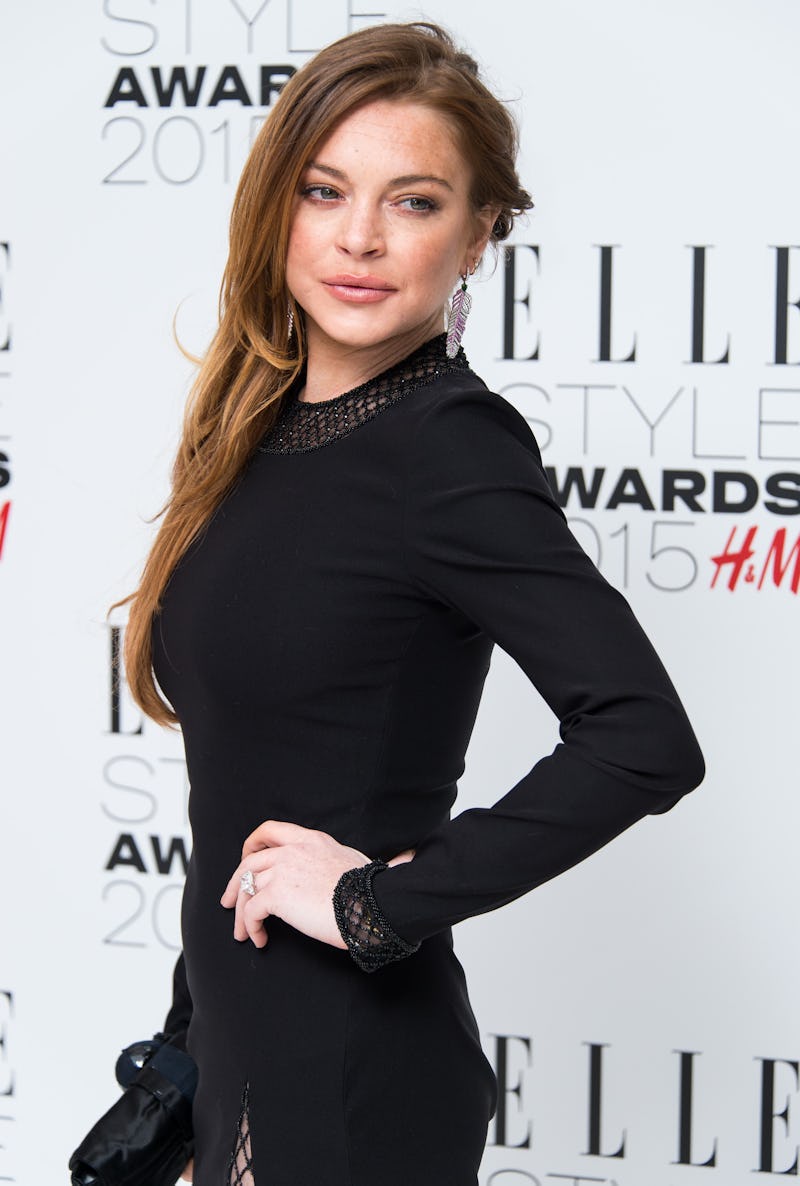 Ian Gavan/Getty Images Entertainment/Getty Images
Lindsay Lohan was an '00s "It Girl." Her look was oft-copied by her legion of fans during the height of her fame. She remains a natural beauty who always had a keen sense of style. So when Lohan announced she was launching her own makeup line, people instantly perked up. We were all curious about what aesthetic she would choose. Would her beauty brand be trendy? Classic? Simple? Extensive? Inclusive?
Well, Lohan just revealed details about one of the products in her upcoming range. It actually sounds really awesome because she based it on her own experience, which is likely shared by her fans and future customers.
In an interview with W, Lohan spoke about how she multi-tasks with makeup.
"I love lipstick, but I love using lipstick as blush," she admitted.
Subbing lippie for a blusher is pretty common hack. Many makeupistas use products in ways other than which they were intended to terrific results. But here's where things get sorta brilliant.
"But if I have a cream blush, I want to be able to use it on my lips and not worry about breaking out after," Lohan said about another common problem makeup lovers deal with. "So, I developed one."
Sounds legit, right? Lohan and her team have crafted a cream blush that can be used on lips with little concern for an adverse skin reaction. Double duty products are always a win — you get more bang for your buck and they take up less space in your makeup bag. Simply amazing, Linds!
Li Lo previously teased elements of the line during an appearance on The Wendy Williams Show. She showed off a sneak peek of bullet lipsticks and foundation compacts in classic, silver packaging. The actor also revealed some of the color schemes, which ranged from pink to red to plum.
Fans are no doubt excited to see the other makeup Lohan creates since she is a such a stunner. She is also a celebrity who has had access to products and glam squads throughout her career. Therefore, she knows what works and what doesn't. It's that sort of experience than can inform her own product assortment — from the colors to the packaging to the formulas.
With her peaches and cream complexion, famous freckles, and her fearlessness when it comes to her hair, which has been red, brown, blonde, and more, Lohan is a head-turner. A makeup line is an endeavor that suits her and her loyal fans. While her career and celeb status have cooled off significantly in the past decade, Lohan remains a mover and a shaker.
Makeup isn't the only new business venture on Lohan's docket. She also has sartorial ambitions. Lohan toldW that a head-to-toe, haute couture clothing line is also in the works. The multi-hyphenate is working on the design process with a stylist in Dubai, which is where she currently residing.
This isn't Lohan's first time at the fashion rodeo. She launched the 6126 leggings line back in 2008. She admitted that she may not have given the line the attention and the focus it deserved, due to her film schedule.
Clearly, Lohan is keeping busy and has her well-manicured hands in a lot of entrepreneurial pots. Her makeup line, especially the cream blush that can be swiped across the lips, looks and sounds like it will be a player in the beauty world when it launches.
Lohan is well on her way to engineering a comeback. Don't ever count her out. She sounds as though she is enjoying the process of developing products. We're in — and eagerly awaiting the launch date.